Election With Potential for Drama Can't Rattle Ukraine Investors
(Bloomberg) -- Investors in Ukraine are used to choppy waters -- the past 15 years have brought two revolutions, a war and an economic boom turned bust.
As the government edges closer to resuming its $17.5 billion bailout program, the next cloud on the horizon is elections that could reshape the political scene in 2019. President Petro Poroshenko is flailing in a packed field that includes populists, an ex-prime minister and, possibly, a comedian and the country's most popular rock singer.
Despite the potential upheaval, participants in the eastern European nation's flagship conference last week were largely unruffled. The message was that the business community can deal with what's thrown at them. Of more concern are long-standing issues that remain unresolved -- namely corruption and the rule-of-law. Recent currency weakness was also cited as a worry as ill winds from other emerging markets threaten stormy weather in Ukraine.
"I don't think a political shake-up is a problem," said Jock Mendoza-Wilson, director of international and investor relations at System Capital Management JSC, owned by Ukraine's richest man, Rinat Akhmetov. "What's important is that democracy functions clearly and transparently. Business and markets will cope with whatever democracy decides."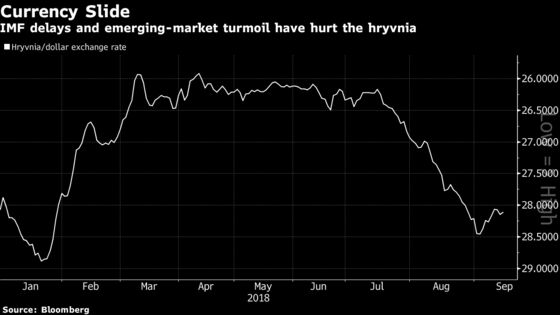 Amid widespread disillusionment at the results of the latest revolution, which ended with the ouster of Kremlin-backed Viktor Yanukovych in 2014, Poroshenko's popularity has plummeted. The incumbent, a billionaire whose main business is chocolate, opened the conference with what sounded a lot like a campaign speech, touting achievements including the signing of an association agreement with the European Union and securing visa-free travel to the bloc for all Ukrainians.
Yulia Tymoshenko, the heroine of the 2004 Orange Revolution and the front-runner to replace Poroshenko, drew laughs by saying the government needed to be "rebooted," later holding her own as she sparred with BBC News presenter Stephen Sackur. The dark horse for the election, singer Svyatoslav Vakarchuk, once again teased on whether he'll even run, promising rather than just words "a lot of actions soon." Will he be on the ballot in March? The audience was split down the middle.
"The elections introduce an element of uncertainty," said Alastair McBain, chief executive officer of oil and gas company Arawak Energy Ltd. "But I don't think there's any reason why we need to be particularly concerned about who the Ukrainian people would choose."
Clues about more pressing issues for investors can be found in the conference's name. The Yalta European Strategy forum, or YES, was once held in the Black Sea town of the same name. It now takes place in the capital, Kiev, after Yalta was swiped in Russia's annexation of Crimea. A Kremlin-backed insurgency in Ukraine's east persists, draining valuable budget funds and deterring investment.
Ukraine's 'European strategy' is more straightforward -- Poroshenko is targeting full membership of the EU. But that remains a distant prospect, and the post-revolution administration's failure to make serious inroads into endemic corruption is a major reason why.
"We want to see Ukraine continue in its pro-Western, pro-reform, pro-business, pro-economic prosperity direction," said Lenna Koszarny, a founding partner and chief executive officer at private-equity firm Horizon Capital. "Ukraine is finally getting off its feet from an economic standpoint and we could see sustainable growth over the next five to seven years. We want Ukraine to stay on that path and not to give up."
Conference attendees were treated to a surprise guest toward the end of the program as Bono from U2 popped up in person. While not renowned as a Ukraine hand, he zeroed in on what's most important topic of all for many investors.
"Corruption kills more children than HIV or malaria," Bono said. "But there's a vaccine: transparency."