Saudi Arabia Brokers a New Ethiopia-Eritrea Peace Deal
(Bloomberg) -- Saudi Arabia brokered a new peace agreement between Ethiopia and Eritrea aimed at stabilizing the Horn of Africa region, Foreign Minister Adel Al-Jubeir said.
Ethiopian Prime Minister Abiy Ahmed and Eritrean President Isaias Afwerki signed the so-called Jeddah Peace Accord on Sunday in the presence of King Salman bin Abdulaziz and United Nations Secretary-General Antonio Guterres. It's the second peace deal the two states have made since they ended decades of enmity in July.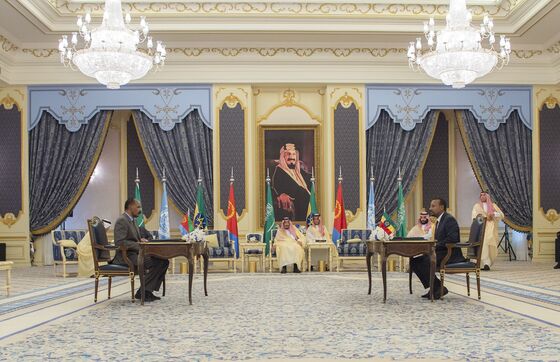 The deal is "a historic milestone for the peoples of Ethiopia and Eritrea and will contribute to strengthening security and stability in the region at large," Al-Jubeir said in a statement on Twitter.
The agreement comes after "extensive Saudi back-channel diplomacy" to maintain stability and development in one of the world's most strategic locations, Saud al-Sarhan, secretary-general of the King Faisal Center for Research and Islamic Studies, said by email from Riyadh. Eritrea is located near the near Bab el-Mandeb, a shipping choke-point on the Red Sea used by oil tankers and other cargo vessels en route to Europe and the U.S. through the Suez Canal.
The accord can also be viewed as Riyadh "moving forward on a key element" of Saudi Crown Prince Mohammed bin Salman's so-called Vision 2030, which aims to make Saudi Arabia a global logistical and shipping hub, al-Sarhan said.
This "can only be realized if the Horn of Africa is at peace," al-Sarhan said. "Hosting the signing of the Ethiopian-Eritrean peace agreement in Jeddah is an important sign of Saudi Arabia's commitment to regional peace, security, and the freedom of navigation in the Red Sea."
Eritrea and Ethiopia declared peace in July and agreed to reestablish economic links after an unprecedented summit between the neighbors' leaders ended decades of enmity. The states fought a 1998-2000 border war that claimed as many as 100,000 lives and left thousands of Ethiopian and Eritrean families divided. The two sides have clashed sporadically in the years since and accused each other of supporting rival rebel groups.
The rapprochement followed a pledge by Abiy in his inaugural speech in April that his country would "resolve problems" with Eritrea. Soon afterward, he and Isaias flew separately to Abu Dhabi to meet with the emirate's crown prince, and then the Saudi crown prince in Riyadh.
The Saudi crown prince and the United Arab Emirates' foreign minister also attended the Jeddah signing ceremony, Saudi Arabia's foreign ministry said on Twitter.