Italy's Populist Coalition Winning Over Public Opinion
(Bloomberg) -- Italy's unlikely coalition of the populist Five Star Movement and anti-immigration League is winning over public opinion.
About 62 percent of Italians approve of the governing alliance led by Prime Minister Giuseppe Conte, according to a poll conducted for Italian daily la Repubblica. That's the highest level since the government took office on June 1.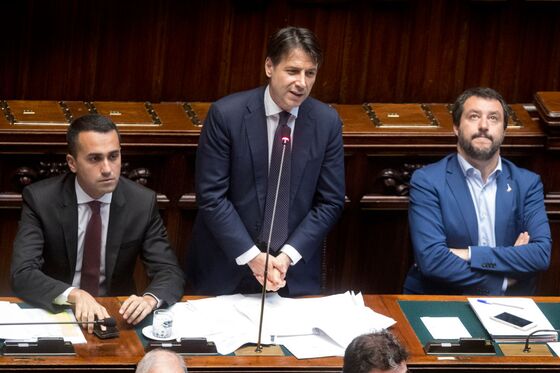 Conte and his Finance Minister Giovanni Tria are rushing to present by Sept. 27 the outline of a 2019 budget that addresses the campaign promises made by Luigi Di Maio's Five Star and Matteo Salvini's League, while at the same time removing concerns from some European policy makers that the plan might flaunt rules on controlling the deficit and huge public debt.
Speaking at a Milan event on Saturday, League party leader Salvini reiterated his stance that "first comes economic growth and then come the restrictions." He repeated that his priorities included lowering the retirement age, reducing income tax rates and cutting bureaucracy.
Salvini's savvy use of social media and anti-immigration rhetoric continues to resonate with voters. His party outpaced the Five Star 30.2 percent to 29.4 percent in the Repubblica opinion poll carried out Sept. 11-13 by the Demos & Pi research firm. The Democratic Party once led by former premier Matteo Renzi is still losing support, garnering 17.3 percent in the poll compared with 18.7 percent in Italy's March national election.
For his part, Di Maio told Spain's El Mundo newspaper in an interview this week that Italy doesn't want to break with the EU or damage public finances, but reiterated that providing a basic income for Italians was one of the government's economic pillars.
Often conflicting statements from the so-called "yellow-green" coalition about its commitment to EU budget rules drew a warning from European Central Bank President Mario Draghi on Thursday. "Words in the last few months have changed many times," the former Bank of Italy governor said. "Unfortunately, we've seen that words have created some damage and interest rates have gone up for households and gone up for firms."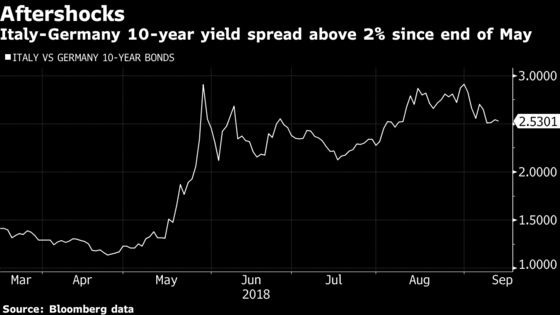 Draghi's remarks drew a response from Italian European Affairs Minister Paolo Savona, who was quoted by Italian newspapers as saying late Friday that the central banker's comments went beyond his powers. Savona, whose criticism of the euro region's framework derailed his nomination to be finance minister, walked back his criticism in a statement on Saturday.
He termed Draghi a "courageous president who's worked in an extremely difficult situation. The problem is that institutions have to be well controlled in each circumstance, something that doesn't exist now."