Historic Kim Jong Un Summit May Make or Break Moon's Presidency
(Bloomberg) -- Moon Jae-in has more than world peace riding on a successful summit with North Korean leader Kim Jong Un this week: His domestic agenda is also at stake.
Moon's three-day trip to North Korea's capital starting Tuesday -- the first such visit by a South Korean leader in 11 years -- will again test his ability to bridge the gap between two volatile leaders, Kim and U.S. President Donald Trump. It may also help South Koreans forget about soaring home prices and unemployment that have brought his sky-high approval ratings down to earth.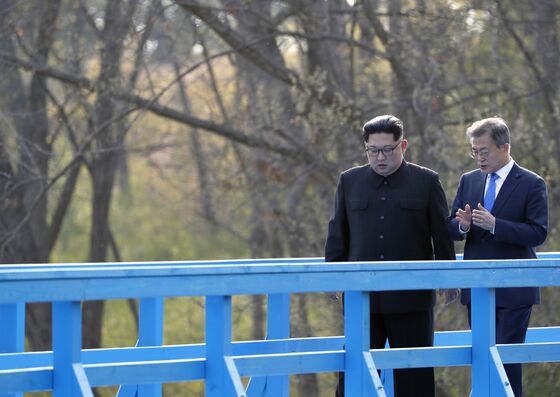 South Koreans see Moon's dovish North Korea policy as a success, beginning with the landmark rapprochement forged with Kim at an April summit at the countries' border. That was followed by other initiatives, including a new inter-Korea liaison office and reunions of families separated by the Korean War.
But the goodwill generated from his historic North Korea meetings has been eroded by an economic slump. Home prices are becoming out of reach for Seoul's middle class, and unemployment in August rose to its highest level in more than eight years.
This is Moon's "first political crisis," said Lee Eun-young, head of the Korea Public Opinion Lab. "Depending on what the government's goal from the summit is, it could make or break his presidency," she said, adding that it's not clear whether Moon wants a declaration to end the war or continued meetings with Kim to find common ground.
Moon is bringing some of South Korea's top business titans with him to Pyongyang. His 200-member delegation will include Samsung Electronics Co. Vice Chairman Jay Y. Lee, Hyundai Motor Co. Vice Chairman Kim Yong-hwan, SK Hynix Inc. Chairman Chey Tae-won and LG Corp Chairman Koo Kwang-mo.
"We believe with this summit, we can expect to move forward with 'New Economic Map of the Korean Peninsula' that our government has been pushing for," Im Jong-seok, Moon's chief of staff, told reporters on Sunday.
Samsung's Lee is due to meet Ri Ryong Nam, a vice premier of North Korea's cabinet, DongA Ilbo newspaper reported, without citing anyone. North Korea may propose that South Korean companies invest in Wonsan port and the tourist site of Mt. Geumgang, and Moon may visit economic zones on the trip, according to local reports. Any investment would require the lifting of sanctions against North Korea.
Frustration with the economy has led South Koreans to draw unfavorable comparisons between Moon's policies and the struggles of his mentor and former boss, the late President Roh Moo-hyun. He led the country from 2003 to 2008 and was the last South Korean leader to visit Pyongyang.
Moon has often cited Roh as the inspiration behind his own bid for the presidency, and served as his chief of staff. He has said he wouldn't repeat the economic mistakes that plagued Roh's presidency, notably a failure to control skyrocketing housing prices that jumped almost 60 percent, or to reform powerful family-owned conglomerates known as chaebol.
But now similar domestic troubles are hitting Moon. The median price of a Seoul apartment jumped to 779 million won ($700,000) as of August, 20 percent higher than a year earlier, according to KB Kookmin Bank. Seoul's younger families are once again being forced out of the market, lamenting their inability to buy apartments as prices outpace what they can save.
"There is a disappointment from people who have believed Moon's administration would improve the economy," said Kim Jin-pyo, a lawmaker in the ruling party who served as a finance minister under Roh. "Rather than seeing an improvement, life for small business owners and low-income people got worse."
So far, Moon's administration hasn't had success stemming the real-estate surge in greater Seoul, home to about half of the country's population, despite having announced measures intended to cool the property market eight times since taking office in May 2017.
In August 2017, he tried to curb speculative housing investment with a plan drafted by an aide who had been behind Roh's attempt to cool the real estate market. But Moon's attempts have been impeded, in part by near-record low interest rates that have fueled speculation in the country's housing markets.
Moon's approval rating slid below 50 percent in a Gallup Korea poll for this first time on Sept. 7 -- down from 83 percent after his first summit with Kim five months ago. It climbed one percentage point, to 50 percent, on Sept. 14 -- the same day the landmark inter-Korean office opened in the North Korean city of Gaeseong, allowing 24-hour per day communication between the two sides.
Success at the summit this week could continue to "push up" that support, said Kim, the South Korean parliamentarian and former finance minister. Moon "will have to find a breakthrough in the impasse in the U.S.-North Korea talks."
Asked about the slipping poll numbers, Moon's office on Friday referred to past comments by a spokesman saying they would listen to the voice of the people more closely and review the latest real estate regulations.
In Pyongyang, things won't be easy for Moon. He will look to salvage faltering negotiations between Trump and Kim over nuclear weapons, while working to further the prospects of a peace deal between them by the end of this year. Moon and the U.S. president will meet next week in the U.S. -- with Moon potentially delivering a message from Kim.
During the summit, Moon will try to persuade the North Korean leader "to come up with somewhat unusual, bold and imaginative" steps towards denuclearization, according to Moon Chung-in, a professor at Yonsei University who serves as a special presidential adviser on foreign affairs and national security.
"President Moon is not doing all inter-Korean relations for the sake of domestic political popularity," Moon Chung-in said. "It's his obligation as the president of Republic of Korea."