Obama Laments 'Broken' Politics in Stumping for Ohio Democrats
(Bloomberg) -- Former President Barack Obama called for Democrats and others concerned about the direction of the U.S. to vote in November and fix "politics that feels broken right now," as he campaigned in statehouse and Congressional races attacking the politics and policies of his successor, Donald Trump.
Obama headlined a rally in Cleveland Thursday night for Richard Cordray, the former head of the Consumer Financial Protection Bureau who's running for governor of Ohio, as well as other candidates including Senator Sherrod Brown.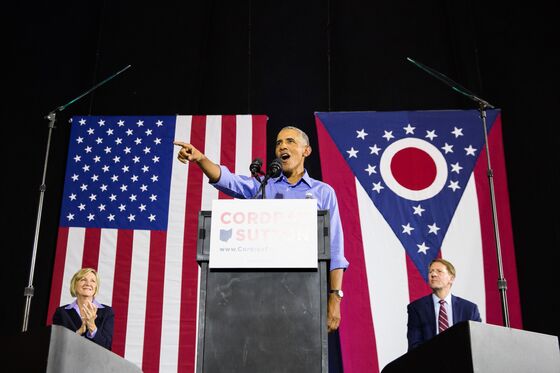 A Democrat hasn't won a statewide race in Ohio since 2012.
"What's at stake goes beyond partisan politics," he said. People "should be concerned with our current course, should be concerned about the basic institutions of our democracy, should want to see a restoration of honesty and decency and lawfulness to our government and should want to see some sort of checks and balances on what's happening right now."
Obama didn't mention Trump by name in the 43-minute speech, before an estimated crowd of 4,250.
With the midterm elections fast approaching, Obama has returned to the campaign trail to help Democrats capture the 23 seats they need to regain control of the U.S. House, as well as backing up-and-coming candidates in races important for redistricting after the 2020 Census.
The former president stumped for seven Congressional candidates in California on Sept. 8, a day after delivering a blunt rebuke to Trump in an Illinois address that was an unusual example of a former president openly criticizing a successor.
Obama has been trying to make the case that the country has reached a pivotal point, exhorting Democrats and independents to vote in the November elections to reject the policies and behavior of Trump and his Republican allies.
"Instead of being a check or balance on this kind of behavior, what you're seeing are Republicans in Congress who are bending over backwards to try to shield and deflect oversight of this behavior from scrutiny and accountability and consequences," Obama said at the rally in Cleveland.
Obama also praised his shepherding of the American economy and tweaked Republicans who are taking credit for good economic times under Trump, saying "When you hear these folks bragging about this economic miracle just remember when it started." He also criticized Republicans' $1.5 trillion tax cut because of the deficits that will result.
"None of this is conservative," he said. "This is not normal what we're seeing. It is radical."
The 2016 campaign is over, but Obama "continues to dismiss the millions of voters across Ohio who rejected a continuation of his policies in favor of President Trump's plan for historic tax cuts, new jobs and soaring economic growth," Republican National Committee spokeswoman Mandi Merritt said in a statement. Cordray, the gubernatorial candidate, would offer "more of the same outdated Obama-era policies," she said.
Battleground State Battle
In Ohio, Cordray faces Republican Attorney General Mike DeWine in the race to replace Republican Governor John Kasich, who cannot run again because of term limits. Brown is being challenged by former Republican Congressman Jim Renacci.
Trump easily won Ohio by eight percentage points after Obama carried it in 2008 and 2012 -- and Democrats clearly want to restore it as a swing state, said Paul Beck, professor emeritus of political science at Ohio State University. Obama should help spur turnout, especially among black voters whose participation fell off in 2016, Beck said.
"The major factor in the 2018 midterm elections is going to be Trump, both in terms of energizing people in his base – which is what he of course is trying to do right now – but also in energizing Democrats and people that are not particularly happy with Trump -- which is the majority of the electorate," Beck added.
Trump is also pursuing an ambitious schedule of appearances, making the case that more Republicans must be elected to stop Democrats from obstructing his agenda. He canceled campaign events scheduled this week in Missouri and Mississippi due to Hurricane Florence.
Obama selected Cordray as the first director of the CFPB, established after the 2008 financial crisis to police mortgages, credit cards and other products. Cordray resigned last year to run for governor. Trump replaced him with Budget Director Mick Mulvaney, and Republicans are trying to make Cordray's tenure an issue in the Ohio race.
"Cordray will destroy your state," Trump said during the Aug. 24 Ohio Republican Party state dinner in Columbus. "He spent the last six years in Washington trying to regulate community banks."
Mulvaney has been praised by Republicans for exercising restraint at an agency they saw as unaccountable, while liberals led by Senator Elizabeth Warren of Massachusetts, who helped create the bureau, have accused him of dismantling it and putting consumers at risk.
During his speech in Cleveland, Obama lauded Cordray's work at the CFPB, including enforcement actions against banks and other institutions that he said had secured $12 billion in recoveries for consumers.
"He didn't go around trying to take credit for it," Obama said. "He didn't tweet about it, he just did it."