Leftists Vie to Take On Bolsonaro in Polarized Brazil Election
(Bloomberg) -- While far-right frontrunner Jair Bolsonaro recovers from an assassination attempt, two leftist contenders are vying to become his biggest challenger in what's shaping up to be a polarized runoff vote in October.
Former Sao Paulo Mayor Fernando Haddad jumped 4 percentage points in the first Datafolha poll published since he officially replaced ex-President Luiz Inacio Lula da Silva as the Workers' Party candidate. He now receives 13 percent of the vote, tied with former Ceara Governor Ciro Gomes. Both leftists have scared investors with promises to undo market-friendly measures approved by the current administration.
Meanwhile, Bolsonaro, a former Army captain who has embraced a liberal economic agenda, rose to 26 percent from 24 percent of voter intentions despite being unable to campaign. He remains in intensive care at a hospital in Sao Paulo after undergoing a second emergency surgery since being stabbed at a street rally on Sept. 6.
More moderate candidates lost ground in the poll published Friday evening: Market-favorite Geraldo Alckmin fell 1 percentage point and environmentalist Marina Silva was down by three points.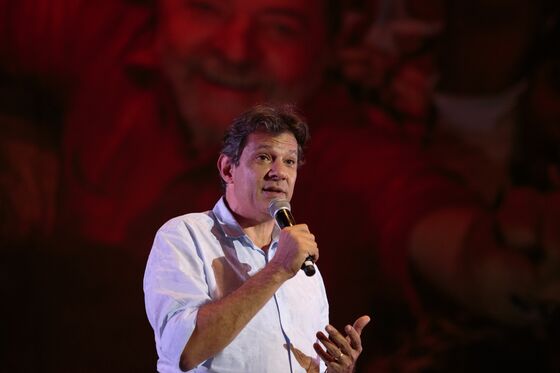 The survey reflects the deep polarization that has gripped the electorate since the impeachment of former President Dilma Rousseff in 2016. While many Brazilians blame the Workers' Party's 12-year rule for the economic crisis and the corruption scandals that have shaken the country, others still long for the economic bonanza enjoyed during Lula's first two terms.
In an attempt to transfer Lula's loyal base of support to his political heir, the Workers' Party started releasing its first TV and radio ads presenting the former Sao Paulo mayor as its candidate, running the slogan "Haddad is Lula."
Investors are paying increasing attention to scenarios for a runoff, which will happen if no candidate obtains a majority of valid votes in the first round. The Datafolha poll showed Bolsonaro would trail Gomes, Silva and Alckmin in second-round simulations. Against Haddad, however, the former Army captain is in a statistical tie.
Bolsonaro's rejection rating rose to 44 percent from 43 percent, the highest among all candidates, while Haddad's also increased to 26 percent from 22 percent.
Bolsonaro's son, Flavio, told a Rio de Janeiro radio station this week that his father is in no shape for campaigning before the first-round vote, and that he will need more surgery in two months to reconstruct his intestine.
Brazil's first-round election will take place on Oct. 7. A runoff, if necessary, will be held on Oct. 28. The Datafolha poll surveyed 2,820 people on Sept. 13-14 and has a margin of error of plus or minus 2 percentage points.