The Job of Italy's Finance Minister Isn't Getting Any Easier
(Bloomberg) -- Italian Finance Minister Giovanni Tria is being squeezed between investor demands to uphold European Union rules and the extravagant spending plans of his fractious coalition.
Caught in the middle, Tria has been the subject of repeat speculation this week over his future. The Finance Ministry denied media reports on Thursday that he threatened to resign amid pressure from the Five Star Movement to green-light funding for its costly basic-income scheme.
Tria's tribulations reflect the jostling between Italy's unlikely coalition partners as budget time approaches. With the anti-establishment Five Star aiming to help the poor and the anti-immigrant League appealing to its base in the more prosperous north, Tria -- a member of neither party -- risks riling both sides, to the potential detriment of his career as well as Italy's economic and financial trajectory.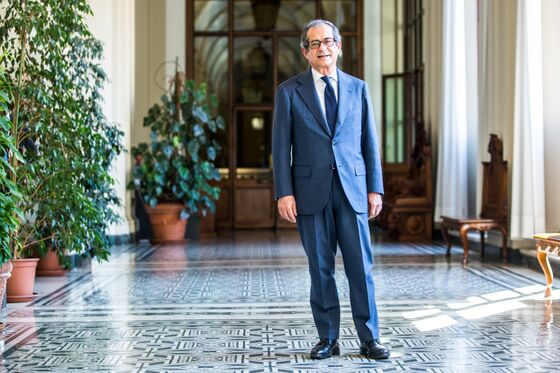 As if that weren't enough, he is also facing internal hurdles at his ministry, according to a senior Five Star official, who said civil servants have been trying to water down reforms they view as overly ambitious.
"Tria is not loved by the coalition and has the toughest role in the cabinet, given Italy's limited fiscal space," said Raffaella Tenconi, founder of London-based consultancy ADA Economics. "We don't think it likely that the minister will leave now, but there may be a cabinet reshuffle in late 2019."
Tria emerged as a voice of reason for markets by repeatedly stressing Italy's commitment to its fiscal targets. In doing so, he was implicitly tamping down expectations that the more expensive policy pledges made by his political masters, Five Star's Luigi di Maio and Matteo Salvini of the League, will be fully included in the spending plan being drawn up.
To read more on the citizen's income plans, click here
Just as Tria's comments this summer eased investor concerns, so reports of his trials drove up Italian bond yields as markets continue to react negatively to any signs of instability. The yield on Italy's benchmark 10-year debt climbed 2 basis points to 2.97 percent on Friday at 9:57 a.m. in Milan, widening the spread over German bunds to 253 basis points. The FTSE MIB benchmark stock index rose 0.5 percent.
"Tria has acquired a very considerable market value for the country," former Premier Mario Monti said in a Bloomberg Television interview, adding that he doesn't think Tria will resign. "I think they will continue to disturb him in terms of wanting more deficit, but he's stubborn enough."
Di Maio and Salvini, both deputy premiers, came to power in June promising voters measures including hefty tax cuts, some form of basic income for the poor and a reduction of the pension age. The cost of their full program has been estimated as high as 75 billion euros, though the government has said it will be implemented gradually over its five-year term.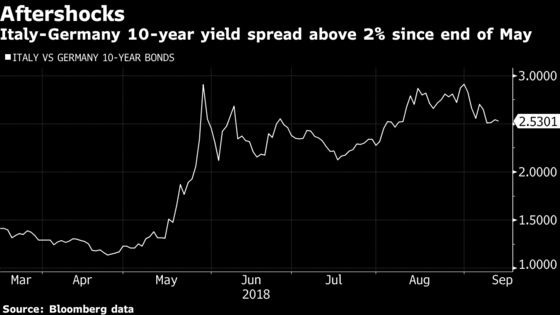 Contradictory statements over how much will be done immediately and concerns about the impact on Italy's 2019 deficit have caused a seesawing of Italy's financing costs throughout the summer. The spread with German 10-year bonds reached a five-year high in August on fears that the country would break the European Union's 3 percent deficit limit.
"Words in the last few months have changed many times," European Central Bank President and former Bank of Italy Governor Mario Draghi told reporters in Frankfurt on Thursday when asked about Italy. "Unfortunately, we've seen that words have created some damage and interest rates have gone up for households and gone up for firms."
While the market reaction led to commitments from Salvini and Di Maio to respect EU rules, their political competition and the need to keep their respective voters happy means each is pushing his party's program hard ahead of the budget's Oct. 15 submission deadline.
Italy is already burdened with the euro region biggest debt ratio to output after Greece. The debt rose to a record high of 2.34 trillion euros in July, the Bank of Italy said on Friday.
With funds scarce, the EU and markets watching, plus a fickle electorate ready to switch allegiances if their electoral experiment disappoints, it's left to Tria to carry out the most delicate of balancing acts.
For Gustavo Piga, an economics professor at Rome's Tor Vergata University, where Tria was head of faculty before becoming a minister, it's a task he measures up to -- unlike his two main cabinet colleagues.
Tria has thus far "been able to impose his stance on the budget," said Piga. "It's actually Di Maio and Salvini who are the lonely ones, as they won't be able to implement their promises to voters."