Gina Miller Says Divided U.K. Is Heading Toward 'Brex-Suicide'
(Bloomberg) -- The U.K. is a divided nation heading toward "Brex-suicide," according to Gina Miller, who brought the lawsuit that forced Prime Minister Theresa May to get parliamentary approval for her Brexit plans.
With the clock ticking down to Brexit, there's still no "settled plan" for Britain's future, Miller said in a speech Friday in Dover, a town known for its iconic white cliffs that serves as the country's main gateway to France. Every day "the hour glass runs emptier," she said. "There's a panic in the air."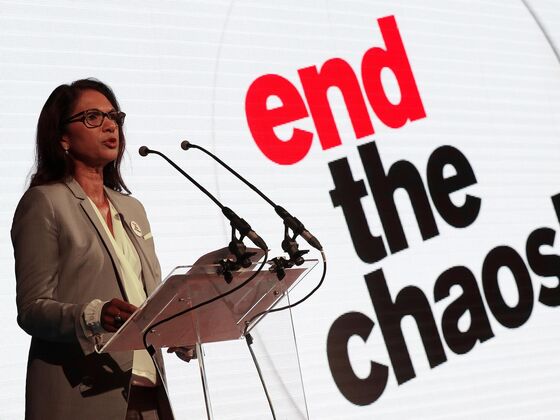 "What we have ended up with is a nation haunted by division, anxiety and unhappiness," Miller said. "To an increasing number of people around our country, however they voted two years ago, Brexit increasingly appears to resemble Brex-suicide."
Miller's speech was organized to launch a website, www.endthechaos.co.uk, which backers said is to give Britons "unspun facts" about Brexit and to help them decide for themselves if it's what they really want.
But at times it sounded more like a political campaign, with Miller taking the stage following a pounding soundtrack called "March of the Saxons," footage of her traveling the country and then delivering a speech lambasting the country's politicians for being "stuck in their Westminster bubble."
Though she has skirted questions about her political ambitions, speculation is rife that she's in the running to be the next leader of the pro-European Liberal Democrats. The incumbent, Vince Cable, is seeking to change the rules to allow for non-members of Parliament to hold his office, and Miller is due to address the party's autumn conference next week.
In 2016, The former wealth manager used her own money to challenge the government's initial plans to trigger Brexit without consulting Parliament. Miller filed what was considered a long-shot lawsuit demanding lawmakers approve the process, and following pair of riveting courtroom battles, the U.K.'s top court backed her arguments January 2017.
Miller said Friday she'd spent two months speaking to people across Britain about Brexit, listening to "their hopes and aspirations -- for themselves, their families and the communities -- and what they think the outcome of this process should be."
Dover was an obvious place to deliver her message. Though the town voted 62 percent in favor of leaving the European Union in the 2016 referendum, it's expected to be badly hit if Britain tumbles out of the bloc without a deal. Authorities have predicted miles of tailbacks in Dover and surrounding areas from day one if customs checks are introduced at the town's port.
"Did Dover residents who voted Leave, I wonder, realize that the outcome of that decision could potentially leave them marooned in their homes for up to three months following our departure from the EU on 29 March next year? Of course, they didn't," Miller said. "They believed they had voted to deliver a safer, more secure country -- a more prosperous future for themselves and their families."