China's Muslim Camps Give Trump Fresh Ammo
As if President Xi Jinping didn't have enough to worry about with the trade war, now the U.S. is shining a spotlight on China's treatment of Uighurs, Turkic-speaking Muslims who mostly live in the country's far west.
Secretary of State Michael Pompeo said in an overnight tweet that Iranian Supreme Leader Ayatollah Ali Khamenei "fancies himself the leader of the Islamic world, but his regime has been totally silent as China — the top buyer of #Iran's oil — has persecuted and detained hundreds of thousands of its Muslim citizens."
While it's unclear just how much President Donald Trump would want to attack China on human rights issues, lawmakers last month asked Pompeo to impose Russia-style sanctions on Chinese officials involved in alleged abuses. A United Nations committee has said as many as 1 million Uighurs are detained in "re-education camps."
Muslim-majority governments have largely kept silent: Many rely on China's cash. Still, Anwar Ibrahim, leader of Malaysia's largest ruling party, said in an interview this week it's time to start highlighting the issue and talk with China about it.
Asked why other Muslim politicians remain quiet, Anwar said: "They're scared."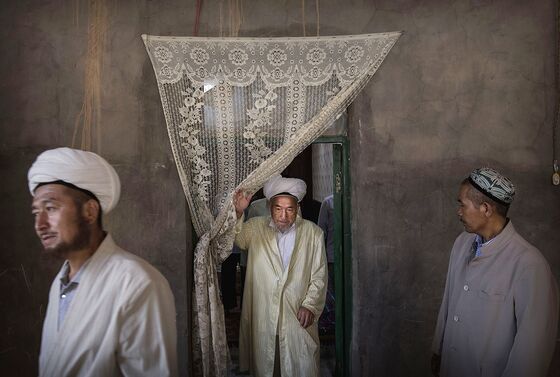 Scientific challenge | With Hurricane Florence dumping rain on the southeastern U.S., Trump is rejecting the official death toll of 2,975 from last year's storm in Puerto Rico, even though the figure is in line with several estimates from prestigious universities. After Trump accused Democrats of padding the tally for political gain, the director of Columbia University's National Center for Disaster Preparedness, Irwin Redlener, said, "I'm flabbergasted."
Landmark liaison | South Korea opened an office in the North that allows 24-hour communications between their officials for the first time in decades. It's the latest move in a drive to ease cross-border tensions, with an eye to the peninsula's eventual denuclearization. Yet the fragility of the rapprochement efforts was evident as Pyongyang slammed U.S. "antagonism" in seeking criminal charges and sanctions against a North Korean implicated in the 2014 Sony Pictures hack.
Trade whiplash | The Trump administration's trade war with China is following an increasingly predictable pattern. The day after markets cheered Treasury Secretary Steven Mnuchin's invitation to his Chinese counterparts to re-engage in high-level talks, Trump once again undercut the very idea that the U.S. wants to deal. The move illustrates why Beijing has become frustrated with its U.S. relations and why a resolution may not come soon.
Hyperinflation, devaluation | Venezuelans who earned a pittance are now earning a slightly larger pittance, thanks to a 30-fold increase in the minimum wage — if they have a job, that is. As Fabiola Zerpa writes, starting this week, 7 million workers are guaranteed monthly pay of 1,800 bolivars, about $20 at the black-market rate. President Nicolas Maduro intended the rise as political boost, but it's having the opposite effect: Employers, already hit by an epic economic contraction, are telling laborers they can't afford to keep them.
Australia's women problem  | Its male-dominated culture was labeled "toxic" by one female lawmaker, but that didn't stop Prime Minister Scott Morrison's fractured Liberal Party balking at turning to a woman to improve its fortunes. Concerns over a lack of gender diversity were brushed aside yesterday when the party selected a male candidate to replace former leader Malcolm Turnbull. Australia plummeted to 50th this year from 15th in 1999 in global rankings for representation of women in parliament.
Super Typhoon Mangkhut is forecast to make landfall in the Philippines tomorrow, leaving citizens bracing for the worst. Five years ago, they endured one of the strongest typhoons ever recorded, which killed more than 6,300 people.
It's Friday, why not see how you do on our weekly quiz, and click here for Political Focus, our round -up of the last seven days in images.
And finally … In the home of the Spanish inquisition, religious conservatives still have powers to shut down their critics that might surprise people in much of Europe, as the actor Willy Toledo discovered this week. Toledo was arrested in Madrid and spent the night in jail after ignoring a summons for "offending religious feeling" in a Facebook post. While the phrase he used was fairly moderate by the standards of modern Castilian cursing, we're not going to attempt a translation here all the same.