A Swamp Tour of Trump's Washington
(Bloomberg Businessweek) --
Mark Twain published The Gilded Age, his tour of unbridled avarice and unchecked political corruption, 145 years ago. A central character in the novel is a young woman who fashions herself as a Washington lobbyist to promote her family's financial interests. Her efforts anchor a satirical, caustic work that defined an era and was laced with pointed warnings that are still relevant today. "No country can be well governed unless its citizens as a body keep religiously before their minds that they are the guardians of the law, and that the law officers are only machinery for its execution, nothing more," Twain wrote.
In other words, what really matters is whether the government works for the people or for those running it. Amid the fervor of daily scandal seeping from the White House— Bob Woodward's Fear and an anonymous New York Times op-ed being the latest catalysts—it's easy to overlook how President Trump and his team make for an unusually conflicted bunch. They successfully campaigned for the highest office in the land while happily maintaining business ties and investments, raising questions about whether they'll put sound public policymaking ahead of an apparent determination to profit from the presidency.
Investigations surrounding the Trump team have led to indictments of more than 30 people; one was convicted of fraud (Paul Manafort), and others (including Michael Flynn and Michael Cohen) pleaded guilty to other crimes. These cases involve charges of everything from bank and tax fraud to conspiracy against the U.S., campaign finance illegalities, and lying to federal investigators. On Friday, Manafort agreed to cooperate with special counsel Robert Mueller's probe of Russian interference in the 2016 presidential campaign — while also pleading guilty to a second round of fraud charges including money laundering and tax evasion. Just a month ago, Trump praised Manafort for his refusal to cooperate with Mueller.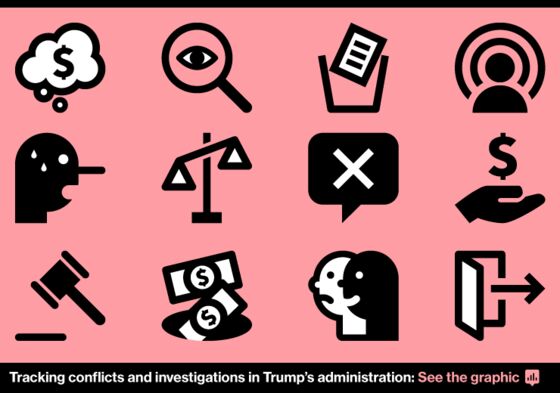 Amid all this, monitoring financial conflicts of interest and legal transgressions in Trumplandia isn't about partisan politics or ideological divides. It's about ensuring good government and ethical leadership. The inventory of current problems includes cabinet members awash in ethics violations and business conflicts, potentially criminal acts by congressional supporters, and lying by aides and advisers.
Exhibit A, of course, is the president. Trump has heaps of conflicts at home and abroad, largely linked to brand licensing and hotel and golf operations. He's also the first president since Gerald Ford not to make his tax returns publicly available.
As president, Trump has done little to meaningfully distance himself from the Trump Organization. His two eldest sons and his chief financial officer oversee a trust that looks after his stake in the business; Trump's family and lawyers have said the arrangement is adequate for keeping the president in the dark about the company. Yet Trump's sons are in frequent contact with him. One of them, Eric, has said they brief him on the company's earnings. Allen Weisselberg, the CFO, has worked for the Trumps since the 1970s and never made a major financial decision without Trump's blessing. He also just cut an immunity deal with federal prosecutors investigating campaign finance violations involving Cohen, the president's former lawyer.
Trump's portfolio is a mass of ethical fault lines. His foreign policy inevitably intersects with his enterprises in places such as Dubai, Indonesia, and India. He's often borrowed heavily to fund developments and has openly pressed the Federal Reserve to keep interest rates low; he signed a large federal tax cut with provisions that kept tax payments low for real estate developers like him. He also owes more than $300 million to Merrill Lynch and Deutsche Bank AG—financial-services companies regulated by his administration.
The president still owns a hotel in Washington, the Trump International, which is about as gilded as it gets. The property sits atop federal land that Trump leases from the very government he's running. It's also become a hub for diplomats, politicians, and lobbyists. What better way to curry favor with the president than to spend money at his hotel? A federal judge has allowed a lawsuit to proceed that argues the hotel represents a violation of the emoluments clause—the provision in the Constitution that prohibits the president from receiving anything from a foreign government that might constitute a bribe.
Meanwhile, Mueller's probe has expanded to include possible obstruction of justice and scrutiny of the Trump Organization's business dealings. The latter part of the probe may be the most threatening to the president, because it could surface possible crimes such as money laundering and tax evasion or map a money trail leading back to Russia or other foreign countries.
And those tax returns? "There's nothing to learn from them," Trump has said. Except, of course, there is—including how robust his business is, how philanthropic he is, what tax shelters he uses, and, perhaps most significant, the financial and business pressures that may be brought to bear on him by others. (I've seen the president's tax returns because he unsuccessfully sued me for libel for a biography I wrote, TrumpNation. While he had to turn over his returns to my lawyers during the litigation, I'm barred from speaking or writing about their specific financial details.)
When Ford selected Nelson Rockefeller to be his vice president after President Richard Nixon's resignation in 1974, questions arose about whether Rockefeller's personal fortune would affect his decisions in government. The family's wealth and business influence far exceeded the Trumps', yet Rockefeller submitted to a Capitol Hill grilling that involved a public vetting of his personal finances. Nothing even close to that has happened with Trump or his team. After Watergate, Congress went to work sanitizing government. Today, despite an accumulation of muck, there's little disinfectant being applied. Most damaging is the signal this sends to the rest of the government. If the boss thinks the rules don't apply to him, why should they apply to anyone?
Take Trump's son-in-law, Jared Kushner, whose family recently unloaded its troubled Manhattan skyscraper, 666 Fifth Ave. Kushner's efforts to refinance the building's onerous debt by lobbying Chinese investors before Trump formally took office raised questions about the propriety and legality of the maneuver given the president's sway on China policy. Although Kushner had meetings with a Russian banker and met with the Russian ambassador to the U.S. before Trump took office, he said no business matters were discussed in those talks. His statements about all the fundraising chats that did take place are likely to be of continuing interest to Mueller.
Some Trump officials have been caught doing things that weren't clearly illegal but were certainly swampy. Scott Pruitt ran the U.S. Environmental Protection Agency as if it were his own sandbox. He resigned in July amid news he snared bargain prices to rent a condo from a lobbyist and had his staff running errands for him, including contacting the chief executive officer of Chick-fil-A Inc. to help secure a franchise for his wife. Tom Price, Trump's former Health and Human Services secretary, resigned last year following a scandal involving private jet travel charged to taxpayers; Interior Secretary Ryan Zinke is under investigation for a host of possible ethics lapses, including discussing a land deal with an oil executive whose business is affected by Interior's policies.
In Congress, the first two House Republicans to endorse Trump, New York's Chris Collins and California's Duncan Hunter, have been hit with federal charges— Collins for insider trading and Hunter for making illegal use of campaign funds. Both have pleaded not guilty. Trump came to their joint defense by slagging one of his own, Attorney General Jeff Sessions, for not using the U.S. Department of Justice's powers to block their indictments before the November midterms. "Two easy wins now in doubt because there's not enough time. Good job Jeff," Trump tweeted. In other words, better to have top law enforcement officials settle political scores than observe the law.
Now consider Secretary of Education Betsy DeVos, who came to government with a background in charter school advocacy, scant experience in public schools, and armed with abundant wealth and political connections. She's been an enthusiastic supporter of for-profit charter schools, not surprising perhaps given her past investment in K12 Inc., a for-profit charter school behemoth. After the Education Department last year flagged more than 100 of her investments as problematic, she agreed to sever her financial ties to companies that provide services to schools and colleges. Among them was a debt collection agency that goes after delinquent student loans on behalf of the same Education Department she oversees.
DeVos has been accused of no wrongdoing, and during her confirmation hearing she promised to take conflicts of interest seriously. But why didn't she simply divest her financial stakes in education ventures before she went to work in the administration, not after? The same could be asked of Secretary of Commerce Wilbur Ross, a wealthy industrialist and buyout king. In a different White House, his web of financial entanglements might have been resolved at the outset so he could work without critics wondering if he was promoting his own interests when conducting, say, global trade negotiations.
While helping craft U.S. trade policy toward China, Ross had an interest in a company partially owned by the Chinese government. He also had holdings in natural gas companies while negotiating a trade deal meant to increase gas exports to China, and he held a stake in the Bank of Cyprus—a major bank in a nation known as a destination for Russian money laundering. Ross, who's denied any wrongdoing, said last year he would divest his equity investments after the U.S. Office of Government Ethics warned him that failing to do so "created the potential for a serious criminal violation."
The sheer volume of conflicts pouring out of this administration can be numbing. Perhaps Trump is relying on scandal fatigue—an unfortunate outcome given his promises to "drain the swamp." He's also someone who either ran or thought about running for president a few times before, largely as publicity stunts. It shouldn't surprise us that moneymaking and opportunism ended up front and center in his White House. Does that mean this administration is worse than its predecessors when it comes to conflicts of interest and lawlessness? Depends on your baseline. If it's the 19th century, perhaps not. If it's the early 20th century (including Warren Harding's graft-plagued tenure), the answer may be yes. If it's anytime in the past 60 years, then almost certainly.
Twain would recognize Trump's Washington. He described it in The Gilded Age. "Unless you can get the ear of a Senator, or a Congressman, or a Chief of a Bureau or Department, and persuade him to use his 'influence' in your behalf, you cannot get an employment of the most trivial nature in Washington," he wrote. "Mere merit, fitness and capability, are useless baggage to you without 'influence.' "
To contact the editor responsible for this story: Matthew Philips at mphilips3@bloomberg.net, Robert Friedman