'Shame' on Trump for Disputing Puerto Rico Death Toll, Mayor Says
(Bloomberg) -- President Donald Trump disputed the death toll in Puerto Rico due to Hurricane Maria Thursday, saying on Twitter that "3,000 people did not die" -- contradicting an assessment commissioned by the island territory and conducted by researchers at top U.S. universities.
Trump sought to discredit the casualty count from last year's storm even as Hurricane Florence poses a fresh test for his administration's capability to handle a major disaster. The Category 2 storm is approaching the Carolina coast, threatening a deadly 13-foot (4 meters) storm surge and heavy rains expected to flood the region.
His tweets were lambasted by Puerto Rico's leaders and congressional Democrats -- one said he should resign, and another called him racist. Several key Republican lawmakers said they were confident in the accuracy of Maria's death toll despite Trump's claims.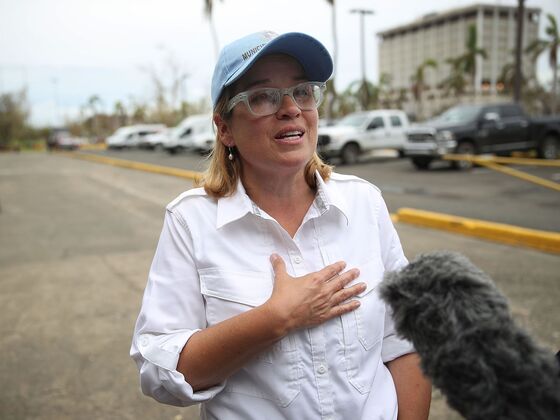 "Shame on you!" San Juan Mayor Carmen Yulin Cruz fired back on Twitter. "OUR LIVES MATTER."
In a series of posts Thursday morning on Twitter, Trump blamed Democrats for the increased death toll in Puerto Rico last year without offering any substantiation. The casualty count was compiled through an independent assessment by academics.

The GWU study, commissioned by Puerto Rico's governor, concluded that the toll far outstripped the previous official tally of 64, which took into account only deaths immediately caused by the storm, such as those from structural collapses and drowning. Improper death certificates also drove down the official total, the report found.
Researchers came up with their estimated death tolls by calculating an average death rate for previous years. They compared that to the number of deaths on the island in the months after Maria, making adjustments for seasonality and population size. Harvard University's study extrapolated mortality based on a sample of interviews.
"This was done by the Democrats in order to make me look as bad as possible when I was successfully raising Billions of Dollars to help rebuild Puerto Rico. If a person died for any reason, like old age, just add them onto the list. Bad politics. I love Puerto Rico!" Trump wrote in another tweet.
Representative Bennie Thompson of Mississippi, the senior Democrat on the House Homeland Security Committee, said Trump should resign, calling his tweets "his most hideous lie to date."
"This ongoing campaign to attempt to rewrite history can only be described as standard issue propaganda –- and we will have none of it," Thompson said in a statement. "The fact that the president will not take responsibility for his administration's failures and will not even recognize that thousands have perished shows us, once again, that he is not fit to serve as our president."
Representative Joe Kennedy, a Massachusetts Democrat, said on Twitter: "This is what your math looks like when you count black or brown lives less than white lives."
"Puerto Rico's victims shouldn't have their pain questioned," Richard Rossello, the territorial governor, said on Facebook. "I ask the president of the United States for all agencies to invest the necessary resources to keep working in favor of the people of Puerto Rico."
House Speaker Paul Ryan, a Republican, declined to side with the president during a news conference Thursday in Washington. "I have no reason to dispute these numbers," he said of Puerto Rico's death toll.
Republican Senator Marco Rubio of Florida also said he was confident in the death count.
"3k more Americans died in #PuertoRico after Hurricane than during comparable periods before," Rubio said in a tweet. "We all need to stop the blame game & focus on recovery, helping those still hurting & fixing the mistakes."
White House press secretary Sarah Huckabee Sanders didn't answer a question on Trump's tweet as she walked away from a group of reporters Thursday morning, though it wasn't clear whether she heard it. Other White House press representatives didn't immediately respond to questions about the tweets.
Trump praised the government's response to the Puerto Rico disaster during an Oct. 3 address at Luis Muniz Air National Guard Base.
"Sixteen versus literally thousands of people. You can be very proud. Everybody around this table and everybody watching can really be very proud of what's taken place in Puerto Rico," he said, according to a White House transcript of the event.
The tweets kept alive Trump's insistence that his administration's response to Hurricane Maria's devastation in the U.S. territory was a success as federal emergency management personnel prepare for Hurricane Florence to make landfall in the Carolinas on Friday.
Trump on Tuesday called his government's response to Hurricane Maria an "unsung success." He's repeatedly defended federal efforts in the wake of Maria, a category 4 storm that destroyed much of Puerto Rico's infrastructure and left most of the island without power for weeks or longer.