Trump Defies Science With Rejection of Puerto Rico Death Toll
(Bloomberg) -- President Donald Trump rejects the official death toll of 2,975 from last year's devastating hurricane in Puerto Rico.
Yet the figure, which has been adopted by the island's government, is one of several estimates from prestigious universities that have employed established scientific processes to come up with casualty counts in the thousands.
Trump, in a series of tweets Thursday as Hurricane Florence assaulted the Carolina coast, accused Democrats of padding the figure for political gain. He offered no substantiation.
"I'm flabbergasted," said Irwin Redlener, director of Columbia University's National Center for Disaster Preparedness, a think tank. "People need to understand we're not just counting immediate fatalities. We have to understand what happens long-term with ongoing conditions."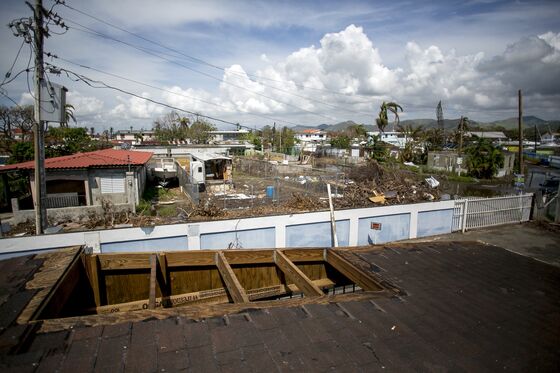 The furor spotlighted the difficulty of accounting for the toll of disasters, which can continue to mount for months after the initial incident. Big storms keep punishing regions long after winds abate and floodwaters recede. Researchers attempt to estimate how many deaths can be attributed to a storm and how many would have occurred anyway.
In Puerto Rico, residents coped with lost jobs, damaged homes, crippled roadways and months without electricity -- all impediments to continued medical care. Estimates of deaths attributable to the storm have ranged from 1,139 to 4,645.
The study commissioned by the island's government and performed by the George Washington University's Milken Institute School of Public Health tallied 2,975 excess deaths in Puerto Rico from September through February. Researchers came up with that figure by calculating an average death rate for previous years. They compared that to the number of deaths on the island in the months after Maria, making adjustments for seasonality and population size.
"We stand by the science underlying our study," the school said in a statement posted on its website. "We are confident that the number -- 2,975 -- is the most accurate and unbiased estimate of excess mortality to date."
But Trump disputed the number. In a tweet, he said "3,000 people did not die in the two hurricanes that hit Puerto Rico. When I left the Island, AFTER the storm had hit, they had anywhere from 6 to 18 deaths."
The Trump administration has been criticized by government watchdogs for their performance during a record year of disasters in 2017, when Hurricane Harvey flooded southern Texas before Maria assailed Puerto Rico.
Asked last month whether he still believed the federal government's response to the hurricanes in Puerto Rico was sufficient, Trump said he believed "we did a fantastic job." He cited difficulties delivering supplies to an island and problems with the island's power grid as obstacles.
"This was done by the Democrats in order to make me look as bad as possible," Trump tweeted on Thursday.
Said Columbia's Redlener, "This is definitely a head-shaking moment."
The GWU study, commissioned by Puerto Rico's governor, concluded that the toll far outstripped the previous official tally of 64, which took into account only deaths immediately caused by the storm, such as those from structural collapses and drowning. Improper death certificates also drove down the official total, the report found.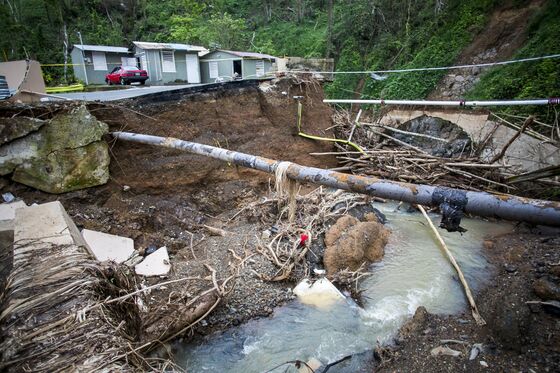 More people die in the months after a storm as vital medical care is cut off -- for instance, patients can't get insulin, or respirators and kidney dialysis equipment fail as electricity quits. As months go by chronic diseases worsen, a trend amplified as qualified doctors and nurses leave because their clinics and practices are crippled, Redlener said.
"2,975 is a number at the moment but it's going to get higher," Redlener said. "I'm predicting at least 4,000 deaths will be attributed to the storm by the end of 2018."
Alexis Santos, an assistant professor at Penn State whose study found an estimated 1,139 excess deaths from September through December in Puerto Rico, said "Most of the deaths occurred because people couldn't get the services they needed to stay alive."
Like the George Washington study, his research compared actual deaths with the number expected, judging from patterns in previous years.
A third study by Harvard University researchers pegged the death toll even higher, at 4,645 through Dec. 31, 2017.
John Mutter, a professor at Columbia University who researched fatality counts after Hurricane Katrina, said developing an accurate count can be difficult but isn't impossible.
"There is always some gray, but it's not what is being said here" Mutter said. "Calling it political is absurd."