Suu Kyi Defends Prison Terms for Reuters Journalists in Myanmar
(Bloomberg) -- Myanmar's leader Aung San Suu Kyi said Reuters journalists Wa Lone and Kyaw Soe Oo were jailed because they broke the country's Official Secrets Act, and not because they were journalists.
Defending the rule of law in Myanmar to an audience at a World Economic Forum event in Vietnam on Thursday, Suu Kyi said that the controversial case "had nothing to do with freedom of expression at all," and questioned whether international critics of the verdict had actually read the court's judgement.
"If anybody feels there has been a miscarriage of justice I would like them to point it out," Suu Kyi said in response to a question citing criticism of the judgement by U.S. Vice President Mike Pence. "I don't think anyone has bothered to read it," she said, adding that the journalists had "every right to appeal."
Pence said on Twitter the day after the verdict that he was "deeply troubled" by the ruling jailing the journalists "for doing their job reporting on the atrocities being committed on the Rohingya people," referring to allegations of mass killings and ethnic cleansing of Rohingya Muslims by Myanmar's army in its Rakhine state. Myanmar rejects the accusations.
The reporters were arrested Dec. 12 after police accused them of violating the 1923 law by acquiring "important secret papers" from two policemen. They both pleaded not guilty, with Reuters citing "compelling evidence of a police set-up" after one policeman testified that a senior officer had ordered the entrapment of the reporters. A Myanmar judge nevertheless sentenced the two journalists to seven years in prison on Sept. 3, sparking global outcry.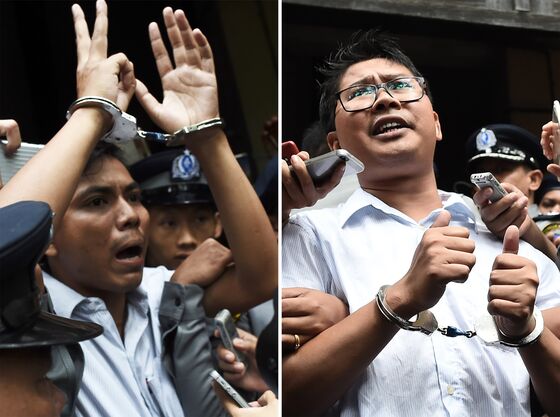 The international criticism over the case has damaged Myanmar's reputation, making it harder for companies that had sought opportunities in the country after the U.S. lifted broad-based sanctions following its transition to democracy. Suu Kyi, herself a political prisoner before coming to power, is facing criticism for failing to ensure press freedom or do more to protect the Rohingya.
"Today is a sad day for Myanmar, Reuters journalists Wa Lone and Kyaw Soe Oo, and the press everywhere," the news organization's editor-in-chief Stephen J. Adler said in a statement after the verdict. "This is a major step backward in Myanmar's transition to democracy, cannot be squared with the rule of law or freedom of speech, and must be corrected by the Myanmar government as a matter of urgency."
Addressing the crisis in Rakhine state, which a United Nations report last month said should see Myanmar's top generals investigated and prosecuted for genocide, Suu Kyi said the situation could have been handled better.
"There are of course ways in which, with hindsight, the situation could've been handled better," Suu Kyi said. "But we believe that in order to have long-term security and stability we have to be fair to all sides."