Spain Says EU Has Drawn a Line in the Sand With Hungary Vote
(Bloomberg) -- The European Parliament has sent a clear signal to Hungarian Prime Minister Viktor Orban that it won't stand by as he neutralizes the checks on his power, Spanish Foreign Minister Josep Borrell said.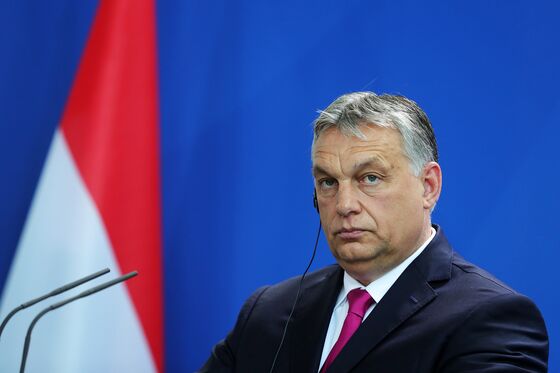 "I'm sure that the government of Hungary won't change their mind, but it's a line in the sand," Borrell said in an interview at his offices in Madrid on Wednesday.
Orban received an unprecedented European Union censure as EU lawmakers called for his government to face possible sanctions for eroding democratic standards. Lawmakers mustered the two-thirds majority needed for a proposal saying Hungary poses "a clear risk of a serious breach" of principles including the rule of law.
"It's an opportunity for European citizens to wake up," Borrell said, adding that people are now fully aware that they are affected by what happens in European politics.
The issue now passes to the European Council where national leaders must decide on whether to go ahead with sanctions. Poland, which is facing similar measures, has said it won't support the motion making sanctions unlikely.
All the same, the verdict highlights the clash between pro-EU forces and populists as both sides gear up for bloc-wide legislative elections next May. Orban, in his third consecutive term as Hungary's leader, has boasted about creating an "illiberal" state, thumbed his nose at the EU and helped thwart deeper European integration.
"We know that it will not stop him, but politically speaking it's important that two thirds of the European parliament clearly contested that kind of attitude," Borrell said. "Now let's see what happens in the Council."