U.K. Poison Suspects' Gothic Tale Tests Belief on Russian TV
(Bloomberg) -- Looking anxious and sweaty, the two Russians accused of carrying out the first chemical-weapon attack in Europe since World War II insisted they were just simple tourists eager to see an ancient English cathedral.
Even the Russian state TV interviewer who quizzed Alexander Petrov and Ruslan Boshirov seemed skeptical that a love of Gothic architecture drew them to make two visits to the city of Salisbury on the same weekend that a former spy, Sergey Skripal, fell victim to the nerve-agent poisoning. The cathedral is famous throughout the world for its tall spire and old clock, insisted Boshirov.
"It's up there with Monty Python," said Chris Bryant, an opposition Labour Party lawmaker and chair of the all-party parliamentary group on Russia, after the Kremlin-funded RT TV posted the 25-minute clip on Thursday. "It's almost as if they are sticking two fingers up at the U.K."
The men appeared on screen a day after President Vladimir Putin had urged them to come forward, saying they were civilians and "there's nothing unusual or criminal" in their behavior.
The U.K. was unmoved. "The lies and blatant fabrications in this interview, given to a state-sponsored TV station, are an insult to the public's intelligence," said James Slack, spokesman for Prime Minister Theresa May. Her government alleges the men are officers of GRU military intelligence and that the poison attack was approved at the highest levels in Russia.
Relations between London and the Kremlin, already frosty, plunged into crisis after the attack. May rallied support from allies for coordinated expulsions of more than 150 Russian diplomats, prompting tit-for-tat retaliation from Moscow.
The U.S. plans to impose a new round of "very severe" sanctions on Russia in November over the Skripal poisoning, Manisha Singh, assistant secretary of state, told a congressional hearing Thursday.
In the interview, Boshirov said that while they may have passed Skripal's home during their visit to Salisbury, "we don't know where it's located" and "I'd never heard this name before."
The interviewer, RT's editor-in-chief Margarita Simonyan, at times seemed more interested in insinuations about the men's personal relationship than their alleged military status. "All footage features you two together," she told them. "You spent time together, you lived together, you went for a walk together. What do you have in common that you spend so much time together?"
"Let's not breach anyone's privacy," Boshirov replied. "We came to you for protection, but this is turning into some kind of interrogation."
Simonyan later wrote on Twitter: "Guys, I don't know if they're gay or not." She'd poured them some brandy "for courage." They'd been "extremely nervous and sweating" during the interview and it's for viewers to decide whether to believe them, she said.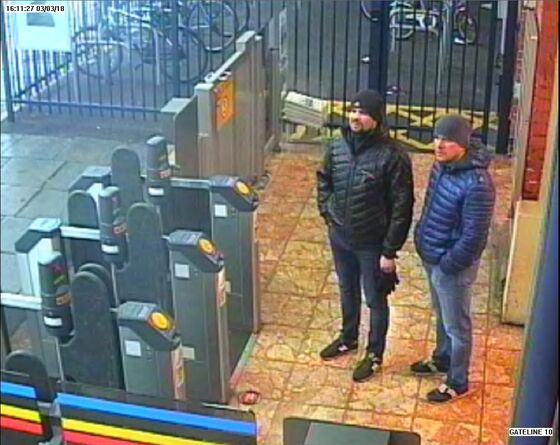 They spent no more than an hour in Salisbury and returned to London after abandoning a plan to visit the Stonehenge monument because of "muddy slush" and snow in the city, Petrov said. They returned the next day to see the sights. The men denied having any poison or the counterfeit Nina Ricci perfume bottle that U.K. police say was used to transport the nerve agent.
They confirmed that they were the men in CCTV images released by British police last week showing two men in their forties. Investigators say the names they used were likely aliases. The two Russians entered the U.K. on an Aeroflot flight on March 2, departing March 4.
They traveled to and from Salisbury on the weekend in March that Skripal and his daughter Yulia were poisoned. The victims recovered after treatment in the hospital. A woman later died after coming in contact with the nerve agent.
"When your life turned upside down, you don't know what to do and where to go," Boshirov said. "We're afraid of going out, we fear for ourselves, our lives and lives of our loved ones."
The men said they're partners in a business importing sports-nutrition supplements from Europe. Simonyan said they refused to elaborate on their backgrounds or show their passports on camera.
The interview looked like a "badly-staged show with third-rate actors" and will deepen the conviction in the West that Russia was behind the attack, likely even raising similar suspicions at home, said Gennady Gudkov, a former security-service agent who became an opposition politician.
Putin's defiant stance echoed the Kremlin's approach to the 2006 case when his spies were accused of murdering former Russian security officer Alexander Litvinenko in London using radioactive polonium. U.K. authorities blamed two former Russian agents, Andrei Lugovoi and Dmitri Kovtun, for the murder. They denied the allegation and Russia refused to extradite them.
Lugovoi went on to become a member of parliament and a regular fixture on Russian state television. In 2017, the U.S. imposed sanctions on him for his role in the case.