New York Democrats to Pick Top Trump Antagonizer: Election Wrap
(Bloomberg) -- The gubernatorial primary between Cynthia Nixon and Andrew Cuomo has sucked up most of the attention in New York, and understandably so. Cuomo's an incumbent seeking a third term and running leftward to blunt the insurgent campaign of Cynthia Nixon, a well-known actress and activist who started her campaign complaining about the deteriorating subway system.
Yet for President Donald Trump, the biggest race today lies a little further down the ballot. Democrats will choose their candidate for state attorney general, a perch that has been used to police Wall Street and lead the "resistance" against Trump.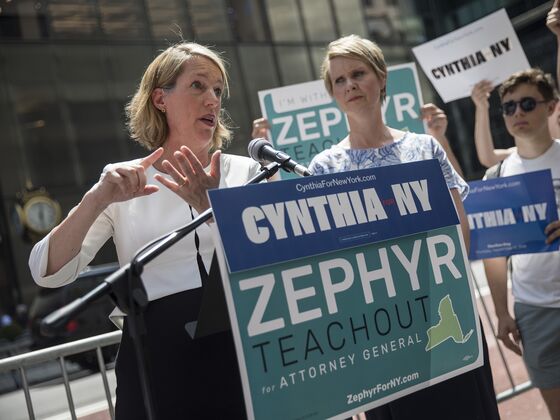 In Zephyr Teachout, a Fordham University professor whose areas of expertise include political corruption and financial services fraud, progressives have found a candidate for attorney general who participated in the Occupy Wall Street protests of 2011. Teachout, 46, who won the New York Times's endorsement as the candidate most likely to keep abuses of power in check, has vowed to vigorously enforce and work to expand the penalties of the state's century-old Martin Act, which gives New York's attorney general broad authority to investigate and litigate financial sector fraud.
Democratic Representative Sean Patrick Maloney, New York City Public Advocate Letitia James and Leecia Eve are also running in the race which polls have shown to be too close to call. Maloney, a former White House staff secretary for Bill Clinton, said in a debate that Trump was "a clear and present danger," while James has sought to depict herself as the most progressive candidate in the race.
In the governor's race, polls indicate two-term Governor Cuomo is in a strong position to fend off Nixon's challenge and advance to the general election where he would be heavily favored, despite a series of recent stumbles. Were Nixon to pull off an upset, it would send shock waves through Albany -- and the Democratic Party nationwide.
Polls close at 9pm ET; reminder that this balloting won't include federal lawmakers because the Empire State held its congressional primaries in June
NY-GOV-DEMS: Cuomo, the son of the late former N.Y. Gov. Mario Cuomo, has had a series of stumbles in the closing weeks of the primary campaign

Last month he tried to deflate President Trump's slogan and wound up surprising his friendly audience by declaring that America "was never that great"

Since then: A mailing by the Cuomo-controlled New York Democratic State Committee that depicted Nixon as weak against antisemitism and a ribbon-cutting ceremony to open a Hudson River bridge north of the city, only to see the bridge closed within hours after it was deemed unsafe; read more

Still, the N.Y. governor finds himself in a strong position

Arguably the best endorsement Nixon could've gotten, from Bernie Sanders, didn't happen, after Sanders decided to stay on the sidelines in the race despite issuing endorsements down ballot

Worth noting: Even if Nixon loses, she could still appear on the November ballot since she secured the nomination of the progressive Working Families Party

NY-GOV-GOP: Republican Marc Molinaro, the Dutchess County executive, is unopposed in his primary for governor
NY-AG-GOP: Attorney Keith Wofford is unopposed in the GOP primary for attorney general
Fox News polls show five key races all within the margin of error

In Ariz., Democrat Kyrsten Sinema is narrowly ahead of Republican Martha McSally, 47%-44%
In Ind., Senate Republican candidate Mike Braun leads incumbent Democrat Joe Donnelly 45%-43%
In Mo., Democratic Sen. Claire McCaskill, a two-term incumbent, tops her Republican challenger Josh Hawley 44%-41%
In North Dakota, Republican Kevin Cramer tops incumbent Democratic Sen. Heidi Heitkamp 48%-44%
In Tennessee, Republican Marsha Blackburn leads Democrat Phil Bredesen 47%-44%
Read more

Democratic hopes of retaking the U.S. Senate have brightened with just eight weeks left before the midterm elections; read full story
AZ-SEN: Two other polls out of the Grand Canyon state paint a conflicting picture

Poll from OH Predictive Insights puts McSally up 49%-46%, leading for the first time since the group began watching the race in Dec. 2017
Another poll from Data Orbital shows Sinema with 4 point lead, according to Arizona Public Media

MT-SEN: Democratic Sen. Jon Tester goes after his Republican challenger, Matt Rosendale, for being all hat, no cattle in a new political ad

The ad disputes Rosendale's claim to be a rancher, saying that the candidate has no brand or record of cattle sales
Though Trump won the state in 2016, nonpartisan Cook Political Report ranks the contest "Likely Democratic"

WV-SEN: Republican candidate Patrick Morrisey released his second TV ad, dubbed "Amen Brothers," in which he reminds voters how he went after "Barack Obama's coal-killing regulations" as the state's attorney general

Morrisey is battling Manchin in the race rated by Cook Political report as "Toss Up"

Priorities USA Action and Senate Majority PAC are launching an $18m digital advertising program supporting Democratic Senate candidates in Ariz., Fla., Ind., Mo. and N.D.

Separately, SMP announces $3m digital ad program supporting Democratic Senate candidates in Mont., Nev., Tenn. and W. Va.; ads will run wherever voters are consuming content online, including Facebook and video and audio streaming platforms such as YouTube, Hulu and Spotify

The NRA has begun deploying its considerable resources to influence the midterm elections, Bloomberg Government's Kenneth P. Doyle reports, with six-figure expenditures in largely rural states Trump won

The money has bought attack ads against two Senate Democrats -- $380k for ads in W. Va. opposing the re-election of Manchin and an additional $380k in Mont. to oppose Tester, according to independent expenditure reports filed with Federal Election Commission
The family of late Sen. John McCain rebuked the House GOP's campaign arm for using video of him in a political ad that has aired in Arizona, CNN reported

The ad, airing in the competitive 2nd district, uses footage from McCain's successful 2016 run against Ann Kirkpatrick, who was competing to take McCain's Senate seat
"The McCain family believes it is unfortunate that the senator's image is being weaponized this election season," Julie Tarallo, spokeswoman for the family, said
Bloomberg Government's Greg Giroux reports that McCain footage has been used in at least three ads this cycle, including a Democratic ad praising Tom Malinowski in N.J.'s 7th district and a Republican ad criticizing Democrat Elissa Slotkin in Mich.'s 8th district

Five states will decide the House Majority, says Nathan Gonzales, publisher of the nonpartisan Inside Elections newsletter

The states are Minn., where there are five competitive races; Calif., where there are nine competitive races; N.Y., with five competitive races; Pa., with nine seats in play; and Ill. with three seats in play

FL-26: In its latest ad, the NRCC accuses Democrat Debbie Mucarsel-Powell of being a front for a Ukrainian businessman and militia leader named Ihor Kolomoisky

The ad says her family "got rich" doing business with Kolomoisky and contends her campaign "received thousands" from Kolomoisky's associates
But it was her husband Robert Powell who previously worked as the general counsel representing companies that Kolomoisky was invested in; and Florida Politics reports that the "thousands" in donations was actually just a total of $2,500 from two Americans and $2,700 from none other than her husband
Link to advertisement

PA-07: The outlook is mixed in the race for Pennsylvania's newly drawn 7th congressional district, according to the latest Monmouth University Poll

Democrat Susan Wild has a 6-point edge over Republican Marty Nothstein among all potential voters in the open seat contest, but that lead shortens among likely voters
Neither candidate is particularly well-known, and in an anomaly Democrats don't enjoy voter enthusiasm advantage Monmouth has found in other competitive districts this year
The New Republican PAC, a group with ties to Florida Governor Rick Scott, filed records Thursday with the Federal Election Commission showing it plans to spend another $999,288 in the Sunshine State to oppose Democratic Senator Bill Nelson

Scott and Nelson are competing in what's expected to be the most expensive Senate race this cycle
Across the country, a record number of women stepped up for U.S. House and Senate races -- 522 as of Sept. 13 -- and overall, almost half of the women who ran won their primary; here's a look at how those candidates have fared in the primaries

Florida has more than 1.1m Puerto Rican residents and with the governors mansion up for grabs alongside a U.S. Senate seat, that has Republicans there worried about a recent Trump effect, Politico reported

"Mr. President. SHUT UP," Alan Levine, a Republican appointed by Gov. Scott to Florida's university governing board, replied to Trump's earlier denial that storms last year caused nearly 3k deaths in Puerto Rico

Levine, who is a top govt expert on hurricane response, told Politico he was shocked the president was focusing on this rather than Hurricane Florence as it makes landfall over the Carolinas

Florida state Rep. Bob Cortes, a Republican of Puerto Rican descent who is working on Rep. Ron DeSantis's campaign for governor, told Politico in a text message that he "can't imagine" Trump's Maria comments help Scott's political chances of winning the Senate seat