Feinstein Refers Mystery Kavanaugh Info to FBI, Sparking Confusion
(Bloomberg) -- Top Senate Judiciary Democrat Dianne Feinstein notified the FBI about unspecified information she received about U.S. Supreme Court nominee Brett Kavanaugh, injecting confusion even as Republicans set a path to confirm him by the end of the month.
"I have received information from an individual concerning the nomination of Brett Kavanaugh to the Supreme Court," Feinstein said in a statement Thursday. "That individual strongly requested confidentiality, declined to come forward or press the matter further, and I have honored that decision." Her office declined to provide further details.
The FBI said it received the information Wednesday night and "included it as part of Judge Kavanaugh's background file" under standard procedures.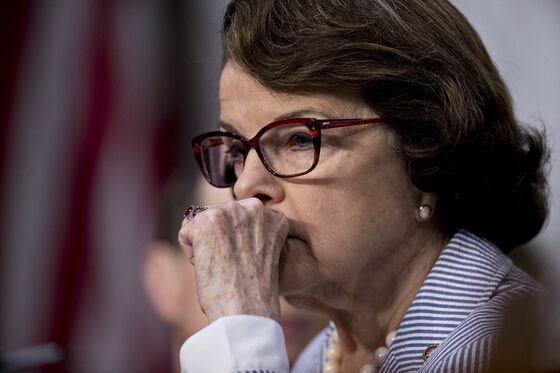 The issue involves an allegation of inappropriate sexual conduct involving a female while Kavanaugh was in high school, according to a person familiar with the matter. It's not clear why Feinstein decided to refer it to federal authorities.
The FBI isn't opening an investigation into Kavanaugh in response to Feinstein's referral, according to a person familiar with the matter. 
Kavanaugh has appeared to be on track for confirmation by the Republican-controlled Senate, and the White House and Senate Republicans accused Democrats of making a last-ditch effort to block the appointment.
Feinstein's bare-bones statement added an element of mystery to the opposition. That struggle played out anew in public Thursday when Republicans on the Judiciary Committee rejected Democratic attempts to subpoena witnesses for new testimony and get access to more documents on Kavanaugh's work at the White House during President George W. Bush's administration.
A White House spokeswoman said Kavanaugh has been vetted repeatedly by the FBI during his 25 years of public service, and contended that Feinstein's move was done to undermine the confirmation.
"Not until the eve of his confirmation has Senator Feinstein or anyone raised the specter of new 'information' about him," White House spokeswoman Kerri Kupec said in a statement. She said Senate Minority Leader Chuck Schumer has vowed to do everything he can to oppose Kavanaugh, "and it appears he is delivering with this 11th-hour attempt to delay his confirmation."
Kavanaugh, who is President Donald Trump's second Supreme Court nominee, was questioned for two marathon days last week at a Judiciary Committee hearing. He sidestepped Democratic efforts to pin him down on abortion and the investigations of Trump.
The Judiciary Committee plans to vote on Kavanaugh's nomination on Sept. 20, with the aim of a full Senate vote before the high court starts its new term Oct. 1.
Senate Judiciary Chairman Chuck Grassley "is aware of Senator Feinstein's referral," said his spokesman, George Hartmann. "At this time, he has not seen the letter in question, and is respecting the request for confidentiality. There's no plan to change the committee's consideration of Judge Kavanaugh's nomination."