Things Are So Dire in Brazil That Millions Are Refusing to Vote
(Bloomberg Businessweek) -- Augusto Silva and Lindomar Nascimento live in the town of São Sebastião on the outskirts of Brazil's capital city, Brasília. Both are poor. Both are scarred by gun violence. And both are angry.
For one of them, this anger has hardened into political apathy: What's the point of voting in next month's presidential election? Silva asks. The whole system is rotten anyway.
For Nascimento, the anger has fueled the opposite reaction: a desire to vote for the first time in 20 years. His candidate? Jair Bolsonaro, the minority-bashing former paratrooper who wants to arm the "good citizens" of Brazil. Bolsonaro is being celebrated by his supporters as a martyr after being stabbed by a fanatic during a campaign rally last week. Bolsonaro remains in the hospital in serious but stable condition.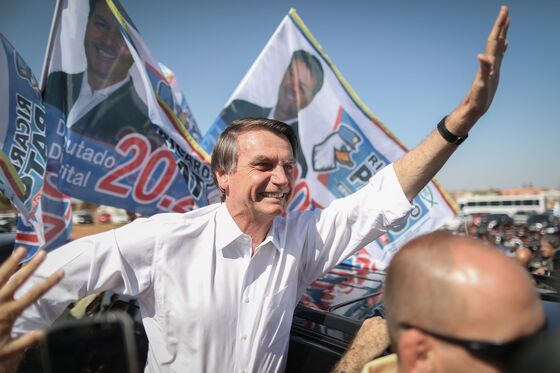 This split captures much of the nation's sentiment before presidential elections on Oct. 7. Years of recession, rising crime, and corporate and political scandal are pushing infuriated Brazilians into apathy or toward extremists. The latest results from the polling company Ibope show 28 percent of voters are undecided or plan to void their ballots. That's roughly in line with the numbers from the last presidential election in 2014, when 29 percent of voters abstained from handing in completed ballots.
"Here in the periphery, all the thieves walk around armed, and the authorities can't control the criminals," the 47-year old Nascimento says, recalling the night his son was wounded by gunshot when someone tried to steal his cellphone. "If I can't have a weapon, who'll look after my family?"
Others are giving up on voting altogether. Silva lost the use of his legs after he was shot outside his home. Now he spends hours queuing at the local medical center every time he needs an antibiotics prescription for a urinary tract infection. "I only come here because I'd prefer to die waiting in line than at home," he says. "At least here there's a chance I'll get called upon."
Crime and health care are the top two voter concerns in every Brazilian state, according to Ibope. A report by the government think tank IPEA and the Brazilian Forum on Public Security found that from 2006 to 2016, well over half a million people were killed in Brazil, more than in the seven-year Syrian civil war, according to figures compiled by the Syrian Observatory for Human Rights.
In São Sebastião, a hardscrabble town teeming with evangelical churches and motorcycle repair shops, street crime has more than doubled in the past four years. "Criminals defy the state, and the state's unable to respond in a way that fits the offense," says João Guilherme, the local police chief. "That's the day-to-day reality for everyone. Society is demanding change."
For many Brazilians in this election, change means Bolsonaro. Despite his seven terms as a legislator, the former Brazilian army captain's tough talk on crime, corruption, and family values feed his image as an outsider who can fix the system. Among an apathetic and disillusioned electorate, he's the only one repeatedly mobbed by crowds proclaiming him a "legend" at airports and rallies all over the country.
With current leader Michel Temer rated as the worst president since the country's return to democracy in 1985, only the iconic Luiz Inácio Lula da Silva is more popular than Bolsonaro, and he's in jail for corruption and barred from running.
"We work and pay taxes, but the government doesn't care for the likes of us," Nascimento says. "With Bolsonaro, it's different. He's got the idea of installing some order, morality, and discipline."
Still, with no less than a dozen candidates in the race, neither Bolsonaro nor anybody else is expected to take the necessary absolute majority, meaning a runoff on Oct. 28 seems likely. Brazilian markets sold off on Tuesday after the latest poll showed left-wing candidates gaining support while those favored by investors stalled.
Many of Brazil's leading politicians and businessmen have in recent years been indicted by Operation Car Wash, the gargantuan anticorruption sweep that continues to roil Latin America. Wearied by night after night of news reports on greed and graft, many Brazilians are tuning out of this year's election altogether, even though voting is obligatory from the ages of 18 to 70.
"I've lost the taste for voting for these people," says Rosimar Alves Monteiro e Silva, a pensioner who supplements her meager income with odd jobs as a seamstress. "I am not voting for president anymore. I hate politics—it's all false."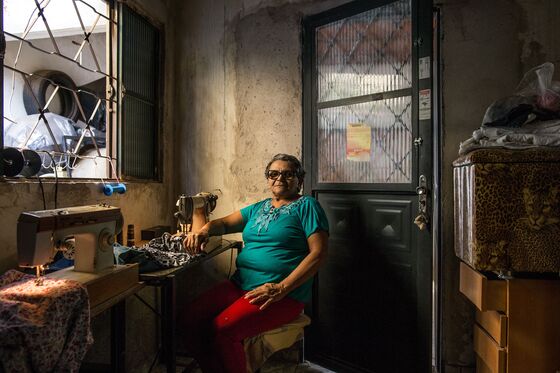 With the wealthiest and most powerful in Brazilian society so willing to break the rules, it's unsurprising that in São Sebastião, a town of some 100,000 with an average monthly per capita income of just 985 reais ($241), the law remains an elastic concept. The police are hardly above suspicion. Nascimento's house, a modest bungalow, was built illegally on a dirt road at the edge of town and runs on an illegal tap on the local power grid. Fearing for his security, Nascimento's son-in-law recently bought a gun on the black market.
A few months ago, the gun was confiscated by two police officers, but neither filed a report on the seizure. Nascimento's neighbor, bar owner Bergman Luiz, complained that the same thing happened to him. In response to a question about the weapons, the police confirmed that some incidents are under investigation, but declined to comment further.
To be sure, while the solutions to crime proposed by Bolsonaro appear extreme to many, he brought the issue into the center of the policy debate, prompting other candidates to follow suit. Geraldo Alckmin, a more moderate right-wing candidate, proposes loosening restrictions on farmworkers owning guns. Centrist Marina Silva argues in favor of strengthening state security forces but opposes gun liberalization.
Any solution appears attractive when the response from some of those in power to Brazil's spiraling social problems is a shrug.
"People complain with good reason," says Sergio Sampaio, chief of staff for the government of the federal district, during an interview in his air-conditioned office in the governor's palace in Brasilia. "The Brazilian state has not managed to give society what people need."
The local government spends 74 percent of its budget on payroll, so there's very little left over to invest in the poor areas that need it. "People say it's a scandal that they pay taxes and get nothing back," he says. "There's a lot of frustration."
--With assistance from Gabriel Shinohara.
To contact the editor responsible for this story: Matthew Philips at mphilips3@bloomberg.net, Raymond Colitt