South Africa's Murder Rate Climbs as Police 'Drop the Ball'
(Bloomberg) -- South Africa's murder rate rose to its highest level in nine years as a depleted police force struggled to get to grips with violent crime.
The number of homicides increased 7 percent to 20,336 -- an average of almost 56 a day -- in the 12 months through March, the police service said in its annual crime statistics report on Tuesday. The murder rate increased to 35.2 per 100,000 people -- more than six times higher than that of the U.S.
"I can say the South African Police Service dropped the ball," Police Minister Bheki Cele told lawmakers in Cape Town. "This situation must be arrested and reversed with lightning speed."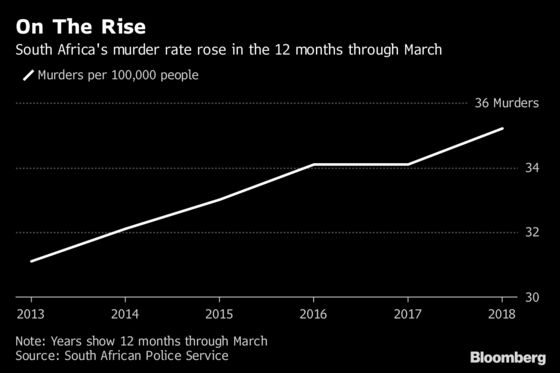 Efforts to fight crime were hampered by repeated changes to top management at law enforcement agencies during former President Jacob Zuma's almost nine-year tenure, while a stagnating economy and inflation-beating increases for state workers left little room in the budget to retain and hire officers.
Zuma, who has been personally implicated in a succession of scandals and who again will appear in court on fraud and racketeering charges in November, was forced to quit in February under pressure from the ruling party. He was replaced by Cyril Ramaphosa, who has pledged to bring crime under control.
"We are putting things right in South Africa," Ramaphosa told lawmakers in Cape Town on Tuesday. "There is going to be rule of law."
The police service now has 191,000 members compared with 200,000 in 2010 and it could take 10 years to get back to that level, said Cele, a former police commissioner who was named minister shortly after Ramaphosa took office.
Policing "deteriorated substantially during Jacob Zuma's presidency as a result of his appointment of unethical and incompetent SAPS national commissioners," said Gareth Newham, head of the Institute for Security Studies' justice and violence prevention program. "This undermined police morale, wasted police resources and reduced police accountability. Public trust in the police plummeted while violent crime soared. Under new political and police leadership we have a reason to be optimistic that South African may finally put in place effective measures to reduce crime."
The government allocated 93.7 billion rand ($6.2 billion), or about 6 percent of the total budget, to policing in the 12 months through March. Spending is projected to rise by an annual average of 6.5 percent over the next three years.
The number of sexual offenses increased 0.9 percent to 50,108, while attempted murder cases rose 0.2 percent to 18,233, the report showed. Attacks on armored vehicles carrying cash jumped 57 percent to 238 robberies. Commercial crimes fell 7.8 percent and home break-ins by 0.4 percent. There were 13 bank robberies during the year.
The murder rate has fallen from 67.9 per 100,000 people in 1995, when an integrated national police force was created and national statistics were compiled for the first time, but has been on the rise since 2011.
"South Africa has not reached a state of lawlessness," Cele said. "These crime statistics will not get worse."