Salvini Estimates Italy Could Raise $23 Billion From Tax Amnesty
(Bloomberg) -- Italy's populist government is planning a tax settlement worth 20 billion euros ($23.2 billion) to help finance promises to voters and stay within the European Union's deficit limit, Deputy Premier Matteo Salvini said.
The measure would be introduced in the upcoming budget and allow a discount on taxes due for some households that are unable to repay what they owe. By getting people to pay something, Salvini estimates it would raise more than 20 billion euros.
"It's not a gift, these are desperate people" that would do anything to solve their fiscal disputes with the state, he said during a taping of a Rai television interview. The measure would be part of a tax-system reform that would also include reducing the number of tax brackets.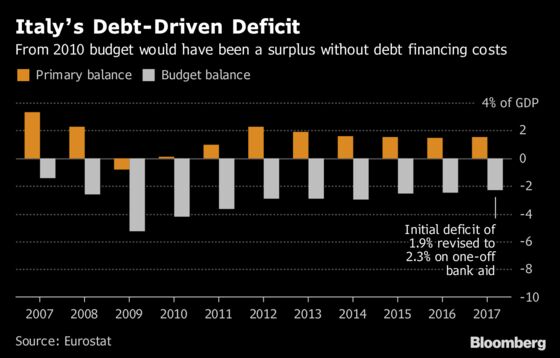 Salvini said the 2019 budget law will respect the 3 percent deficit rule and include the tax settlement along with some tax cuts, a form of citizen's income, and a lowering of the retirement age. Full implementation of the program will, however, take the full five-year government term.
Salvini has been sending reassuring messages to markets this week after a summer of contradictory signals about how far his government will push next year's budget deficit in order to square ambitious election promises with Italy's debt mountain.
The spread between Italian and German 10-year bonds has narrowed to around 251 basis points this week after touching a five-year high at 291 in August.
The governing coalition is expected to set new public-finance and economic-growth targets by Sept. 27. This will be followed by the draft budget which needs to be submitted to the EU by Oct. 15. Final approval of the budget is expected by year's end.