Leftists Make Largest Gains in Brazil's Latest Opinion Poll
(Bloomberg) -- Brazil's leftwing candidates made the most significant gains in the race for the presidency, while far-right lawmaker Jair Bolsonaro continues to lead the field, according to the latest opinion poll.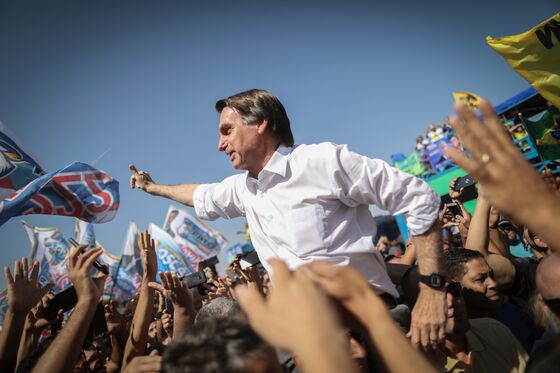 The Datafolha poll published on Monday showed the former Ceara state Governor Ciro Gomes rising from 10 percent in August to 13 percent, as Fernando Haddad, who is set to replace former President Luiz Inacio Lula da Silva as the Workers' Party candidate, saw his numbers rise from 4 percent to 9 percent. Environmentalist Marina Silva's vote intentions slumped from 16 percent to 11 percent.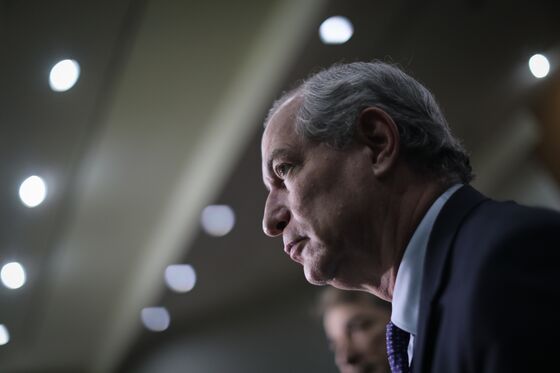 In the first major poll since he was stabbed by a fanatic at a campaign rally on Thursday, Bolsonaro only inched ahead, confounding the expectations of analysts who expected the attack to translate into a significant boost. The former paratrooper moved to 24 percent from 22 percent, within the poll's two percentage-point margin of error. Though he looks increasingly likely to make the second round, Bolsonaro would still struggle against any other candidate in a run-off. The poll also showed his rejection ratings increasing from 39 percent to 43 percent.
Meanwhile, market-favorite Geraldo Alckmin failed to make significant gains, rising just one point to 10 percent, despite dominating the political advertising on TV and radio over the past 10 days. Brazil's real fell 1.50 percent in early morning trading on Tuesday, the most among 24 emerging market currencies tracked by Bloomberg, as investors digested the news.
Datafolha's survey of 2,804 Brazilians, carried out on Sept. 10, follows the Superior Electoral Court's decision to bar Lula's candidacy, due to his conviction for corruption and money-laundering. With Lula, the former front-runner, now officially out of the race, some of his support appears to be moving towards his successor, Haddad, as well as Gomes, a former minister in his government. Haddad is expected to formally replace the ex-president as early as Tuesday as the Workers' Party official presidential candidate.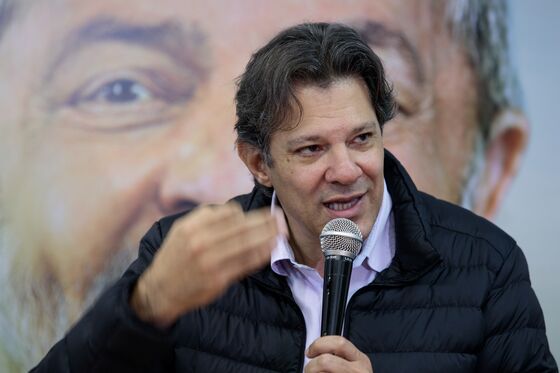 With only about four weeks left before the first-round vote, the outlook for Brazil's presidential race is still uncertain. Bolsonaro is expected to remain off the campaign trail for another week at the very least as he recovers from the stabbing. At present he remains in intensive care but his condition is stable, according to the latest medical bulletin.
Despite his hospitalization, the far-right candidate is continuing to campaign on social media, where his followers far outnumber those of his competitors. In the days following the attack, many of his supporters have held rallies in his support on the streets of Sao Paulo, Rio de Janeiro and the capital, Brasilia.
Brazilian assets gained on news of last week's apparent assassination attempt on bets that Bolsonaro would benefit from wall-to-wall media coverage and an outpouring of sympathy. While Bolsonaro has admitted to having only a "superficial understanding" of economics, his top adviser, University of Chicago-trained Paulo Guedes, is viewed positively by financial markets for his support of small government, free enterprise and market-friendly reforms.