Tanzania Court Shows Flicker of Dissent to President 'Bulldozer'
(Bloomberg) -- In President John Magufuli's Tanzania it's illegal to protest. It can also be illegal to blog anonymously or criticize parliament.
If you're a schoolgirl who becomes pregnant and wants to keep attending classes, that's illegal. If you're a musician who sings about sex or politics, your songs might be illegal.
The lack of freedom getting you down? You could complain about it all on social media. Except that may be illegal.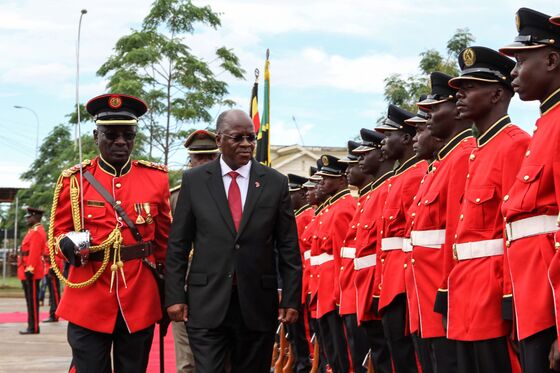 The institution of the law, though, could be all that's stopping Magufuli -- who was elected in late 2015 and is nicknamed the "bulldozer" -- from a greater crackdown. In recent months, the East African nation's High Court has struck down the government-backed suspension of a newspaper and permitted a challenge to a 1997 law that allows local officials to order detention without charge for 48 hours. It may be a sign of tentative resistance to the authoritarian tide.
The rulings show "that no one in Tanzania is above the law," said Jebra Kambole, the founder of civil society group Haki Tanzania and an advocate who brought the second case to court.
Although Tanzania has been ruled by versions of the same party ever since its 1964 unification, it allowed relatively free political discussion, making its recent repressive turn -- and a spate of politically motivated killings -- a shock to many. Last month, dozens of civil-society groups urged the United Nations to address what they called a deterioration of human rights and press freedoms.
After winning election on an anti-corruption ticket, Magufuli embarked on an efficiency drive, carrying out impromptu office inspections and firing officials on the spot.
While his bid to secure the gold- and gas-rich nation's economy more revenue has brought disputes with companies such as Acacia Mining Plc, there have been gains. Income from Dar es Salaam's port has grown even as shipping volumes fell, which officials attribute to greater efficiency. Police officers, once notorious for bribe-taking, seem to have stopped the practice.
Magufuli, who hasn't announced if he'll run in 2020 elections, recently predicted his Chama Cha Mapinduzi party will rule forever. Poll results released in July by the Twaweza civil-society group showed the public may have misgivings; the 58-year-old president's approval rating dropped to 55 percent in April, from 96 percent in 2016. The government dismissed the findings, asking Twaweza to explain its study or face legal action.
The war on dissent has "succeeded to a great extent," said Hebron Mwakagenda, chairman of the Tanzania Constitution Forum, a coalition of civil-rights groups pushing for reform. "However, there are still a few organizations that are trying their best to speak out and stop the government falling into tyranny and arrogance."
Tanzania's chief justice, Ibrahim Hamis Juma, arguably set the stage in January with a warning to politicians to respect the separation of powers. He urged "all government leaders to refrain from meddling with the issues that are within the rights, status and constitutional authority of the judiciary," in a Law Week address that's traditionally seen as setting the institution's agenda for the year ahead.
The media has been a regular government target, according to groups including the New York-based Committee to Protect Journalists, with at least five newspapers temporarily suspended since mid-2017 for alleged errors.
The High Court in late July lifted a two-year ban on MwanaHalisi, a weekly newspaper that had run-ins with authorities pre-Magufuli and was suspended in 2017 on accusations of publishing seditious content. The court ruled the halt imposed by the deputy information minister violated the newspaper's right to publish. It's the only recent newspaper ban to have been overturned.
The case Kambole took to the court is potentially more significant. He petitioned the bench to rule on the basic rights of citizens and on the alleged misuse of detention powers by regional and district commissioners.
The court agreed Aug. 15 that the case could proceed to a full hearing. It also ruled that any Tanzanian can file a constitutional case in court even if they're not affected by the law in question and that the court can strike out any law that's unconstitutional, according to a copy of the ruling provided by Kambole.
Rulings like this "will not necessarily contain Magufuli, but it's easier when you already have a law in place because you can always refer the matter back to court which will whip the executive to order," said William Odhiambo, an independent political analyst in Mombasa, Kenya.
"What you observe is a president who is more of a populist as can be seen from his pronouncements," Odhiambo said. "Therefore it behooves people to fight back and ensure there is proper governance and reforms in the country."
Tanzanian government spokesman Hassan Abbasi didn't answer repeated phone calls seeking comment on the alleged crackdown and the recent legal developments. There's no date yet set for the full hearing by the court.
Despite such campaigns, another restriction could be on the way. Parliament on Monday received proposed amendments to the 2015 Statistics Act that would criminalize the publication of figures that haven't been approved by the government's statistician general, with penalties of up to three years in prison.
That measure would give researchers the choice of either publishing and facing legal action, or self-censoring results that might upset the government, according to Rachael McLellan, a doctoral student at Princeton University who's researching opposition parties and decentralization in Tanzania.
"This kind of choice fundamentally limits academic freedom of Tanzanian academics and puts opposition politicians who try to use facts to inform voters in even more danger," she said.
Ismail Jussa, director of foreign affairs for the Civic United Front, an opposition party, warned the government that its restrictions won't stop people agitating for change.
"We will continue standing with the people who are hungry for reforms in the country," he said.