Emerging Markets' Moment of Calm Broken by Brazil: Inside EM
(Bloomberg) -- Emerging markets were enjoying a respite from weeks of turmoil until Brazil's real started trading Tuesday. Its plunge at the open dragged down an index that tracks currencies across developing nations.
The real and Brazil's benchmark stock index were the worst performers among emerging market peers after a poll showed left-wing candidates gaining support, while backing for those favored by investors stalled less than a month before the vote. MSCI Inc's index of currencies fell as much as 0.2 percent, while stocks retreated as much as 1.1 percent.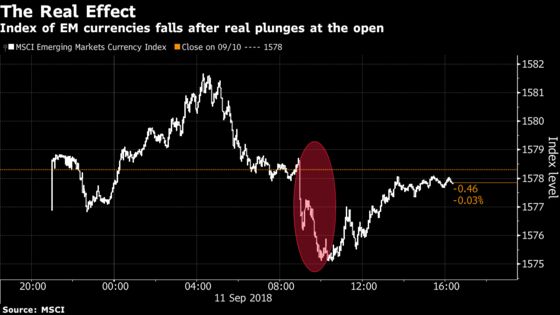 With about four weeks left before the first-round vote in Brazil's election, the outlook for the race remains uncertain. The political drama, which has included the stabbing of one candidate and an appeal against the jail sentence of another, has exacerbated the negative sentiment toward risky assets against a backdrop of a rising dollar, the rollback of stimulus packages and escalating trade tensions.
Emerging markets, which were the darlings of 2017, have also been hit by a raft of idiosyncratic risks including Argentina's fiscal woes and Turkey's twin deficits.
Turkey's central bank signaled last week that higher rates are in the offing, while Russia's Governor Elvira Nabiullina surprised markets by saying the first rate hike since 2014 could be discussed when policy makers next meet. The new head of the monetary-policy department at the Russian central bank, Alexey Zabotkin, subsequently offered a less hawkish message.
"Investors are waiting for monetary policy meetings, with the largest focus this week being Turkey's," said Toru Nishihama, a Tokyo-based emerging-market economist at Dai-ichi Life Research Institute Inc. "The EM sell-off is probably not over yet. We've still got the Fed's rate hike in the horizon after this week as well."
Highlights:
MSCI Emerging Markets Index falls to the lowest since May 2017
MSCI Emerging Markets Currency Index posts back-to-back decline
Risk premium on EM sovereigns -2bps to 371bps: JPMorgan indexes
European Commission President Jean-Claude Juncker delivers the state of the union address in Strasbourg
Hungarian Prime Minister Viktor Orban may speak to his ruling party, Fidesz, to outline his agenda through the end of the year in Velence, central Hungary
Mexico Central Bank Governor Alejandro Diaz de Leon and Economy Minister Ildefonso Guajardo speak at the IIF Mexico Economic Forum in Mexico City
Czech Central Bank Governor Jiri Rusnok meets with business leaders to discuss monetary policy and exchange rates
St. Louis Fed President James Bullard will speak to the CFA Society Chicago
OPEC releases Monthly Oil Market Report
EIA crude oil inventory report
South Africa business confidence, retail sales
Ghana CPI
South Korea employment
EARNINGS: For a list of the day's biggest releases, click here.
BRAZIL:

Candidates on the left, who investors fear would reverse efforts to shore up fiscal accounts, were the only ones who gained support at a rate that exceeded the margin of error in a Datafolha poll released last night
Right-wing candidate Bolsonaro only saw his backing edge higher
"Datafolha frustrated expectations that Bolsonaro would grow and his rejection would fall," said David Cohen, a partner at Paineiras Investimentos in Rio de Janeiro

MEXICO:

Mexico is open to moving ahead with a bilateral trade pact with the U.S. if Canada cannot reach a deal on Nafta: FT
Mexico July Industrial Production rose 1.3% Y/y; Est. 1.0%

ARGENTINA:

Argentina central bank expected to hold its key interest rate at 60 percent, the world's highest: Bloomberg survey
Still Too Early for Argentina Stocks After Drop, Citigroup Says

Click for market news on ARGENTINA and ANDES
TURKEY:

Central bank may boost the one-week repo rate by 300 basis points at a review on Thursday: Bloomberg survey
Surge in Turkish lira swap rates has Deutsche Bank recommending investors to position for a pullback

RUSSIA:

President Vladimir Putin's government is wading back into central banking for a second week as the prospect of higher interest rates tests its patience
Russia skips this week's regular sale of ruble bonds amid expectations for deeper U.S. sanctions

SOUTH AFRICA:

Business confidence declined to the lowest level this year as industries raised concern about policy uncertainty
Land-Seizure Talks Have Hit South Africa's Farming Industry

Click for market news on POLAND and HUNGARY
CHINA

PBOC weakens daily reference rate by 0.14% to 6.8488, the lowest in two weeks, and skips open market operations
Early indicators for China's economy point to further weakening in August
Chinese bond traders ramped up their leverage to a record high in August, and that could be catching the central bank's attention

INDIA:

Officials from the finance ministry have asked Reserve Bank of India to do more open market operations to maintain adequate liquidity in the banking system, people with knowledge of the matter said
India's Sensex Drops for a Second Day as Rupee Pressure Persists

Click for more on markets in ASIA