Brussels Edition: The Orban Dilemma
(Bloomberg) -- Welcome to the Brussels Edition, Bloomberg's daily briefing on what matters most in the heart of the European Union. Sign up here to get it in your inbox every weekday morning.
Does Hungary pose a threat to EU values? That's what European Parliament members will start debating today. If two-thirds of them deem Budapest in "clear risk of a serious breach'' — because of limits to judicial independence, a crackdown on press freedom and pressure on non-governmental organizations — they'll take the unprecedented step of triggering a process that could lead to the suspension of Hungary's EU voting rights. Of course, nothing will happen until Prime Minister Viktor Orban has had the chance to address the very lawmakers in Strasbourg who hold his country's fate in their hands. But with Sweden's election result fresh in the mind and Italy's populist government making waves, lawmakers may need to draw a line in the sand.
Deletion Dispute | Google's in a European court — again. At a hearing on Tuesday in Europe's top court, the search engine will argue that it shouldn't have to delete links worldwide when people seek the "right to be forgotten" to hide personal information. The case is part of Google's challenge to a French privacy fine and is one of several lawsuits that seek to define how far the EU's landmark 2014 right-to-be-forgotten ruling should go. The court will probably issue a ruling next year.
In Private | Michel Barnier will be working the corridors and private rooms in the European Parliament's labyrinthine HQ in Strasbourg today. Fresh from sending the pound surging (again) with comments on the likelihood of a Brexit deal, the EU's chief negotiator will talk to members of the Brexit "steering group" — the lawmakers who hold sway over the rest of their groups — and will advise them which way to vote on the deal.
Building Government | Sweden faces days, if not weeks, of tense discussions on the formation of a government. Both its traditional blocs, one led by the Social Democrats and one by the conservative Moderates, claimed victory after a Sunday election that's too close to call. Prime Minister Stefan Lofven has refused calls to resign, putting pressure on the opposition Alliance led by Moderate Party leader Ulf Kristersson. The Alliance is meeting to find common ground, but must also convince the nationalist Sweden Democrats to give it the necessary backing to rule.
Greek Chat | Also in Strasbourg today is the one-time enfant terrible of European politics, Greek premier Alexis Tsipras, who'll participate in a "Future of Europe" debate.  (Don't forget, European Commission President Jean-Claude Juncker delivers the "state of the union" address on Wednesday). Things are looking up for Tsipras. Greek stocks jumped the most since June 1 on Monday after Tsipras's weekend announcement of tax-relief measures.
Main Man? | Manfred Weber, who announced his candidacy last week to succeed Juncker as the next European Commission president, got an early boost on Monday. Angela Merkel's Christian Democratic Union announced its unanimous support for him. Of course, being the European People's Party's lead candidate doesn't automatically mean he'll get the job if the center-right EPP wins the most seats next May. (Revision notes here: Spitzenwhat? A Guide to the Race to Head the European Commission)
Syrian Worries  | The EU is looking anxiously over its shoulder again at events to its south. Turkey massed tanks and commandos at its border with Syria on Monday after Russia refused to call off an offensive against the last rebel bastion in the country. Turkey regards the presence of its troops inside Idlib as a deterrent against a large-scale assault by forces of Syrian President Bashar al-Assad and his allies. Turkey — and European countries — are bracing for another surge of refugees.
Back On | The Trump administration said it will seek fast-track approval from Congress for a trade deal being negotiated with the EU. The announcement Monday followed what U.S. Trade Representative Robert Lighthizer described as a constructive meeting with EU Trade Commissioner Cecilia Malmstrom in Brussels. The move signals talks between the U.S. and EU are going well, less than two months after they were threatening to slap tariffs on each other in what appeared to be a prelude to a damaging trade war.
French Alternative | Emmanuel Macron will be spoiled for choice if he decides to promote a French candidate to succeed Mario Draghi at the European Central Bank. Of 10 potential successors identified by economists in a Bloomberg survey, three are French — more than any other nation. Bank of France Governor Francois Villeroy de Galhau, ECB Executive Board member Benoit Coeure, and International Monetary Fund Managing Director Christine Lagarde are all considered contenders.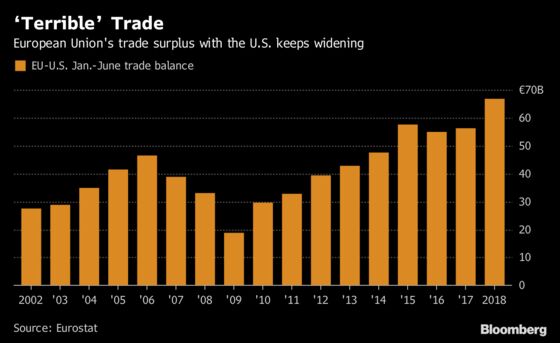 The EU's trade surplus with the U.S. widened to almost 67 billion euros ($76 billion) in the first half of 2018. On Monday, EU Trade Commissioner Cecilia Malmstrom met U.S. Trade Representative Robert Lighthizer in what she said was a first opportunity to put in motion an agreement struck by Presidents Jean-Claude Juncker and Donald Trump in July. 
9 a.m. Greek Prime Minister Tsipras speaks at European Parliament in Strasbourg
9 a.m. EU top court rules in a case brought by a Catholic doctor who was dismissed by his Catholic employer after remarrying in a civil ceremony
11 a.m. Eurostat to release second-quarter unemployment reading for the euro area 
11:30 a.m. European Court of Auditors to release special report on Air Pollution 
12:30 p.m. EU Council President Donald Tusk visits Germany, meets with Chancellor Merkel 
3 p.m. European lawmakers debate the situation in Hungary with Prime Minister Orban before deciding on Wednesday whether the EU must act to counter the risk of a serious breach of EU values by triggering Art. 7 of EU treaties
The EU's top court hears arguments by Google lawyers in another right to be forgotten case
EU's chief Brexit negotiator Barnier attends European Parliament's plenary session
College of EU Commissioners meeting