Turkey Masses Troops on Syrian Border, Braces for Refugees
(Bloomberg) -- Turkey massed tanks and commandos at its frontier and accelerated work to cope with a possible surge of refugees after Russia refused to call off an offensive against the last rebel bastion in Syria.
Howitzers and armored cars were also headed for the border with Syria's Idlib province on Monday, according to the state-run Anadolu Agency, and the army reinforced 12 outposts on Syrian territory where Turkish soldiers along with Russians and Iranians monitor flare-ups of violence, according to reports.
Turkey regards the presence of its troops inside Idlib as a deterrent against a large-scale assault by forces of Syrian President Bashar al-Assad and his allies. "The Russian jet fighters and the regime ground forces cannot afford attacks while Turkish soldiers are there," Ibrahim Kalin, spokesman for President Recep Tayyip Erdogan, wrote in a newspaper column at the weekend.
Idlib marks the latest critical juncture in a seven-year conflict that's killed more than half a million people. Russia's military intervention three years ago turned the tide in Assad's favor at a time when he held less than a quarter of his country's territory. Now, major patrons Moscow and Iran are looking to consolidate gains ahead of any postwar settlement.
At a three-way summit between Russia, Iran and Turkey on Friday, President Vladimir Putin rejected Erdogan's call for a truce in Idlib, home to about 3 million civilians. The United Nations estimates there are also 10,000 fighters in the region with links to al-Qaeda, and Putin and Iranian President Hassan Rouhani used their presence to insist the war must go on until terrorists in the region are crushed.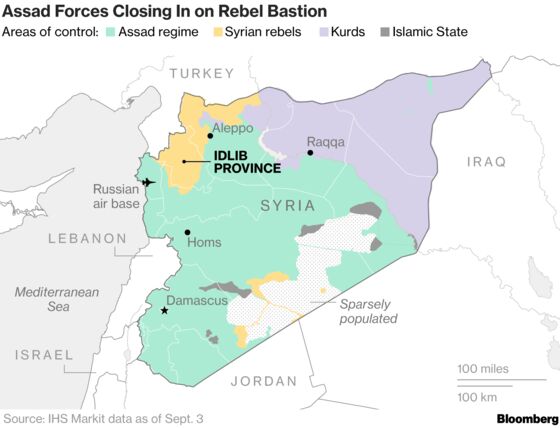 Turkey is worried fighting will push a new wave of refugees toward its border, while the routing of moderate rebels triggers the collapse of international peace efforts supposed to guarantee Ankara-backed forces a say in postwar Syria. U.S. President Donald Trump has warned Assad against committing a "slaughter" in the Syrian province.
Russia is trying to secure a green light from Erdogan because it understands that staging an assault on Idlib in the face of Turkish opposition risks pitting Russia and Iran against the U.S. and Turkey, said Alexei Malashenko, an expert at the Berlin-based Dialogue of Civilizations research group. "If it happens without Turkey's approval it could reignite conflict in Syria," he said.
Analysts advising Turkey's government say Ankara is attempting to convince militants to leave, but isn't getting assistance from other parties.
"The international community has made it Turkey's responsibility to get rid of the extremists of Hayat Tahrir al-Sham without providing any help," Muhittin Ataman, director of foreign policy studies at the Ankara-based think tank SETA, told a conference last week.
Turkey's worries over Syria aren't limited to Idlib. It is also alarmed by efforts by U.S.-backed Kurdish YPG forces -- regarded by Ankara as an affiliate of PKK separatists it has been battling for decades -- to recapture northern areas held by Turkish troops. The fall of Idlib could make their defense harder.
Erdogan on Friday said Turkey couldn't cope with additional Syrian refugees, referring to more than 3.5 million people scattered across the country. Turkey has erected concrete barriers along the Syrian border and its army is preparing to stop new refugees within Syria, where Turkish humanitarian aid organizations are setting up camps.
"While trying to wake up the world against the threat of a massacre in Idlib, Turkey is prepared to shelter about 200,000 refugees at camps within Syria," Saadet Oruc, a senior Erdogan adviser, told state-run TRT radio. "Winter is approaching and that would immensely aggravate the needs of the refugees."