Sweden Wades Into Unknown Without Clear Path to Viable Coalition
(Bloomberg) -- Sweden's political establishment contained a nationalist surge. Now it may need to throw away the old rules to form a viable government.
Both of Sweden's traditional blocs, one led by the Social Democrats and one by the conservative Moderates, claimed victory after Sunday's election that's still too close to call. The nationalist Sweden Democrats surged to about 17.6 percent, but fell short of some polls showing it could emerge as the biggest amid a groundswell of anti-immigrant sentiment.
Sweden likely faces days, if not weeks, of tense discussions. Prime Minister Stefan Lofven has refused calls to resign, putting pressure on the opposition Alliance led by Moderate Party leader Ulf Kristersson. The Alliance is meeting to find common ground, but must also convince the nationalist Sweden Democrats to give it the necessary backing to rule.
At least one bank in Sweden took a look at the tight results and concluded that a failure to bridge differences can't be ruled out. "A highly protracted government formation process, or even another election, can't be ruled out," Anders Bergvall, a senior economist at Svenska Handelsbanken, said in a note.
Lofven has tried through the campaign to shave off the two smaller alliance parties, the Center Party and the Liberals, from the center-right coalition. That has so far proved fruitless, but success will be key for him if he wants to survive a potential no confidence vote as soon as Sept. 25.
His case did a get small boost overnight when the Alliance lost one seat to the Sweden Democrats due to a miscount.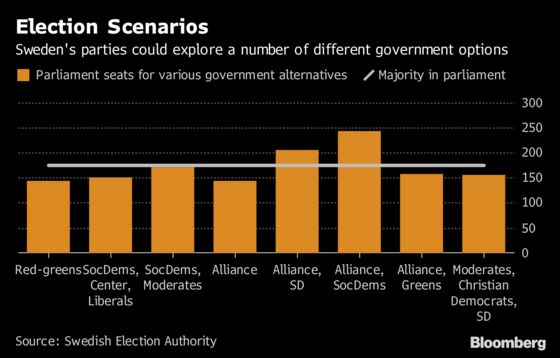 Carl Bildt, Sweden's former conservative prime minister, said Lofven is unlikely to succeed. "I'm not quite certain that the voters of the Center party and the Liberals would like to see them to support a new government under Mr. Lofven," he said in an interview with Bloomberg TV. "I think that's quite unlikely."
After leading the Social Democrats to its worst result in history, Lofven on Sunday reiterated a plea that Sweden must move beyond left-right bloc politics to deny the nationalists influence. The election should be a "funeral" for bloc politics, he said.
The chief executive at Swedish insurer Folksam, Jens Henriksson, said that the only thing certain now is that the premier will be voted out when parliament reconvenes with a new speaker and that Kristersson will likely be asked to form a new government given the right-wing majority in parliament.
"Sweden is a stable democracy," said Henriksson. "I don't think it matters that much if the government formation process sways a bit for a few weeks, that won't have a big effect on the economy."
The Social Democrats' leader in parliament, Anders Ygeman, met the press on Monday while Lofven kept a low profile, staying out of the limelight along with other party leaders. Ygeman reinforced his boss' claims, saying as the biggest party the Social Democrats should continue to keep the prime minister's job. Humility is now needed on all side, he said.
With just about 30,000 votes separating the blocs, and with many left to count, both parties are still waiting for the final tally due Wednesday.
The Moderates on Monday kept up pressure on Lofven to resign, saying the only clear alternative was an Alliance government. It's also waiting for the final results, said Gunnar Strommer at press briefing. He ruled out talking to the nationalists.
In a post on Facebook, Kristersson said he had held constructive talks with his Alliance bloc colleagues, but that a lot of work remains.
Inviting the others for a dialog, Sweden Democrat leader Jimmie Akesson said on Monday that he would vote against any government that doesn't give it influence, according Dagens Nyheter.
Sweden joins countries across Europe where tense negotiations have followed elections. It took 171 days for German Chancellor Angela Merkel to form her latest coalition and more than 220 days in the Netherlands in 2017, also after populist challenges.
Jan Olsson, the chief executive officer in the Nordic Region at Deutsche Bank AG, who's also the chair of the Swedish Chamber of Commerce in London, said it will now be very difficult to govern. "But I think Sweden will muddle through. It will work out in the end as we saw in Germany's latest election," he said in a comment to Bloomberg.
For Sweden's large companies the impact will be limited since they get more than 90 percent of their sales abroad, he said.
Henriksson, the Folksam CEO, said the result didn't come as a surprise. "It shows that Sweden becomes like any other European country, with a weakened Social Democracy and a strong right-wing populist party. Sweden now looks a lot like France, before Macron."
Bildt, who was also foreign minister in the conservative-led government that was voted out in 2014, said the election shows that there's a large chunk of nationalist support that has to be acknowledged.
"But it also shows that a push back, and a defense of the basic values of our society, also is very important and does work," he said in an interview with Bloomberg TV. "The new normal is that we have a more fractured political landscape, a more lengthy process of forming a government."