Loved and Loathed, Boris Johnson Keeps Himself in Limelight
(Bloomberg) -- Boris Johnson has struck again.
The former foreign secretary cemented his reputation as the most divisive of British politicians by comparing Theresa May's approach to Brexit to strapping on a suicide vest and handing the detonator to Brussels. Commonly known by his first name, Boris is not backing down.
His barely disguised appeal to succeed May as prime minister triggered an immediate backlash from senior Tories -- with Foreign Office Minister Alan Duncan calling the remarks "one of the most disgusting moments in modern British politics." Johnson followed up with a warning not to raise taxes.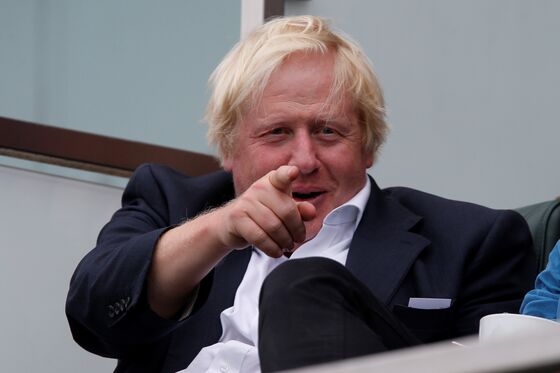 Though the language deployed in his latest attack was less inflammatory, his choice of topic left little doubt he wanted to inflict damage on May, who has promised more money for the ailing National Health Service but admitted it will mean a greater fiscal burden. How to pay for the extra spending -- which was promised as part of the Leave campaign in 2016 -- will be decided in the Autumn budget, the timing of which is awkwardly linked to Brexit.
"We must find the extra 20 billion pounds that the Chancellor has rightly promised," Johnson wrote in the Daily Telegraph, which has served as a weekly platform to belittle May since he resigned in July. "But I am afraid I am not convinced that the answer is immediately to turn to the hard-pressed taxpayer."
The furor he's stirred comes weeks before what is set to be a bruising Conservative Party conference in Birmingham and at a critical phase in the Brexit negotiations. The two sides are aiming for a divorce deal by mid-November and more positive noises have been emerging from the European Union of late.
Johnson, 54, has positioned himself as the standard-bearer of the Conservative wing demanding a clean break from the EU. He resigned in protest at the so-called Chequers plan, under which Britain would stay closely tied to EU trade rules after Brexit, and has since used his newspaper columns to accuse May of capitulating to EU chief negotiator Michel Barnier.
Speculation is rife that euroskeptics are gathering the signatures needed to trigger a vote of no-confidence in May. The number required to challenge her is 48 Conservative lawmakers, though to win the vote her opponents would need to mobilize 158, around half the parliamentary party.
May's challengers also have to weigh the risk that if they fail, she would be untouchable for another year, because of Tory party rules.
The nightmare scenario for both sides -- and for financial markets -- is that May fails to get any Brexit deal through Parliament, precipitating a crisis just months before Britain leaves the EU on March 29.
Steve Baker, a former Brexit minister, told the Press Association as many as 80 Tory lawmakers are prepared to vote against May's Chequers plan, and that the prime minister was risking a "catastrophic split" in the party.
Johnson, who announced last week that he and his wife of 25 years are divorcing, is popular with grassroots Tories. But reaction to his choice of language in his Mail on Sunday article shows he is less liked among Conservative lawmakers, who play a key role in the leadership selection process.
"A suicide bomber murdered many in the courtyard of my office in Helmand," Tom Tugendhat, chairman of Parliament's Foreign Affairs Committee and a former soldier in Afghanistan, wrote on Twitter. "The carnage was disgusting, limbs and flesh hanging from trees and bushes. Brave men who stopped him killing me and others died In horrific pain. Some need to grow up. Comparing the PM to that isn't funny."
There was also criticism among rivals like Home Secretary Sajid Javid, often touted as a potential successor to May.
"I think that there are much better ways to articulate your differences," Javid said Sunday in an interview on BBC Television's "Andrew Marr Show." "It's a reminder, I think, for all of us in public policy, whichever political party we represent, to use measured language."
As euroskeptics push their campaign to kill off the Chequers plan, momentum is building on the other side of the Brexit debate for another referendum.
In a significant boost for the pro-EU campaign, the body that represents U.K. labor unions said on Sunday it is ready to throw its "full weight" behind a popular vote if May fails to reach a deal with the EU that protects working people.
The pledge, made by Trades Union Congress General Secretary Frances O'Grady, puts further pressure on opposition leader Jeremy Corbyn, as unions provide millions of pounds and campaigning muscle for his Labour Party.
Corbyn, a lifelong euroskeptic, already appears to have softened his position. Asked about the issue by the Hull Daily Mail last week, he said "we don't have a position on it yet." That contrasts with January, when he told the BBC that "we are not supporting or calling for a second referendum."