Kremlin Takes After Trump With Swipe at 'Undesirable' Rate Hike
(Bloomberg) -- Russian President Vladimir Putin's government is wading back into central banking for a second week as the prospect of higher interest rates tests its patience.
The drumbeat started soon after Governor Elvira Nabiullina said a week ago that the first rate hike since 2014 will be on the agenda when the central bank meets Sept. 14. The prime minister first urged policy makers to take a more "active position" in addressing borrowing costs that are still high relative to inflation. The Kremlin's top economic aide, Andrey Belousov, then said that while he saw grounds for tightening, such a step would be "highly undesirable."
For investors scarred by the crisis in Turkey, even a whiff of political meddling could be a red flag as turmoil sweeps emerging markets, with the ruble already breaching the lowest levels in more than two years and the economy under pressure from Western sanctions. In the U.S., President Donald Trump has also criticized recent rate hikes, saying he is "not thrilled" with monetary tightening.
The Bank of Russia still operates with a degree of independence that few developing nations can match, and dismay by officials may do little to sway its decision this week. But the government's frustration is starting to show.
A rate increase "would seriously stall investment activity and lead to additional expenditures for the budget," Belousov said in Vladivostok on Monday, according to Interfax.
Economy Minister Maxim Oreshkin told RBC Television on Tuesday that the government "absolutely doesn't interfere with decisions on monetary policy," saying the central bank should look beyond current trends and focus on the goal of ensuring long-term price stability.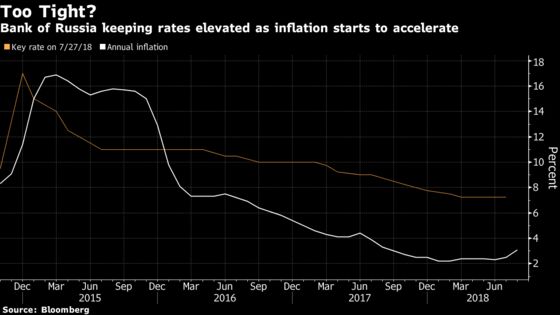 Putin has stuck with his central bank as it pursued a policy described as "moderately tight," bringing inflation to a record low even at a cost to the economy struggling to emerge from recession. Re-elected earlier this year, the president is counting on a boom in capital spending by companies to boost the share of investment to 25 percent of gross domestic product by 2024.
Instead, a slowdown is in the cards. Annual growth in fixed-capital investment actually decelerated to 2.8 percent in the second quarter from 3.6 percent in the first three months.
"There is definitely truth to the fact that high interest rates are one reason behind Russia's low investment levels and, hence, weak structural growth," said Liza Ermolenko, an economist at Barclays Capital in London. "However, it is not a sole reason, and making credits cheaper alone is unlikely to cause a turnaround in the economy."
What Our Economists Say...

"The Bank of Russia has plenty of reasons to hold interest rates on Friday besides pressure from the Kremlin. There's really just one reason to raise them -- the ruble. We expect policy makers to resist the urge to tighten into next year, as long as the currency stabilizes."

--Scott Johnson, economist, Bloomberg Economics 

For more, see his RUSSIA INSIGHT
For now, the government's complaints will be met with radio silence from the central bank because its communication blackout is in effect until the meeting Friday. Hours before the start of the silence period, Nabiullina said "monetary policy will have to remain tight and may even get tighter" in the face of risks to inflation.
While all but two of the 36 economists surveyed by Bloomberg predict the benchmark will stay at 7.25 percent, forward-rate agreements show traders' expectations of increases in borrowing costs over the next three months are at the highest since 2014.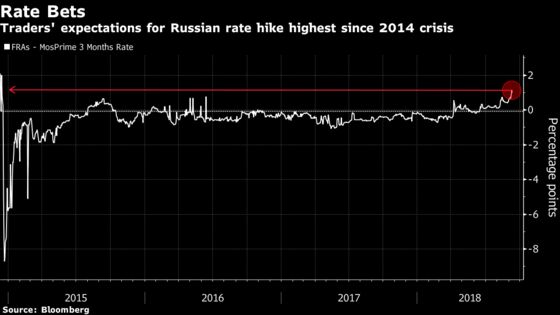 Politics is the latest headache for the central bank as it contends with the possibility that inflation will breach its target of 4 percent in the months ahead, thanks in part to the government's increase in value-added tax starting in 2019. Given weeks of declines in the ruble, price growth is accelerating faster than policy makers had anticipated, reaching a one-year high of 3.1 percent in August.
The currency market provided some relief on Tuesday, with the ruble appreciating against the dollar for the first time in five days. It traded almost 1 percent stronger at 69.9050 versus the U.S. currency as of 11:06 a.m. in Moscow, the second-best performer in emerging markets.
"It's unlikely that such statements will result in pressure on the central bank," said Oleg Kouzmin, a former adviser for the Bank of Russia who's now an economist at Renaissance Capital in Moscow. "Economic growth could be slowed by a long and sustained deviation of inflation from target, not by the central bank's actions."