Japan's Abe Pledges to Defend Free Trade After Trump Warning
(Bloomberg) -- Japanese Prime Minister Shinzo Abe pledged to champion free trade in his first policy speech since U.S. President Donald Trump renewed pressure on the country to sign a bilateral trade deal.
"Tit-for-tat trade sanctions don't benefit any country," Abe told a gathering of lawmakers from the ruling Liberal Democratic Party on Monday, without mentioning Trump by name. "Now is the time for Japan to take the lead in creating the rules of the new era as a flag-bearer for free trade."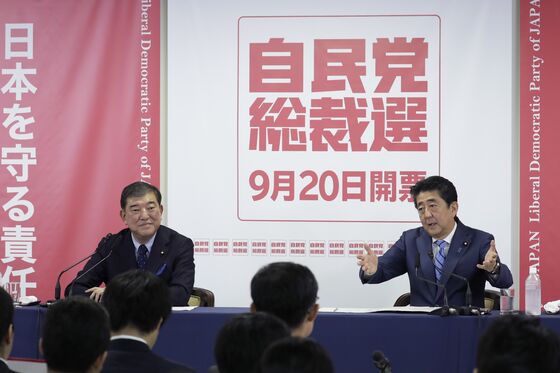 On Friday, Trump told reporters that Japan would have a "big problem" if it didn't reach a new trade deal with the U.S. Earlier in the week, Trump had told the Wall Street Journal his good relationship with the Japanese leadership "will end as soon as I tell them how much they have to pay."
While Abe hasn't responded directly to Trump's latest barbs, U.S. trade sanctions are a looming threat to the economic growth he has claimed as the major success of his almost six years in office. The speech was Abe's first appearance with his opponent, former Defense Minister Shigeru Ishiba, since they formally declared their candidacies in the Sept. 20 election for the LDP presidency.
Abe has urged Trump to reconsider his decision to quit the Trans-Pacific Partnership regional trade deal, while the U.S. leader has demanded a bilateral pact. Despite efforts to ingratiate himself with Trump, Abe has failed to secure an exemption from metals tariffs imposed earlier this year.
Abe, 63, told lawmakers the coming leadership election would be his last. If he wins a third straight three-year term as party leader, he has a chance of becoming Japan's longest serving premier.
A poll carried out by Kyodo News on Sept. 7-8 found 61 percent of party members planned to vote for Abe, compared with 28.6 percent for Ishiba. Among lawmakers, Kyodo said the prime minister was expected to take 340 of 405 votes.
On domestic economic policy, Abe said he wanted to increase sales tax as planned to 10 percent in October 2019 from the current 8 percent, adding that he would introduce policies aimed at supporting sales of cars and houses in order to alleviate the economic impact. The hike has been delayed twice since Abe took office, after a previous increase to 8 percent caused a recession.
In a later joint press conference with Ishiba, Abe said he would seek to present an amendment to the pacifist provision of Japan's postwar constitution to a possible autumn session of parliament. Both Abe and Ishiba called for social security reform, as the aging country faces ballooning debt.