Brazil Candidates Preach Peace After Stabbing of Front-Runner
(Bloomberg) -- While the front-runner in Brazil's presidential race recovered from a near-fatal stab wound, candidates in a televised debate on Sunday focused on the nation's worsening violence and radicalization.
Contenders for Brazil's presidency also harped on corruption and poor public services, while sidelining economic policy proposals, in a debate that didn't appear to be a game changer ahead of the Oct. 7 first round election. Fernando Haddad, who in coming days is likely to replace the imprisoned and suspended Luiz Inacio Lula da Silva, did not participate. Neither did ex-Army captain Jair Bolsonaro, who was stabbed by a fanatic during a campaign rally.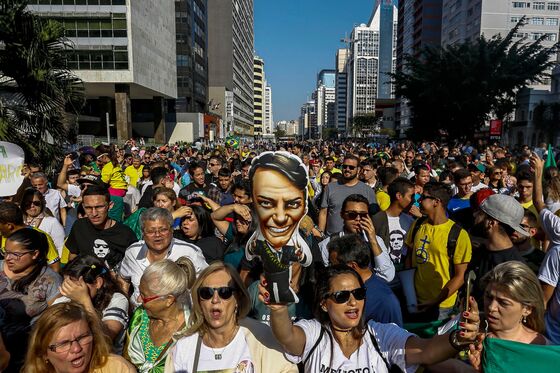 "This is a difficult moment for our country; we're at a debate missing two candidates, one because he's barred by the judiciary and one because he's in the hospital," said candidate Marina Silva. "Political violence and physical violence won't get us anywhere."
Brazil is gearing up for its most uncertain election in three decades, with widespread voter distrust of the political establishment and state institutions. In an Ibope poll released Sept. 5, Bolsonaro led the field with 22 percent, followed by former Environment minister Marina Silva and former Ceara state governor Ciro Gomes, both with 12 percent. Undecided voters and those who said they intend to annul their ballots amounted to 28 percent. Voting is obligatory in Brazil.
During the debate organized by the newspaper O Estado de S.Paulo and TV Gazeta, candidates repeatedly returned to issues of violence, prompted by questions from journalists and viewers. During a discussion with Gomes over distrust of democratic institutions, Senator Alvaro Dias called Brazil "a country in anarchy". Several candidates proposed an increased role for the federal government in public security, which is currently mostly in the hands of each state.
The two market-friendly candidates, former Sao Paulo governor Geraldo Alckmin and ex-finance minister Henrique Meirelles, whose parties are allied in their support for the current administration of President Michel Temer, exchanged barbs over prison security in an unusual confrontation. Both trail in polls and capture a similar slice of the electorate.
The debate took place ahead of a key week in the presidential race. Haddad is expected to be confirmed as the Workers' Party's candidate early this week. Two closely-watched opinion polls are also due out this week. One of the key questions is how much of his huge support Lula can transfer to Haddad. He was barred from running by the top electoral court on Sept. 1 due to his criminal conviction by an appeals court.
Meanwhile Bolsonaro supporters earlier on Sunday fired up a rally on Copacabana beach in Rio de Janeiro. His son Flavio sported the same blood-spattered shirt his father had been wearing when stabbed.
Bolsonaro's running mate, General Antonio Hamilton Mourao, told the cheering crowd from atop a sound truck that the attack last week would help unify the country. "Our hero now is Jair Bolsonaro," he said.