All Eyes Turn to Brazilian Poll Following Assassination Attempt
(Bloomberg) -- Did the assassination attempt on Brazil's Presidential candidate Jair Bolsonaro late last week boost his support or confuse an already chaotic election? Investors will find out this evening in a poll that could shape the week ahead for markets.
Datafolha will publish the first major survey collected since the front-runner suffered a near-fatal stabbing at a campaign rally on Thursday afternoon. It will be the first test to markets, which rallied after the attack on the idea that Bolsonaro, who had seen his rejection rate soar lately, would gain support. The idea is that his victory would be better than the alternative, a return to rule for the left-wing Workers Party.
A week before the attack, a court barred former President Luiz Inacio Lula da Silva, who was ahead in polls, from running as he languishes in jail for corruption. His Workers' Party has yet to announce who will replace him -- likely his VP pick, former Sao Paulo Mayor Fernando Haddad.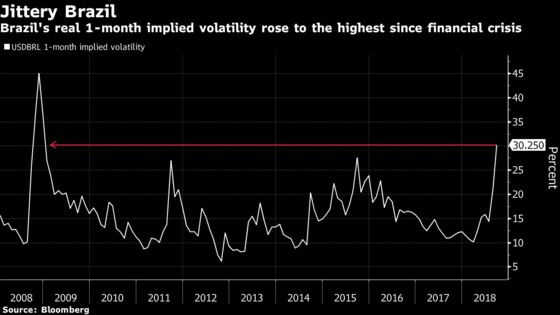 "The leading poll candidate is running a campaign from jail and the one trailing from hospital," said Alejandro Cuadrado, the global head of foreign exchange at BBVA in New York, who is telling clients to ignore any relief for the Brazilian real as it is likely to be temporary. "It's an unusual campaign certainly."
And that makes it hard to read. Brazil's real and local government bonds were the worst performers among emerging markets and stocks fluctuated between gains and losses.
Here is what analysts and investors are saying about the poll and the likely market reaction:
"Historically, some victims of attacks during campaigns have seen their popularity grow"
"Add a bigger number of candidates, global trends for outliers, a compromised situation for the country, its economy and reform agenda and the result is uncertainty lingering. As such there will be plenty of focus on next polls"
"Such last-minute changes characterize these political processes. For those reasons and overall lingering uncertainty in an otherwise tight race, we prefer to fade the dips in USDBRL"
Bertrand Delgado, an emerging-markets strategist at Societe Generale in New York:
"Bolsonaro is the one that could benefit the most from the current situation. If he manages it well, he can take advantage of more TV time in the next few days, which can be a positive"
"But this doesn't necessarily mean a walk in the park in the second round, when he can still be defeated by other candidates according to recent polls"
"It appears that Lula will decide who will get his support for the PT candidacy, most likely Haddad. This will also be a very important political event."
Alvise Marino, a currency strategist at Credit Suisse in New York:
It's too early to say for sure whether the assassination attempt has changed expectations for the Brazilian real
"The market has moved on the expectations that the stabbing will undercut his rejection rate in the polls, which could change the outlook for the second round in particular, where most poll-based simulations had him lose against pretty much anybody"
"That creates a potentially benign election outcome that simply was not viewed as a viable option before"
"We have been bearish on BRL for some time and for now we remain so"
Peter Lannigan, head of emerging markets at Newfleet Asset Management:
"Bolsonaro wasn't one of the ones who was going to get much TV time. Now he's automatically getting it for free. The sympathy toward him should help and the fact that this happened has gotten the other candidates to pull back their attacks on him"
"I don't think Brazil is going to rally strongly as a result" of this attack, he says, keeping a cautious stance
"There are a few candidates who could become the next president and a lot of them have very left or center left platforms and views. I don't expect fiscal performance to improve under most of these candidates"
Tania Escobedo, a foreign-exchange strategist at RBC Capital Markets in New York:
"Although the specifics of Bolsonaro's economic platform are still unclear, it seems that he broadly agrees with the need to shrink the fiscal deficit and he has 'orthodox US-trained' economists on his team"
"Some investors have adopted him as their "second best" given that centrists (Alckmin and Meirelles) are stuck in the polls"
However, the high political uncertainty and worsening risk sentiment should keep the real under pressure
RBC revised its forecasts for USDBRL higher, sees currency at 4.25 in 3Q 2018 and 4.45 by the end of year, from 3.70 back in July
"We do not see conditions for a sustained reversal of BRL weakness as we move closer to the October election, particularly if global financial conditions tighten further," Escobedo wrote on a report Friday
You-Na Park, a foreign-exchange strategist at Commerzbank AG in New York:
"Maybe Bolsonaro gains in the next poll, but probably not enough to convince the market that he will win. Uncertainty about the election result will remain quite high"
"I would expect that the real might come under pressure again"