Salvini Plays Berlusconi Victim Card in Struggle With Judges
(Bloomberg) -- Italians may feel they've seen this story before as the country's top politician lashes out against magistrates who have put him under investigation and blocked his party's finances.
But this time it isn't Silvio Berlusconi.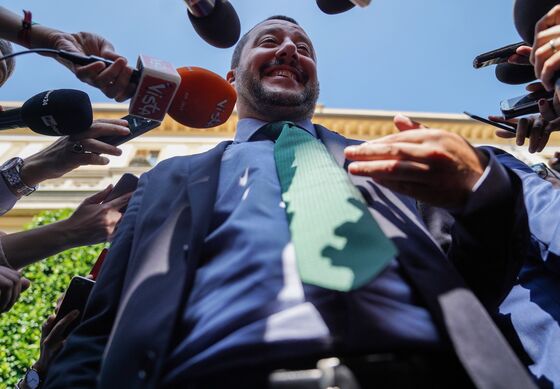 Deputy Premier and League leader Matteo Salvini has launched a series of attacks on prosecutors who "haven't been elected by anyone" after being notified that he is under criminal investigation. On Saturday he broadened the attacks to target his coalition partner's plan to beef up measures to fight corruption, saying they'll be an unwanted drag on the economy.
"I will continue to do my job" regardless of the prosecutors, Salvini said at a meeting with business leaders in Cernobbio, northern Italy. "The Italian economy needs to be helped and protected not investigated constantly."
Salvini is facing potential charges of kidnapping for preventing 177 migrants from leaving an Italian coast guard ship over several days in a stand-off with the European Union last month. At the same time, his party's finances have been frozen by judges after former officials were convicted of fraud last year.
Salvini says the measures are political ploys aimed at holding back the rise of his party.
Some judges "declare they are on the left and issue verdicts based on this culture of theirs," he said in a Facebook video posted late Friday.
"It's deja-vu," said Lorenzo Pregliasco, a political analyst at Agenzia Quorum which manages pollster YouTrend.it. "Both Berlusconi and Salvini have been playing the victims, using judges as a way to build consensus among voters and polarizing the media."
The tactics that worked for former premier Berlusconi have also served to put Salvini's coalition partner the Five Star Movement in a bind.
Justice Minister Alfonso Bonafede, a Five Star appointment, responded to the attacks on judges saying he hoped Salvini wasn't "nostalgic for when the League governed with Berlusconi." The national magistrates' association said Salvini was "wreaking havoc" with the country's constitutional principles.
But polls show he's also becoming the dominant figure in the coalition.
The League won barely half the number of votes of Five Star in March's election, but has been gaining ground ever since. A poll by Ipsos published by Corriere della Sera Saturday showed support for the League at a record 33.5 percent against 30 percent for Five Star.
Five Star leader Luigi Di Maio is struggling to handle the reversal in his fortunes, with Salvini likely to strengthen his grip on power if the coalition collapses.
Di Maio finally took to Facebook too on Saturday, saying he had scolded Salvini for attacking the judges.
"They are the same ones that defend us against people traffickers and mafiosi, and should be respected even when they investigate us," he said.
Salvini showed few signs of remorse and told Italian radio Rtl 102.5 on Sunday that he hadn't received any call.
"Five Star doesn't like my ways?'' he told reporters in Cernobbio. "There are many things I don't like either from morning to night. It happens."