Bob Woodward Stands by Trump Portrayal as He Kicks Off Book Tour
(Bloomberg) -- Veteran journalist Bob Woodward is standing by his portrayal of Donald Trump as an unfit president whose aides intervened to prevent catastrophic decisions, as he kicked off appearances to promote his bombshell new book.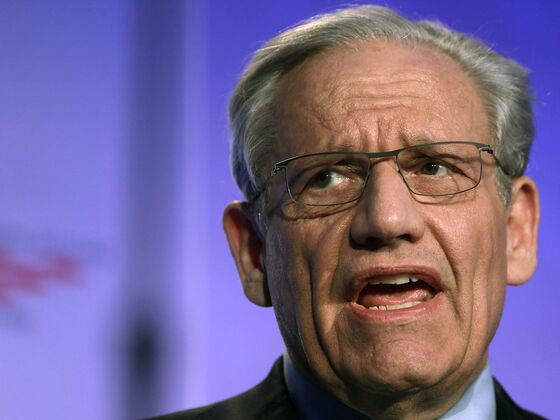 The Washington Post investigative reporter gave his first television interview about "Fear," which is set for release on Tuesday, to CBS.
In response to early criticism from the White House and elsewhere, Woodward said that he interviewed more than 100 people, including one person nine times. He said people in Trump's administration are worried that the president will sign things or give orders that threaten U.S. or world security and finances.
"You look at the operation of this White House and you have to say, 'Let's hope to God we don't have a crisis,'' Woodward said in the pre-recorded interview that aired on "CBS Sunday Morning.''
Bloomberg News obtained a copy of the book ahead of its release. Among the episodes recounted by Woodward are efforts by then-White House economic adviser Gary Cohn and others to thwart Trump's decision in August 2017 to withdraw from the North American Free Trade Agreement, the World Trade Organization and a trade deal with South Korea.
Trump has rejected Woodward's book as "a scam'' and fraudulent, citing denials by Defense Secretary James Mattis and others of what's attributed to or said about them in the book.
Trump's defenders, led by Vice President Mike Pence, were out in force on Sunday morning talk shows, criticizing Woodward's reporting based largely on anonymous sources.
"The narrative that I've picked up, in -- in not only this book but the opinion editorials -- suggests that things are happening in spite of the president's leadership, and nothing could be further from the truth," Pence said on CBS's "Face the Nation.''
Woodward said in his CBS interview that his reporting is "meticulous and careful.'' He said about half of the people he interviewed for his research were "key people." The transcript of conversations with one person ran 700 or 800 pages long, he added.
Asked about the New York Times opinion piece published Sept. 5 from an unidentified senior Trump administration official that tends to support his portrayal of the president in his book, Woodward said he wouldn't have used it.
"If there was a person in the White House or in the administration who wanted to tell me what's in that op-ed piece, I would say 'Okay, name me who was there. What is the specific incident?''' Woodward said. "As you know from having read my book there are dates and times and participants.''
According to Woodward's website, he has written or co-written 12 national best-selling non-fiction books, including "All the President's Men," a recounting of the reporting, with fellow Washington Post journalist Carl Bernstein, that led to President Richard Nixon's resignation.
Woodward, 75, is expected to follow his appearance Sunday on CBS with his first live interview about the book on NBC's "Today" show on Monday, according to a posting on Twitter.