Sweden Votes After Tumultuous Campaign Shows Wider Divisions
(Bloomberg) -- A turbulent Swedish election campaign came to an end with little sign of compromise ahead as the establishment parties pleaded with voters to beat back an ascendant nationalist movement.
The center-right and center-left blocs were in a virtual tie with voting starting on Sunday as the conservative-led opposition gained ground in recent days. But the blocs will be far from securing a majority since the anti-immigration Sweden Democrats look poised to win almost 20 percent.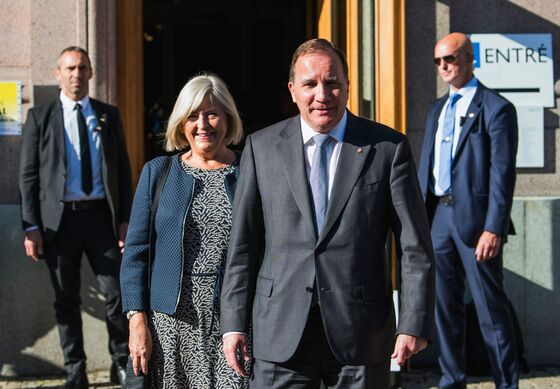 Party leaders took the last moments of the campaign to warn voters that the political turbulence will be far from over come election day, and that they can expect hard talks in the days or weeks ahead on forming a viable government. All parties have vowed not to seek the support of the Sweden Democrats. The tension has showed no signs of subsiding, with an eruption of vitriol between the smaller pro-immigration Center Party and the nationalists in Friday's last big debate of the campaign.
Center Party leader Annie Loof voiced loud protests as Sweden Democrats leader Jimmie Akesson said that immigrants find it hard to get jobs because they're not Swedish and "don't belong." Asked again about the controversy on Saturday, Loof said that Akesson showed "his true face yesterday."
But Loof also said that Prime Minister Stefan Lofven should step down immediately if it becomes clear his Social Democrats have lost power, in order not to slow down the process of forming a new government. "If he steps down tonight that process could start tomorrow morning," she told newspaper Expressen. "If he doesn't resign, we will vote him down in a couple of weeks."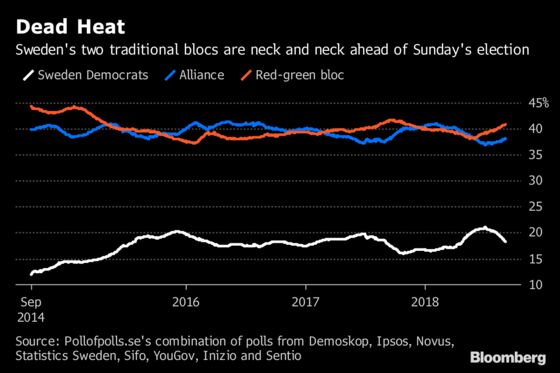 Record immigration over the past years and lingering economic hardship from the financial crisis have stoked populist and nationalist sentiment even in rich and egalitarian Sweden. The threat to the political establishment comes on the heels of a wave of election surprises around the world, such as the U.K. Brexit vote, and the rise of populist and authoritarian leaders in countries such as Italy and Hungary and even the U.S.
After voting on Sunday at Stockholm's City Hall, Akesson said everything suggests his party will do very well in the election, and that a result of 20 percent to 30 percent would be reasonable, according to the TT news agency. "I think that's possible."
Ulf Kristersson, head of the conservative Moderate Party and front-runner to become the next prime minister, said integrating refugees is key for Sweden to maintain its extensive welfare state. "This is something that erodes Sweden's social contract," he said. "So many people could do so much good in our country, if we just had a well-functioning integration."
While immigrants have been a boon to Sweden, helping to fill massive job shortages during a near record economic expansion, the labor market has had a tough time absorbing the inflow of about 600,000 people over the past five years. Unemployment among the foreign-born is about 20 percent, compared with just above 6 percent overall.
In a hot and sunny Stockholm on Saturday, the opposition Alliance's four party leaders, who also include Liberal Jan Bjorklund and Christian Democrat Ebba Busch Thor, appeared together to hammer home a message of government change and erecting a bulwark against populism sweeping over Swedish society.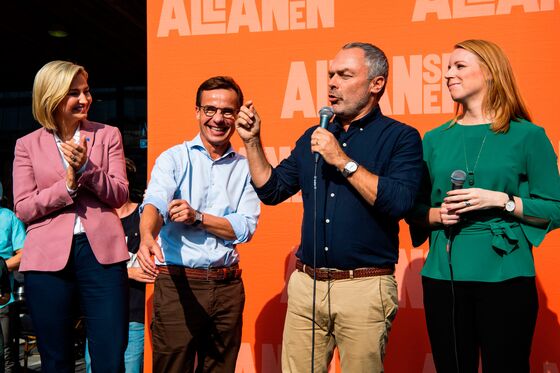 "For the first time in a long time, our liberal social model is challenged -- by far-right nationalists on the rise, but also by leftist socialists gaining support," Bjorklund said to journalists at a rally in central Stockholm. "If any of those two sides gain influence our liberal society with market economy and cooperation in Europe is weakened."
The Alliance has said it will seek common ground after election night, while Lofven wants to continue his coalition with the Greens, which has been backed by the former communist Left Party. Lofven has said he hopes to win over the Center Party and the Liberals, given their distaste for the Sweden Democrats.
Saying he had slept well, Lofven early on Sunday left the prime minister's residence in central Stockholm to go vote with his wife, Ulla. After casting his ballot, he reiterated that the election amounted to a referendum on the welfare system. It's also a vote "about decency" with the Social Democrats as a guarantor of not allowing an "extremist racist" party to gain influence, he said to reporters.
Sahir Ahmed, a 32-year-old who lives in one of fast-growing Stockholm's newest neighborhood, Norra Djurgardsstaden, said it's "scary" that SD is becoming normalized. "I hope that people who maybe don't normally vote go and do it in order to stop them as much as possible," he said, while waiting in line to cast a ballot.
Kristersson on Saturday beat back any insinuation that he would seek to rule with outright backing from the nationalists.
"We're not going to negotiate a government and not going to rule together with the Sweden Democrats," he said. "We are crystal clear on that. It's just silly to imply something else."
But he's also intent on a regime change, even if his bloc is a minority. How that will be done without at least passive support from the Sweden Democrats remains to be seen.