President Won't Seek to Enforce Hush Agreement With Stormy Daniels
(Bloomberg) -- President Donald Trump said Stormy Daniels's lawsuit against him is moot because he won't attempt to enforce a $130,000 hush agreement arranged before the election.
In a filing Saturday in federal court in Los Angeles, Trump said he wouldn't challenge the actress's claim that the October 2016 agreement to keep quiet about an alleged sexual encounter a decade earlier never took effect or should be rescinded. Trump never signed the accord between Daniels and a shell company set up by the president's former lawyer, Michael Cohen.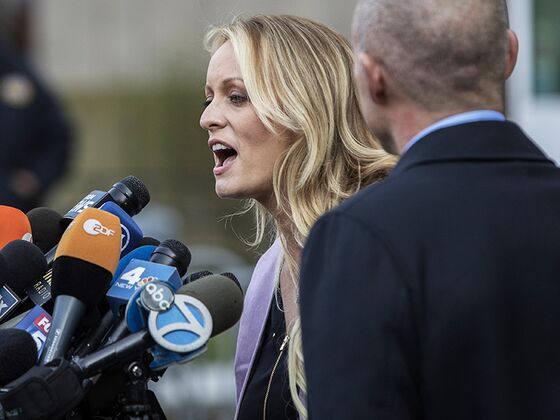 Daniels, whose real name is Stephanie Clifford, is seeking to depose Trump as part of the lawsuit. Cohen said Friday that the company he set up to facilitate the deal, Essential Consultants LLC, also wouldn't enforce the deal.
"Mr. Trump covenants that he will not bring any action, proceeding or claim against Ms. Clifford to enforce any of the terms of the settlement agreement," Trump attorney Charles Harder said in the filing.
Daniels's lawyer, Michael Avenatti, took to Twitter to say Trump was "desperate and doing all he can to avoid having to answer my questions." A hearing is set for Sept. 24 in Los Angeles before U.S. District Judge James Otero.