Trump Administration Met Venezuela Military Coup Plotters, Report Says
(Bloomberg) -- The U.S. held at least three meetings with Venezuelan military officers before deciding not to help them overthrow President Nicolas Maduro, the New York Times reported on Saturday, citing unidentified U.S. officials and a former Venezuelan military commander who participated in the talks.
In the end, no joint operation was ever proposed between U.S. and coup plotters, a former Venezuelan commander told the paper.
In July, a personal familiar with the matter said President Trump was considering an array of options, including military action, to bring an end to the long-running crisis in Venezuela. The Associated Press also reported in July that Trump had pressed aides on the possibility of invading Venezuela during a meeting in the Oval Office in Aug. 2017.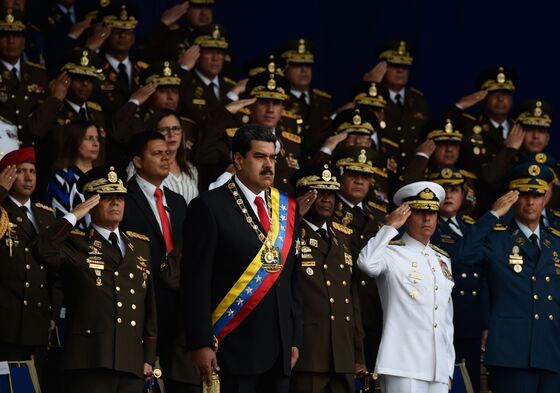 Maduro in August escaped unharmed in an attack by explosive-laden drones that wounded officers and sent soldiers scurrying during a military parade in Caracas. The country's security forces subsequently made a wave of arrests.
Bloomberg News reported after the incident that in April, a number of Venezuelan military dissidents plotted in neighboring Colombia to overthrow Maduro, and met there with a second group, comprised mostly of civilians, who wanted to assassinate him.
A spokesman for the National Security Council said Saturday that "U.S. policy preference for a peaceful, orderly return to democracy in Venezuela remains unchanged."
"A lasting solution to Venezuela's worsening crisis can only arise following restoration of governance by democratic practices, the rule of law, and respect for fundamental human rights and freedoms," the NSC's Garrett Marquis said in an emailed statement.