Trump's Loyalty Demands Met by 'Treason' Within His Inner Circle
(Bloomberg) -- President Donald Trump is facing another set of revelations that call into question the loyalty of his inner circle, this time within the White House.
Last month, two longtime business confidants struck cooperation deals with federal prosecutors, potentially trading information on Trump's dealings for better treatment.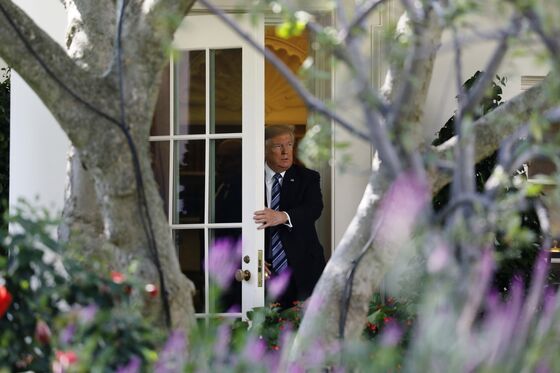 Now, Watergate investigative reporter Bob Woodward's book detailing a chaotic West Wing and former staffers actively deceiving and undermining Trump, coupled with an anonymous op-ed in the New York Times describing senior administration officials' attempts to thwart the president, has further undermined his trust in his staff.
Trump, who considers loyalty a paramount virtue, made his frustration apparent during a rally Thursday night in Billings, Montana, likening the Times op-ed to treason.
"You look at this horrible thing," he said. "Is it subversion? Is it treason?"
Trump trained his sites on Woodward in a posting on Twitter early Friday, accusing him of fabricating quotations found in the book and calling it a "scam."
"I don't talk the way I am quoted," Trump said. "If I did I would not have been elected President. These quotes were made up. The author uses every trick in the book to demean and belittle. I wish the people could see the real facts - and our country is doing GREAT!"
The author of the op-ed asserted Trump is acting "in a manner detrimental to the health of our republic" and claimed "many" officials inside the administration are working against the president's "more misguided impulses."
Back in Washington, the strain was evident from the latest episodes of an administration-wide soap opera defined by paranoia and distrust.
Press secretary Sarah Sanders issued a plea to reporters hunting for the identity of the mystery administration official who wrote the column: "Stop."
The search for the person Sanders described as an "anonymous coward" was "recklessly tarnishing the reputation of thousands of great Americans who proudly serve our country and work for President Trump," she said in a statement. Her request seemed to underscore the extent to which speculation over the author had consumed the West Wing.
Even after the statement from Sanders, top administration officials continued issuing their own statements denying their involvement in the publication and denouncing the author.
By the time Trump boarded Air Force One for Montana, chief of staff John Kelly -- who accompanied the president on the trip -- was the only Cabinet member or Cabinet-level official not to issue a public denial. First Lady Melania Trump issued a statement saying the author of the column was "sabotaging" the country and warning that accusations "can lead to severe consequences."
Meanwhile, Democratic Senator Elizabeth Warren seized the moment to urge administration officials to invoke the Constitutional process for the Cabinet to find Trump incompetent and remove him from office.
"This is about the safety of our children, the national security of our nation, and the future of our democracy," Warren said on Twitter. "If senior officials believe the president is unfit, they should stop hiding behind anonymous op-eds and leaking info to Bob Woodward, and do what the Constitution demands they do: invoke the 25th Amendment and remove this president from office."
Former administration officials took to social media to stir the pot, while underscoring how little loyalty the president seemed to receive from those whom he had given jobs within his administration.
Omarosa Manigault Newman, a former staffer and "Apprentice" contestant who published her own tell-all book earlier this summer, started a Twitter poll asking followers to guess which senior staffer had written the op-ed. Former communications director Anthony Scaramucci tweeted that the article validated his warning during his short White House tenure "that there were forces inside the building that were 'saving the country"' from the president.
It isn't just the White House staff.
Both Allen Weisselberg, the chief financial officer of the Trump Organization, and David Pecker, the tabloid executive who helped squash damaging allegations of infidelity against Trump, are reported to have agreed to share their knowledge of his private affairs for some level of criminal immunity. It's unknown what Weisselberg and Pecker have told prosecutors, or if they have information that can deepen Trump's legal or political jeopardy.
On Aug. 21, Trump's former lawyer Michael Cohen admitted to violating federal campaign finance laws before the 2016 election -- at the direction of Trump. He made or helped arrange hush-money payments to two women who claimed to have had affairs with Trump, according to court documents, which also said that Cohen worked with a "popular national tabloid" to identify stories about Trump's alleged extramarital affairs and suppress them.
The White House wouldn't say if it was undertaking an internal investigation into who the op-ed writer might be. The president has already announced that White House counsel Don McGahn -- who would normally handle such an inquiry -- would be departing the administration shortly after the confirmation vote on Supreme Court nominee Brett Kavanaugh, whose ongoing Senate hearings competed for cable airtime with panels speculating over the possible author.
Still, those closest to Trump seemed to hope that their statements denying involvement in the Times op-ed might assuage the embattled president.
It's a strategy they adopted to some success just a day before, when the president appeared buoyed by statements from Kelly and Defense Secretary James Mattis denying anecdotes attributed to them in Woodward's book. Trump told reporters he appreciated the support from both men, noting that they appeared to share his outrage over their depiction as dismayed by his leadership.
But even as Trump tried to signal that he enjoyed combat over critical books -- saying that even with their release seemingly "every week" that he liked "to take them on when they come out" -- the chaotic behind-the-scenes machinations of the White House's rapid response efforts were apparent.
In a meeting with the emir of Kuwait, the president told reporters that Mattis and Kelly had issued their statements "without my even knowing about it." Hours later, as he met with Republican leaders, Trump said Mattis told him that he'd like to write a statement to respond to the allegations contained in the book. The White House offered no explanation of the apparent contradiction.
And even as the administration tried to undercut Woodward's reporting, new evidence emerged to support some of the claims in the book. After Trump disputed that former economic adviser Gary Cohn had stolen a draft letter that would terminate a trade agreement with South Korea, news organizations published a copy of the letter that had been given to the author and included in the book. Woodward said he stands by his reporting.
The Kavanaugh hearing on Capitol Hill offered little respite.
The third day's proceedings included questioning on whether the Supreme Court nominee had had conversations about special counsel Robert Mueller's Russia investigation with anyone at the law firm of the president's personal lawyer.
While Kavanaugh denied any "inappropriate" conversations, the episode renewed focus on a probe that led to the indictment and conviction of Trump's former campaign chairman, Paul Manafort. Mueller was also responsible for referring a criminal case that resulted in a guilty plea from Cohen on the same day that Manafort was found guilty.
The White House dismissed the notion that the various crises have proven disruptive, with Sanders arguing that the staff "stand united together." But some current and former White House officials also acknowledged that Woodward's account of dysfunction and infighting broadly ring true.
"I think people just have a tendency in a competitive high power to say nasty things about each other," Scaramucci said in an interview with Fox News. "If they want to walk back and pretend they didn't say it, that's fine."
Scaramucci added that "cockroaches" within the administration who were speaking to journalists had decimated Trump's ability to trust his team.
"Who is he going to trust?" he said. "He is learning that the people he hired actually don't like him and are trying to stop him. That could make somebody paranoid. There's no question about that. "