South Korea President's Support Falls Below 50% for First Time
(Bloomberg) -- South Korean President Moon Jae-in's approval rating fell below 50 percent for the first time, as voters express doubts over his policies to curb home prices and boost job opportunities.
A weekly Gallup Korea survey released Friday showed support for Moon fell 4 percentage points to 49 percent, the lowest mark since he took power in May of last year. His disapproval rating rose to 42 percent -- the highest level since he took office -- compared with 38 percent last week.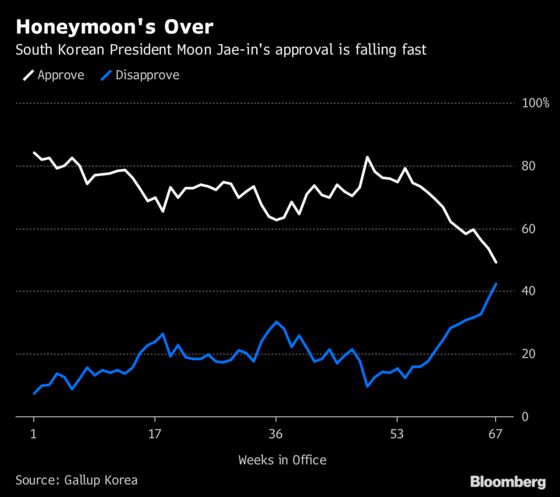 Respondents said they were dissatisfied with Moon's inability to resolve stubborn economic issues, such as soaring home prices and weak job-market growth. Gallup interviewed 1,000 adults between Tuesday and Thursday.
"We treat this situation gravely," Moon spokesman Kim Eui-keum said after the survey was released, vowing to "pay more attention to the voice of the people."
The poll comes a day after Moon's office announced he would hold his third meeting with North Korean leader Kim Jong Un on Sept. 18-20 in Pyongyang -- the first such trip by a South Korean leader in 11 years. He's also expected to meet with U.S. President Donald Trump later this month on the sidelines of the United Nations General Assembly in New York.
But economic frustrations are overshadowing Moon's early diplomatic success with North Korea -- with no major breakthroughs since Trump's June meeting with Kim, when the two leaders agreed to "work toward complete denuclearization of the Korean Peninsula."
"Since President Moon's North Korea policy is seeing little progress, what matters to voters is the economy," said Lee Jae-mook, who teaches political science at Hankuk University of Foreign Studies in Seoul. "But for ordinary citizens and middle-class people, things that matter to them have not been going well."