Serbia-Kosovo Talks Upended as Land-Swap Plan Rattles Europe
(Bloomberg) -- Serbia's president canceled a meeting with his Kosovan counterpart and Serbia's prime minister separately warned the international community not to test its patience in an unexpected escalation of tension between the neighboring countries.
Aleksandar Vucic scratched a planned meeting with Kosovo's President Hashim Thaci in Brussels on Friday after meeting European Union foreign policy chief Federica Mogherini. Vucic had suggested the meeting could lead to progress in stalled efforts to normalize ties since the neighbors split after the 1998-1999 war, possibly even including an agreement to swap territory.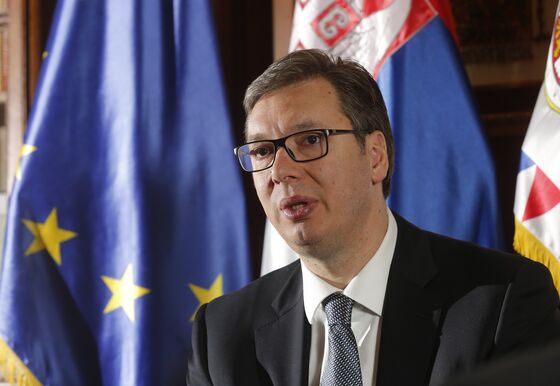 Serbia's government has tried to build support for a deal with Kosovo that could allow it to absorb a Serb population from the majority ethnic-Albanian state. Vucic has expressed frustration over opposition to the plan from German Chancellor Angela Merkel and other EU leaders who fear redrawing borders could stoke tension in a region that was the site of Europe's bloodiest conflicts since World War II. The EU has demanded that Serbia mend ties with Kosovo as a precondition of membership in the bloc.
"It's obvious that the border-change project has failed," Dusan Janjic, the director of the Belgrade-based Forum for Ethnic Relations, said by phone. With both Vucic and Thaci facing opposition at home for a solution that could result in new borders or even land swap, "this is the moment to delay the dialog and introduce a new theme for talks," Janjic said.
Shortly after Vucic canceled the meeting with Thaci, Serbian Prime Minister Ana Brnabic issued a warning over the situation with Kosovo. She accused international observers of letting Kosovo dodge the so-called Brussels Agreement, which also calls for ethnic Serbs living there to be given more autonomy.
"Our president obviously has great and endless patience only for the sake of peace, stability and prosperity of all the citizens of all nationalities in this region," Brnabic said in a statement. "I am asking first of all the international community not to test any longer either our patience or our understanding, but acknowledge the seriousness of the situation and act accordingly."
Later in the day, Vucic said the fact he didn't meet with Thaci shouldn't be seen as stopping the dialog between the two countries. The process may be lengthy, but "it would be a catastrophe to stop it," he told reporters in Belgrade.
Vucic said he"ll head to Kosovo this weekend as planned to meet with ethnic Serbs living there.
Thaci, who also met Mogherini, said that there had been occasions in the past where he had not met Vucic in Brussels when they were both there and that "it is important that we continue along the same path, the path of peace, toward solving the problem," the Belgrade-based B92 news portal cited him as saying.
"As far as Vucic's visit to Kosovo is concerned, he's welcome, whatever agenda he proposes," Thaci was quoted as saying.
Since Kosovo's declaration of independence, Serbia has refused to acknowledge its neighbor and has relied on help from its allies Russia and China to block its recognition at the United Nations.
Bekim Collaku, Thaci's chief of staff, wrote in an opinion piece in the EUobserver that "sizeable portions" of both Serbia's and Kosovo's citizens would be against swapping territory and any final deal will be "painfully difficult to reach." Still, he suggested it may be the only way for a solution because no progress could be made "unless the core of the problem is tackled."
"A potential deal between Kosovo and Serbia involving border adjustments would be mutually agreed in a peaceful manner and would not be made along ethnic lines," he wrote. "The momentum is there and neither country can afford to lose it now."