Populism's Most Audacious Target Yet
Surely of all places egalitarian Sweden would escape the global of wave of populism —  or so thought the champions of the liberal world order.
But the tide could crest on Sunday, like it has in other democracies of Europe, and in the U.S. and Asia, with the nationalist Sweden Democrats winning as much as 20 percent of the vote.
Some polls show the party might even become the nation's largest — it was born out of the country's neo-Nazi, white supremacist movement and favors ripping Sweden out of the European Union.
Its emergence in this bastion of social democracy, combined with an expected uptick for the former communist Left Party, risks dismantling the left- and right-wing bloc politics that have long dominated Sweden. That's spooked investors, sending the krona down to lows last seen almost a decade ago.
The establishment parties are pulling out all the stops to woo back voters and shore up the status quo. The Conservatives are promising tax cuts, while the Social Democrats are offering families an extra week off. Both say they'll crack down on crime and restrict immigration.
Only one thing is now certain: Sweden's political order is under attack.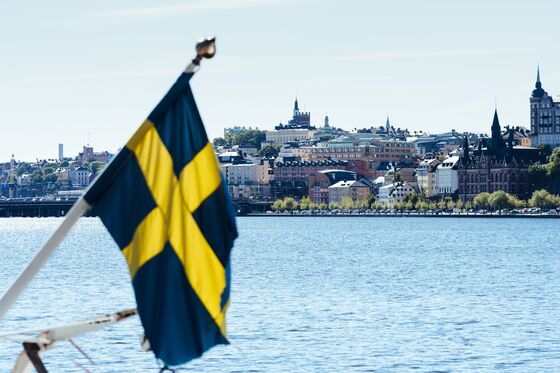 Looming tariffs | American technology firms, including Cisco Systems and Hewlett-Packard, are trying to convince President Donald Trump to shelve his planned tariffs on $200 billion worth of Chinese goods. The higher cost of imported telecommunications equipment could make it more expensive for U.S. citizens to access the Internet and for the roll-out of next-generation wireless networks, Andrew Mayeda, Mark Niquette and Shawn Donnan report.
Talking treason | Met with yet another set of revelations that call into question his inner circle's loyalty, Trump described as possibly treasonous an anonymous New York Times Op-Ed chronicling senior administration officials' attempts to thwart him. The White House pleaded with journalists to stop trying to uncover who wrote the article, even as top administration officials issued their own statements denying their involvement.
Brazil election violence | Brazil's presidential race was jolted yesterday when the front-runner, controversial ex-Army officer Jair Bolsonaro, suffered a near fatal stabbing by a lone assailant during a street rally. While a divisive figure, Bolsonaro's anti-corruption message and free-market approach is popular with many, who are now betting the attack will create sympathy for the candidate and help propel him to the second round of voting in October.
Summit talks | Vladimir Putin is in Tehran today for talks with the leaders of Iran and Turkey to map out postwar spheres of influence in Syria. With the U.S. marginalized, the Russian president's defying Trump's demands to expel Iran from Syria once the conflict ends, Henry Meyer and Ilya Arkhipov report. Syrian government forces are preparing an assault on the last major opposition bastion in Idlib, which may send a new wave of refugees across the Turkish border.
Now for the hard part | After two terms of mixed reform results, Prime Minister Shinzo Abe is vowing to tackle some of Japan's most intractable problems in a third, including immigration, pension reforms and constitutional amendments. Isabel Reynolds reports that Abe's record of watering down proposals after resistance from the public and vested interests has left many skeptical about his resolve to see them through.
German Chancellor Angela Merkel will meet with Emmanuel Macron in Marseille later today to discuss the future of Europe — with the French president pushing for a broad alliance against nationalists ahead of EU elections in May.
A Senate panel considering Brett Kavanaugh's Supreme Court nomination is scheduled to hear from outside witnesses today after Kavanaugh concluded his testimony, having sidestepped Democratic efforts to pin him down on abortion and the investigations of Trump.
And finally... We're launching our Bloomberg Politics Weekly News Quiz today — a chance to test your knowledge of global politics and catch up on any of our stories you might have missed. As we build it up, let us know if you find this one too easy, too hard, just right! For Political Focus, our round-up of the last seven days in images, click here.