Former Nixon Aide Warns Kavanaugh Would Shield the White House
(Bloomberg) -- President Richard Nixon's White House counsel John Dean warned the U.S. Senate Friday that confirming Brett Kavanaugh to the Supreme Court would weaken the judiciary's check on presidential powers.
"If Judge Kavanaugh is confirmed, I submit we will have the most pro-presidential-powers Supreme Court in the modern era," Dean said in testimony before the Senate Judiciary Committee.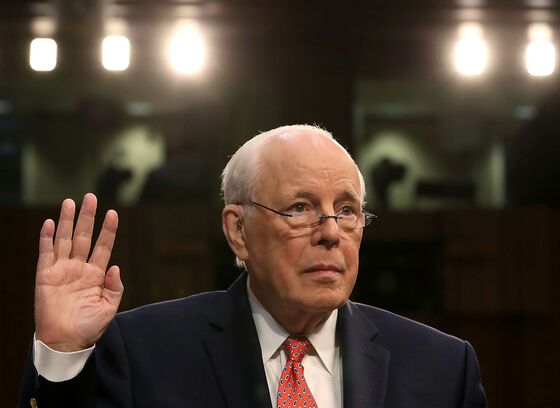 Dean, who was White House counsel for almost three years, was the star witness in the congressional hearings that led to Nixon's 1974 resignation. Dean pleaded guilty to obstruction of justice.
During his Senate confirmation hearing, Kavanaugh refused to say whether he would recuse himself from any case stemming from Special Counsel Robert Mueller's investigation into Russian interference in the 2016 election.
Dean suggested that under Kavanaugh's view, "even if a president shot someone in cold-blood on 5th Avenue, that president could not be prosecuted while in office." He was alluding to a statement by President Donald Trump during his campaign for office that he wouldn't lose any voters if he shot someone in the middle of 5th Avenue.
One of Trump's lawyers, Rudy Giuliani, has said Mueller's team of lawyers indicated they will follow Justice Department guidelines that say a sitting president can't be indicted.
Dean said he isn't sure, based on Kavanaugh's testimony before the panel this week, whether the federal appeals court judge backs a landmark Supreme Court ruling that said Nixon must obey a subpoena for his secret White House tapes.
"It is not really clear to me that he really believes U.S. vs. Nixon was correctly decided," he said.
Dean told the Senate that it should delay a confirmation vote on Kavanaugh until all relevant documents are made available. Democrats complain they haven't received hundreds of thousands of pages of material from Kavanaugh's work in President George W. Bush's White House.
"The failure to fully vet a nominee can haunt that person's career on the court, damage the notion of justice, hurt the court, and harm the American people," Dean said.