Erdogan Warns of 'Lake of Blood' as Putin Rejects Syria Deal
(Bloomberg) -- Russia rejected Turkish President Recep Tayyip Erdogan's call for a cease-fire in Syria after he warned of a looming "catastrophe" as the Damascus regime's forces prepare to fight the last major battle of the seven-year civil war.
Erdogan, speaking at a summit in Tehran on Friday between Turkey, Iran and Russia, urged the other leaders to support his call for an immediate truce in the northwestern province of Idlib. Russian President Vladimir Putin refused the request, saying the three countries can't dictate to the government or rebels.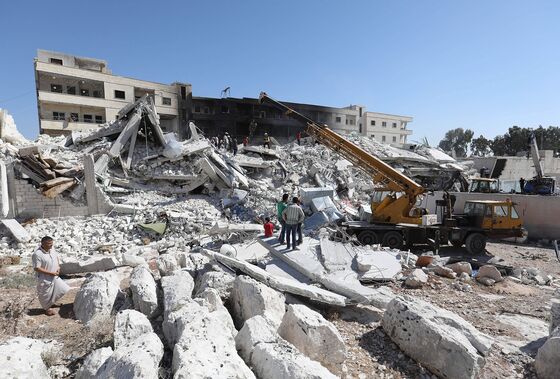 "Any assault, whatever the reason for it, will inevitably lead to a catastrophe, killings and a major human tragedy," Erdogan said before the glare of TV cameras. "We never want to see Idlib turn into a lake of blood. We have to find a rational way out in Idlib that could meet our security concerns." He warned that millions of refugees would reach Turkey if a major attack took place.
The three-way summit came at a critical juncture in Syria's deadly conflict. Russia's military intervention three years ago turned the tide in President Bashar al-Assad's favor at a time when he held less than a quarter of his country's territory. Now, major patrons Moscow and Iran are looking to consolidate gains as the battle in Idlib approaches.
Talks between the three leaders, which, unusually, were broadcast live on television, appeared tense at times. A 12-point joint declaration issued later papered over their differences, saying they had agreed to cooperate in eliminating Islamic State and al Qaeda-linked groups and urging the United Nations to increase humanitarian aid to Syria.
U.S. President Donald Trump warned Assad this week against committing a "slaughter" in the Syrian province, and the UN Security Council convened a meeting Friday to discuss the situation on the ground. Meanwhile, Russian warplanes have already been bombing Idlib, and Syrian troops have shelled it.
Raising the risk of eventual confrontation with Russia, the U.S., which had threatened reprisals if the Assad regime uses chemical weapons, will now respond to any attack on Idlib, a newly-appointed State Department official responsible for Syria said in comments published by the Washington Post and echoed later by UN envoy Nikki Haley.
The more than 2,000 U.S. troops in northeastern Syria who've been fighting Islamic State with the help of Kurdish militias will stay to ensure the departure of Iranian forces, said the official, James Jeffrey.
Almost 3 million civilians live in Idlib and the prospects for a humanitarian catastrophe are high if the government doesn't allow an escape route. The UN estimates there are 10,000 fighters in the region with links to al Qaeda.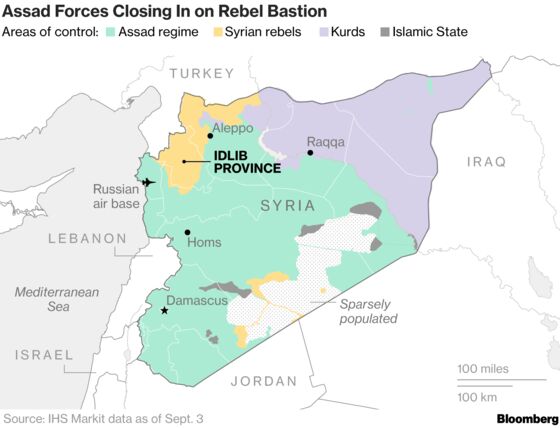 An estimated half a million people have died in the Syrian conflict since March 2011 and 12 million more have fled their homes to seek refuge inside the country or abroad.
Hours after the Tehran summit kicked off, Haley hosted the Security Council meeting, including a briefing by the UN's special envoy to the conflict, Staffan de Mistura. De Mistura said there is an urgent need to establish evacuation routes for civilians trapped in Idlib to avoid a catastrophe.
"The dangers are profound that any battle for Idlib could be, would be, a horrific and bloody battle," de Mistura said.
Haley said the U.S. has been clear in warning Russia and Iran against continuing efforts to retake the province.
"We consider any assault on Idlib to be a dangerous escalation of the conflict in Syria," Haley said. "If Assad, Russia, and Iran continue, the consequences will be dire."
But the simultaneous summit in Tehran and the U.S.-led meeting of the Security Council in New York only underscored the divide that has hobbled efforts to resolve the seven-year conflict and may frustrate any unified approach to the situation in Idlib.
Under a plan proposed by Turkey's government, foreign militants would be disarmed and sent back to their home countries, Turkey's pro-government Sabah newspaper reported Friday. The plan is aimed at avoiding a major attack on the militants in return for giving them a chance to leave the area if they hand over their weapons to the Free Syrian Army, the main non-Islamist rebel group. If the militants refuse, they may come under pinpoint attacks, according to the plan.
Putin accused the fighters of using civilians for cover. "We hope that the representatives of these terrorist organizations have enough common sense to surrender their weapons," he told reporters after the talks.
Iranian President Hassan Rouhani insisted during the meeting that there can be no compromise. "It is necessary for the fight to continue until all terrorist groups in Syria especially in Idlib are eradicated," he said.