Deficit, Debt and EU Defiance: A Guide to Italian Budget Battles
(Bloomberg) -- Italian leaders started budget talks with an eye to markets, reassuring investors that they won't push the deficit to the European Union limit of 3 percent of gross domestic product.
Yet getting the whole government and the EU on board may prove difficult, with Matteo Salvini's League and Luigi Di Maio's Five Star pushing to meet budget pledges that some estimate to be over 100 billion-euros ($116 billion), or more than 5 percent of GDP.
Even with a deficit within the limit, Italy isn't off the hook. The EU Commission also wants Italy to keep cutting it at a sufficient pace to rein in the country's debt of over 130 percent of GDP.
Italian Finance Minister Giovanni Tria reiterated Friday ahead of a meeting in Vienna with his euro-area counterparts that Italy will respect EU rules. Tria plans to tell the so-called eurogroup meeting that his aim is to not exceed 1.6% in the deficit/GDP ratio, daily la Repubblica reports without citing anyone. European Union Economic Affairs Commissioner Pierre Moscovici said Friday the country's finances risk jeopardizing Italy's position at the center of European affairs.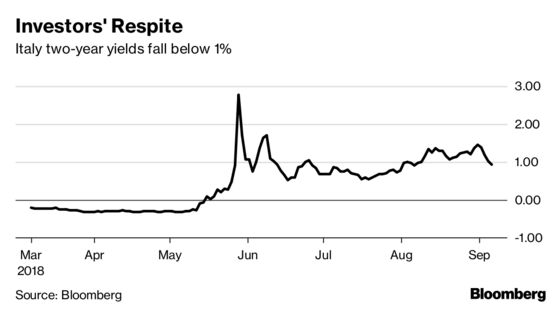 The coalition is expected to set new public-finance and economic-growth targets by Sept. 27 and present them to parliament. This will be followed by the Draft Budgetary Plan that Italy will have to submit to the European Commission by Oct. 15.
The Commission has one week to formally raise significant non-compliance issues, while by Nov. 30 it is required to rule whether the budget plan is compliant. The law has to be sent to parliament by Oct. 20, with final approval expected by year-end.
Italy's current targets, agreed to with the EU, see the deficit falling from 1.6 percent of GDP in 2018 to 0.8 percent in 2019, with a balanced budget in 2020. Finance Minister Giovanni Tria told Bloomberg News in July that his aim is not to worsen the structural-budget situation and possibly to improve it. But he's also said that slower than expected economic growth means the deficit is heading toward 1.2 percent in 2019.
Salvini and Di Maio have scaled back their rhetoric and have said this week that the budget will respect EU rules. They're both pushing to get part of their flagship measures included, such as some form of universal income for the poor and tax cuts at least for the self-employed who are below a certain income. That will give Tria a balancing task.
At the same time, the existing deficit targets take into account a planned value-added tax hike worth 0.7 percent of GDP -- but the new government is reviewing this. No VAT increase would mean less to spend, unless that gap can be plugged by other measures. Reversal of a prior pension reform is another pledge with recurring long-term effects.
Italian newspapers have reported the League is pushing for a deficit of just above 2 percent, while Tria is reportedly pushing to keep it as low as 1.5 percent.
The fatal collapse of a bridge near Genoa has also thrown the spotlight on Italy's creaking infrastructure. Deputy Premier Salvini has said that higher infrastructure spending doesn't need to be counted in the EU deficit rules.
Italy's public debt load, at 2.3 trillion euros, is already the highest in the European Union. As a ratio of GDP, it's forecast to be 130.8 percent this year, second in the euro area only to Greece, and narrow to 128 percent in 2019.
Tria has insisted that the government will keep working on the reduction of the debt ratio despite slower economic activity this year. It will be crucial to look at deficit and debt targets for the following years. Deficits below or equal to 2 percent are likely to keep the debt ratio on a downward trend, analysts at JPMorgan and Goldman Sachs wrote.
Tria says the universal income could be partly funded by cutting other welfare instruments, though there's little detail. He also announced plans to review existing tax policy and cut some tax breaks and deductions. Salvini has said a 80-euro-a-month tax rebate for the lowest paid passed by former premier Matteo Renzi will remain.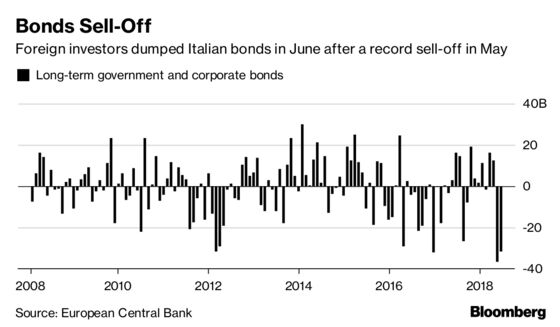 Under EU rules, no country should have a deficit larger than 3 percent of GDP or debt above 60 percent of output, and governments are required to set annual targets to show they're moving in the right direction. Even if Italy doesn't breach the 3 percent target, it would still run afoul of EU rules if the deficit doesn't narrow at the pace agreed, considering its high debt. It's unusual for a government to admit in advance that it isn't even going to try to hit the goals.
The EU can impose fines and other penalties after a lengthy period of consultation, but it has always preferred stern warnings in the past.
Does it Matter?
Markets could make it hurt. The 10-year yield spread over Germany could blow out to 470 basis points -- the highest level since the euro-area debt crisis -- from around 272 currently, should the budget break the EU's 3 percent limit, according to a Bloomberg survey last month. A 2019 deficit set at 1.8 percent would instead see the spread narrow to about 208 basis points, the survey of banks showed. The 10-year yield is at about 3 percent, compared with 2 percent at the start of the year.
Fitch Ratings put Italy's rating on watch negative on Aug. 31. Moody's Investors Service has put Italy on review for a possible downgrade, though it's extended the possible move until end-October.
Bond yields have come down this month as the coalition leaders eased their rhetoric and pledged to respect EU rules. There's a consensus among banks that the government won't flout the 3 percent deficit rule, while the main risk is that a worsening primary surplus will set the debt ratio on an upward trend, which could happen with a deficit above 2.3 percent, according to Deutsche Bank.