Cable Hints He Won't Stay Liberal Democrats Leader After Brexit
(Bloomberg) -- Vince Cable hinted that his leadership of the traditional third party of British politics is coming to an end.
In a speech at the National Liberal Club in London, the 75-year-old boss of the Liberal Democrats said he had no wish to emulate William Gladstone, the 19th-century liberal leader who served as prime minister into his 80s.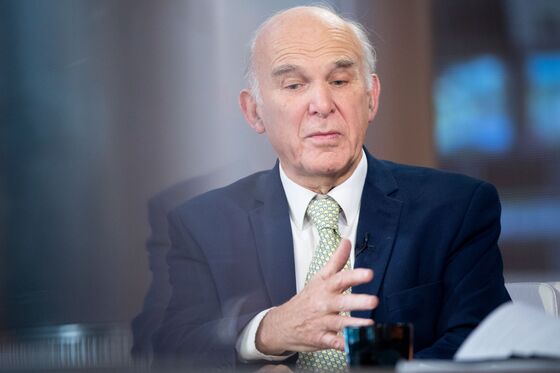 But the former business secretary was also adamant he wouldn't step down until Brexit was either "resolved or stopped," pledging to be a leading voice against Britain's departure from the European Union, and campaigning for a second referendum. He also said he'd be preparing his pro-EU party for a possible snap general election resulting from chaotic Brexit talks.
Cable is grappling with how to revive the fortunes of a party that was in power in coalition with David Cameron's Conservatives until 2015, when it lost all but 8 of its 57 seats in Parliament. Its support is stuck between 6 percent and 10 percent in recent opinion surveys, indicating the party is failing to capitalize on what should be a natural support base -- the 48 percent who voted Remain in the 2016 referendum on Britain's EU membership.
Cable outlined plans on Friday to transform the Liberal Democrats "from an old-style political party into a new, open movement" galvanized by engaging "hundreds of thousands of people online." He also said he'd lead the party into local elections in May.
"Reports of my imminent departure are wide of the mark and now is certainly not the time for an internal election: there is serious work for our party to do," Cable said. "To that end, once Brexit is resolved or stopped and if the new rules are agreed, that will be the time to conduct a leadership contest under the new rules."
The veteran leader outlined three proposed changes:
Widen the party membership with a new class of supporters who pay nothing but sign up to the party's values and have a right to vote in leadership elections
Remove a 12-month delay before new members can become candidates
Open up the party leadership to a wider field than just its members of Parliament.
Cable acknowledged his party wouldn't be pioneering the tactic, pointing to the success of the Labour Party's Momentum movement, and Italy's Five Star Movement.
He also warned of the potential risks of alienating the party's traditional members, just as some Labour lawmakers complain that their party has been "hijacked" by Momentum and its support for the leftwing impulses of leader Jeremy Corbyn.
"We have to be careful, but we cannot be afraid of opening windows lest a few flies get in: In any case, the Liberal Democrats are different," Cable said. "We are not a socialist party concerned with extreme-left entryism, or a right-wing party trying to keep extreme right-wingers out. We are a center-ground, pro-European, liberal and social democratic party, welcoming like-minded supporters."
"This will be a movement for moderates," he said.