After Near-Fatal Stabbing, Brazil Front-Runner Emerges Stronger
(Bloomberg) -- As Jair Bolsonaro, the front-runner in Brazil's presidential elections, was recovering Friday in the hospital from a near-fatal stabbing, the initial reading of the incident was that it will help bolster his campaign and extend his lead in what's been a wide-open race.
No one was ready yet to declare Bolsonaro, a former military officer with polarizing social views, the winner in October's vote, but nearly all analysts consulted by Bloomberg News saw the development as a positive for his campaign.
"This will galvanize Bolsonaro's base," said Edwin Gutierrez, the head of emerging-market debt at Aberdeen Asset Management.
Local markets were closed Friday for a national holiday, but in trading abroad, the iShares MSCI Brazil ETF jumped as much as 2.7 percent, adding to a rally that had emerged in stocks and bonds in the waning minutes of trading Thursday. Worried that the leftist Workers' Party could return to power and undermine the country's tepid recovery, investors have latched onto Bolsonaro, who generally espouses a free-market approach to the economy, in recent months.
"Whether or not you like Bolsonaro, he is a victim," analysts at Brazil-brokerage XP Investimentos said in a note to clients on Friday. "The game will now be reconfigured."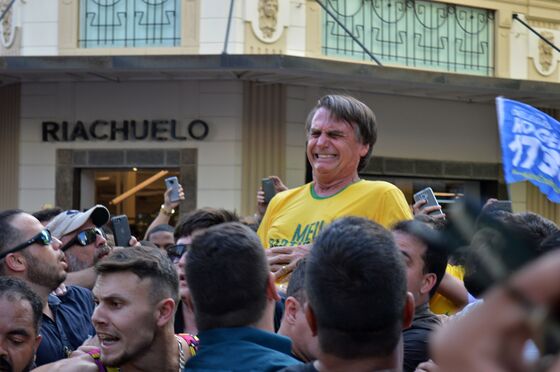 Bolsonaro is in "good condition, continuing treatment in ICU," doctors at Albert Einstein hospital in Sao Paulo said on Friday. He underwent two hours of surgery to treat wounds to his intestine and contain severe internal bleeding the evening before, the doctors who treated him said at a news conference.
"I'm fine and recuperating!" Bolsonaro said it on his Twitter page on Friday afternoon. Earlier, he said in a video recorded at the hospital by Senator Magno Malta he has "never done harm to anyone" and added he was prepared for a moment like this.
"If he'd been farther from the hospital or in a city that was unprepared, he'd probably have died," his son Eduardo, a fellow lawmaker, said by phone. "He'll be out of combat, not campaigning in the streets, for at least two weeks."
Amateur video footage of the attack shows Bolsonaro being stabbed in the stomach earlier in the day while supporters carried him through the streets of Juiz de Fora, a city in the southeastern state of Minas Gerais. Bolsonaro, 63, immediately clutched his stomach and grimaced in pain.
The alleged attacker is in custody and has been identified as Adelio Bispo de Oliveira, 40, who claimed he was sent by God to take the candidate's life, according to a police spokesman. Oliveira was a member of the Socialism and Liberty Party from 2007 to 2014, Brazil's Veja magazine reported.
Bolsonaro's lawyer said Adelio acted alone for political and religious reasons.
The incident comes amid a tumultuous period in Brazil's history that has seen a sweeping corruption investigation roil the political establishment and inflame Brazilian citizens still suffering after a devastating, two-year recession.
Bolsonaro has made a name for himself with his unapologetic rejection of political correctness and willingness to court controversy, and in that respect is often likened to Donald Trump. His statements about women, minorities and LGBT people have repelled some Brazilians, but attracted many others who support his free-market policies and hard-line law-and-order stance.
Political tension has worsened as still-popular former President Luiz Inacio Lula da Silva was jailed and last week barred from running in this year's election that is the most unpredictable since Brazil's 1985 return to democracy, with a highly splintered field of candidates.
Bolsonaro has 22 percent of first-round vote intentions, at least 10 percentage points ahead of his closest rivals, according to an Ibope poll released this week. Former Environment Minister Marina Silva and left-wing candidate Ciro Gomes each have 12 percent. Fernando Haddad, Lula's likely substitute, has 6 percent. Brazil will hold general elections next month.
In spite of Bolsonaro's lead, support has plateaued in recent weeks and polls show him losing in a runoff to most rivals. Still, analysts said Thursday's attack may give his candidacy a fresh momentum.
"This incident increases Bolsonaro's election chances," said Richard Back, head of Latin America political strategy at XP Investimentos. "He was losing votes and, all of a sudden, becomes a victim almost as big as Lula."
'Polarized Political Environment'
Brazil's stocks and the currency jumped immediately following the attack. Bolsonaro, while a controversial and divisive figure in Brazil, is popular with many investors because he has repeatedly said he'd entrust economic policymaking to a free-market champion. They are now betting that the attack will wind up creating sympathy for the candidate and help propel him into the second-round vote Oct. 27. The benchmark Ibovespa stock index climbed 1.8 percent Thursday.
"The episode tends to intensify an already polarized political environment in Brazil," Christopher Garman, executive director for Americas at Eurasia Group, said by phone. "It's marginally positive to Jair Bolsonaro, who will have his media exposure increased."
Brazil's President Michel Temer on Thursday commented on the attack during an event in the nation's capital, saying, "The intolerance that there's been in Brazilian society is unacceptable." Other presidential candidates were quick to condemn the assault.
Political violence is common at state and city levels in Brazil, most recently with the high-profile assassination of a Rio de Janeiro city councilwoman. However, there has never been an assassination attempt against a Brazilian presidential candidate, according to David Fleischer, professor emeritus of political science at University of Brasilia. Surviving the attack may bolster the tough-guy image Bolsonaro has cultivated, he added.
"I imagine his approval ratings will go up in polls and his rejection rate will go down," Fleischer said. "There will be a wave of what you might call sympathy."