Sweden's Two Political Blocs in Dead Heat as Election Nears
(Bloomberg) -- Sweden's two traditional political blocs are running neck-and-neck ahead of Sunday's election, with neither close to a majority amid growing support for the nationalist Sweden Democrats.
The four-party center-right opposition Alliance is staging a late rise, seeing its backing climb to 38.1 percent in the latest pollofpolls.se, which combines the results of eight pollsters. Support for the center-left red-green bloc, made up of the ruling Social Democrats and the Greens as well as their Left Party ally, is at 40.8 percent.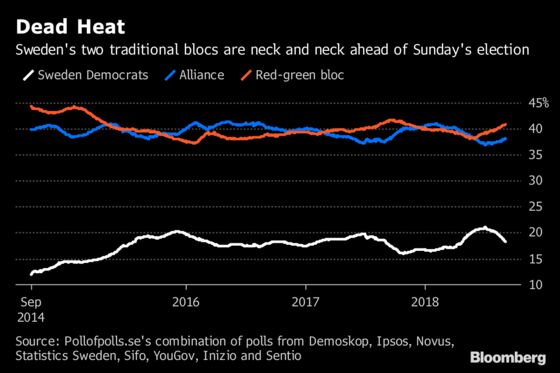 But given rising support for the nationalist and anti-immigration Sweden Democrats neither of the two blocs look likely to be able to form a majority government. The most likely scenario is that the side with the most votes will instead attempt to form a minority cabinet, but will need the backing of the SD or parties across the aisle to enact legislation and push through budgets.
Based on the latest poll of polls, the red-greens would control 146 seats in parliament versus the Alliance's 137. Still, since the Alliance and the Sweden Democrats want to boot Prime Minister Stefan Lofven out of power and as the nationalists typically side with the center-right opposition, the Alliance may still be the ones to form a government after the election.
While the biggest party or bloc is usually asked first to try to form a government, all new prime ministers are put to a parliament vote and will be blocked from governing if they have a majority of the legislature against them.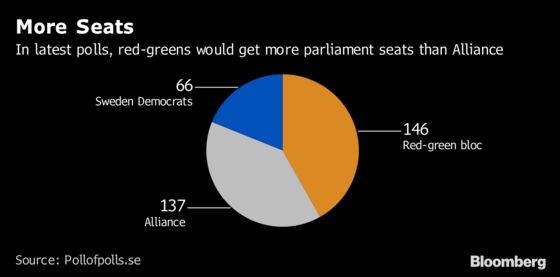 In Skop's latest poll, support for the red-greens fell to 38.3 percent and backing for the Alliance rose to 38.4 percent. In the latest Ipsos, the red-greens were at 40.8 percent while Alliance backing rose to 39 percent.
That increases the likelihood that Sweden's next prime minister will be Moderate Party leader Ulf Kristersson, whose group is the biggest in the four-party Alliance. Even so, his party is struggling to get the same backing it did in the 2014 election and is polling at around half of the electoral support it enjoyed at the start of this decade. His conservatives may even be overtaken by the Sweden Democrats as the country's second-largest party.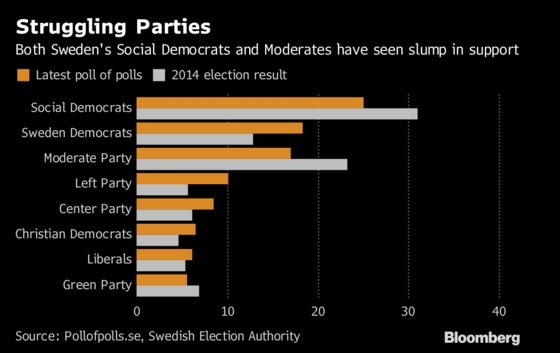 The Social Democrats are also struggling and are headed for the worst election result since general voting started in 1921. In the latest poll of polls, it's backed by only 25.1 percent of voters, down from 31 percent in 2014.