Salvini Grasps Whip Hand in Italy and Sets Sights on Top Job
(Bloomberg) -- As the Italian government tacks back and forth with its budget plans, League leader Matteo Salvini is winning the broader struggle for control of the populist coalition.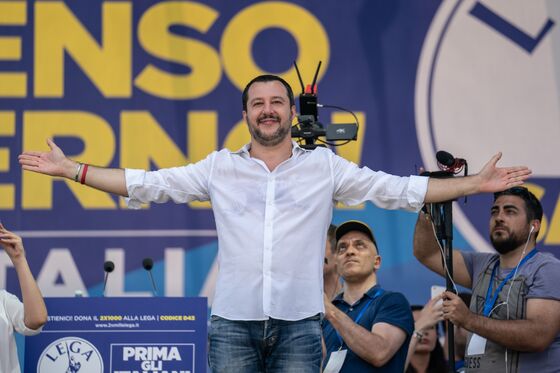 Salvini has upstaged and outmaneuvered Luigi Di Maio of the Five Star Movement every step of the way since March's election to set the agenda on immigration, foreign policy and even the economy. After trailing his partner by 16 points on polling day, Salvini has opened up a consistent, if narrow lead in most recent surveys. An SWG poll published Sept. 3 gave the League 32.2 percent support, compared with 28.3 percent for Five Star, its biggest advantage yet.
So while some analysts are already predicting the end of Italy's populist coalition, the rest of Europe may have to get used to dealing with the anti-immigration firebrand who's seized his moment with gusto.
"Di Maio has little chance of catching up at this point," said Sofia Ventura, a professor of political science at Bologna University. "Salvini is already looking toward his future as premier."
On Wednesday, Di Maio was once again on the back foot when he briefed reporters on a government meeting about the 2019 budget. Salvini had already made all the headlines the previous day when he set out the League's view on everything from the European Union deficit limit to the hefty tax cuts he's promised his backers in the business community.
The 45-year-old former communist has emerged as the clear reference point for investors -- and voters -- wondering which way the coalition will head next.
It wasn't supposed to go this way.
Five Star was the front-runner throughout the election campaign and won 33 percent while Salvini started the campaign as junior partner to Silvio Berlusconi's Forza Italia on the center right. The League's 17 percent showing was enough for Salvini to supplant the former premier as leader of the Italian right and since then he's barely drawn breath.
He's upended European immigration policy, threatened to flout EU budget rules, and eclipsed Premier Giuseppe Conte with statements on all subjects.
Finance Minister Giovanni Tria is ready to accept a wider budget deficit than originally anticipated, two newspapers reported Thursday. Tria sees next year's gap rising to at least 1.5 percent of gross domestic product, newspaper La Stampa said, without saying where it got the information. That is higher than the 1.2 percent he previously predicted. Newspaper Il Messaggero said he could allow a deficit of up to 1.8 percent.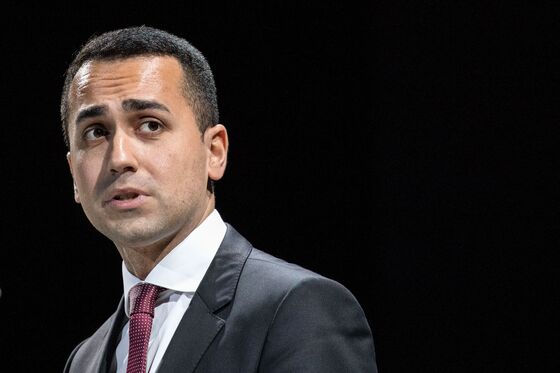 Di Maio has been trying to raise his profile, traveling to Egypt on a diplomatic mission last month. But that effort was eclipsed by Salvini's meeting with Hungarian Prime Minister Viktor Orban.
As if that weren't enough, Di Maio is also facing tensions within his own party.
Lower House Speaker Roberto Fico, a prominent member of Di Maio's party, has been challenging his leader's passivity in the face of the Salvini phenomenon. It was Fico who led complaints about Salvini's treatment of migrants when he barred 177 from landing in Italy after they'd been rescued at sea. Di Maio had defended Salvini's actions.
Fico was feted by a large crowd at a leftist party event in Ravenna this week, prompting speculation that he might try to take the party away back to the left, and loosen its embrace of Salvini's hardline approach.
On Tuesday, Di Maio said he'd speak to Fico privately and everyone had a right to their own opinions.
"There were many of our people in the audience as well," he said. "That's partly why you saw that crowd."
Another problem for Di Maio is that he stands to lose more from a collapse of the coalition.
With Salvini in pole position to displace Five Star as the biggest party in a snap election, Di Maio could face a leadership challenge from Fico or others unhappy with the party's direction, potentially ending his brief political career.
Regional and European parliamentary elections coming up in May could be the catalyst. The two party leaders are already in permanent campaign mode as they jostle for leadership and the strain of another election battle could push their relationship to breaking point.
"The stability of the unnatural alliance between the Five Star Movement and League is also likely to come into doubt after next year's electoral cycle, especially if the League keeps riding ahead of its coalition partner in polls," Teneo Intelligence analyst Wolfango Piccoli wrote in a note on Wednesday.