MTN's Nigeria Crisis Becomes Political Fodder in Vote Run-up
(Bloomberg) -- MTN Group Ltd. has become a battleground issue for Nigerian politicians vying for ascendancy ahead of a national election in February, with $10 billion worth of claims made against the South African wireless carrier.
Africa's largest mobile-phone company by subscribers is reeling from a double blow in Nigeria over the past week that's caused the stock to lose almost a third of its value and its Eurobonds to plunge. First, the central bank ordered MTN to return $8.1 billion it allegedly illegally transferred out of the country, then the attorney general's office said the Johannesburg-based operator owed $2 billion in back taxes.
The moves came as President Muhammadu Buhari seeks re-election for a second four-year term. He's pledged to tackle corruption -- including cracking down on tax dodgers and companies behaving in an unscrupulous manner. Central Bank Governor Godwin Emefiele, who oversaw the sanction on fund transfers, has long been close to Buhari.
The ruling was criticized by Atiku Abubakar, a former vice president who is running to be presidential candidate for the main opposition People's Democratic Party. The way in which the central bank has targeted MTN will only serve to discourage foreign investors, he said in an interview this week.
"Even in a worst-case scenario where there were breaches of financial laws and regulations, there are much better ways to deal with it than by the public exposure that MTN has been subjected to," Abubakar said in Lagos, the commercial capital. "It is bound to send the wrong signal to foreign investors. We should resolve it in a business-like manner, not a punitive manner."
The Nigerian central bank accused MTN of illegally repatriating cash between 2007 and 2015, while the $2 billion in back taxes relates to the past decade. The South African company denies all the allegations, and has pledged to "vigorously defend" its position. Just two years ago, it settled a separate dispute in Nigeria by agreeing to pay a $1 billion fine for missing a deadline to disconnect customers who weren't properly registered in the country. Authorities said that practice was aiding Islamist militant group Boko Haram.
"The Nigerian government and authorities are trying to get their house in order," Dobek Pater, managing director of telecoms advisory firm Africa Analysis, said by phone from Rwanda. "From history MTN does not have a squeaky clean reputation, and there have been some transgressions in the past."
However, Vestact Chief Executive Officer Paul Theron said the move was "pathetic, nationalistic and immature" and will "severely weaken Nigeria's economy in the years to come." MTN has been among the most committed foreign investors in recent decades, the money manager said.
The shares gained 1 percent to 77 rand by 4:31 p.m. in Johannesburg on Thursday. The stock is still down 45 percent this year. MTN has declined more than 60 percent since October 2015, when its troubles with Nigerian regulators over the disconnection of lines were first announced.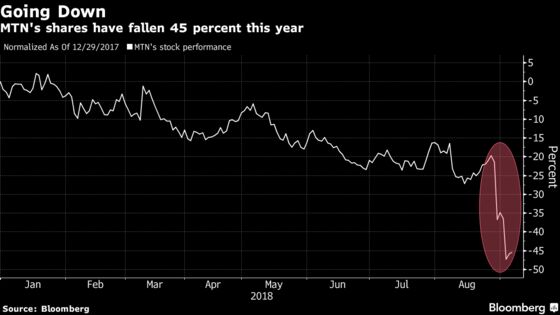 Moody's Investors Service placed the company's rating of Ba1, four steps into junk territory, on review for downgrade on Thursday, citing the "uncertainty around the potential implications" of the Nigerian penalties.
Stanbic IBTC, the local unit of Standard Bank Group Ltd., said Thursday the central bank had debited 1.9 billion naira ($5.2 million) from its accounts for carrying out some of the transfers for MTN. Stanbic, Citigroup Inc., Standard Chartered Plc and Diamond Bank Plc were fined about $16 million between them for the transactions. The other three didn't say if their accounts accounts had also been debited.
Abubakar was deputy president when MTN began operating in Nigeria in 2001 and was part of the government's drive to create a mobile phone network to help address woeful telecommunications in the country. The South African company was at the forefront of that initiative, and had about 66 million local customers at the end of June, according to the Nigerian Communications Commission -- the most among its 21 markets across Africa and the Middle East.
The only other international wireless carrier operating in Nigeria is India's Bharti Airtel Ltd., with about 40 million subscribers.