Kim Sets Timeline to Denuclearize as U.S. Awaits Strategic Shift
(Bloomberg) -- North Korean leader Kim Jong Un signaled he wanted to "achieve denuclearization" during U.S. President Donald Trump's first term during meetings with South Korean officials but America's top diplomat indicated more work may need to be done.
Kim told visiting South Korean envoys Wednesday he was ready to accept "stronger measures" to restrict his nuclear program and wanted a declaration with the U.S. to formally end the Korean War, the officials said. A separate account by North Korean state media said Kim told the delegation that he wanted progress on denuclearization, without mentioning the U.S. or Trump.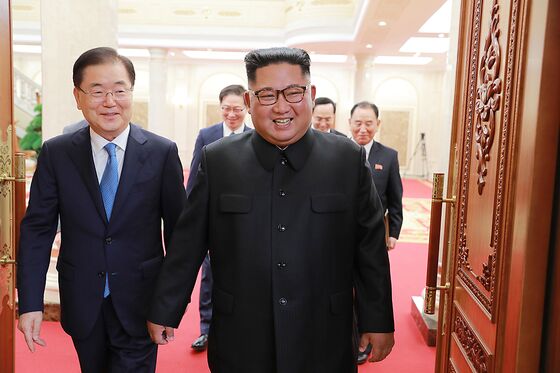 "Thank you to Chairman Kim. We will get it done together!" Trump responded Thursday in a posting on Twitter.
Speaking in New Delhi on Thursday, U.S. Secretary of State Michael Pompeo was cautious, declining to comment on Kim's remarks and adding that a lot of work remained. 
"We haven't had any nuclear tests, we haven't had any missile tests, which we consider a good thing," Pompeo said. "But the work of convincing Chairman Kim to make the strategic shift that we've talked about for a brighter future for the people of North Korea continues."
Kim's remarks about Trump's term, if conveyed accurately, would represent his first commitment to something resembling a timetable for nuclear talks with the U.S. leader. But interpreting them required several caveats: Kim only said that he wanted to realize denuclearization before early 2021 -- not commit to doing it -- and he didn't provide a clearer definition for the term, something that has emerged as a sticking point with the U.S.

"He wanted to end some 70 years of animosity between North Korea and the United States and achieve denuclearization within President Trump's first term," South Korean National Security Office head Chung Eui-yong, who led the one-day trip to Pyongyang, told reporters Thursday in Seoul. South Korean President Moon Jae-in also agreed to meet Kim in the North Korean capital on Sept. 18-20, the first such trip in 11 years.
Kim made clear he had "unwavering trust" in Trump, Chung said. "Kim especially emphasized that he has never said anything bad about Trump to anyone including his close aides," Chung said.
Kim Jong Un's statement was "meaningful" but unlikely to achieve a breakthrough if he doesn't offer something more substantive in exchange for a peace declaration, according to Kim Byung-yeon, a professor of North Korean economics at Seoul National University. "The United States seems likely to move if North Korea gives something more concrete," he said.
The South Koreans' trip to Pyongyang came amid mounting disagreements over the speed and sequence of efforts to eliminate North Korea's nuclear arsenal and finally end the 1950-53 Korean War. While Trump and Kim Jong Un pledged during their historic summit in June to "work toward complete denuclearization of the Korean Peninsula," they didn't define what that meant or offer a timetable for carrying it out.
The phrase "complete denuclearization" -- a term long preferred by North Korea -- could be read to preclude nuclear-capable U.S. bombers and submarines from operating near South Korea. Signing a peace treaty without a disarmament deal also carries risks for the U.S., because it could legitimize Kim's control over half of the peninsula and undermine the rationale for stationing 28,000 or so American troops on the peninsula.
Moon's spokesman Kim Eui-keum said Trump had asked Moon during a phone conversation before the trip to serve as "chief negotiator" between the U.S. and North Korea. The U.S. president gave Moon's envoys a message to deliver to Kim Jong Un, who gave the officials a statement to send to the White House.
Chung, the South Korean envoy, said Kim Jong Un stressed the need for a peace declaration, and said that such a step wouldn't require the withdrawal of U.S. troops. He was expected to brief his American counterpart, National Security Adviser John Bolton, at 8 p.m. Seoul time, Moon's office said.
Trump canceled a North Korea trip by Pompeo last month, a day after it was announced, citing a lack of progress. Chung said there was no discussion with Kim about rescheduling that trip.
Pompeo is, however, sending his new special representative for North Korea, Stephen Biegun, to meet counterparts in South Korea, China and Japan from Sept. 10-15, the State Department said Thursday.
In addition to setting a date for their meeting in Pyongyang, Moon and Kim Jong Un also agreed to open a joint liaison office at the Gaeseong industrial complex north of the border before the summit, Chung said. The two leaders will discuss measures on denuclearization, establishing peace and detailed steps to ease military tensions, Chung said.
Earlier Thursday, North Korean media said that Kim Jong Un had called for further efforts to "realize the denuclearization of the Korean Peninsula" during meetings with the envoys. The report said it was the leader's "will to completely remove the danger of armed conflict and horror of war from the Korean peninsula and turn it into the cradle of peace without nuclear weapons and free from nuclear threat."
"The North and the South should further their efforts to realize the denuclearization of the Korean Peninsula," it said.
The South Koreans said Kim Jong Un expressed frustration about skepticism over "the meaningful steps" he had taken to restrict his weapons program. The North Korean leader cited his dismantlement of a key nuclear test site and his suspension of missile tests.
Koh Yu-hwan, a North Korea studies professor at Dongguk University, said that Kim Jong Un needed a peace declaration to justify further measures to military hawks at home. "North Korea needs the declaration of the end of the war to convince its own officials of denuclearization," Koh said.