GOP Braces for Democratic Surge in November
(Bloomberg) -- Republicans are bracing for a potential Democratic wave in November that would rip away their grip on the U.S. House, leave their agenda in tatters and embroil Donald Trump's White House in a procession of congressional investigations.
As the midterm election campaign enters the homestretch, independent analysts uniformly agree Democrats are well-positioned to take control of the 435-seat chamber when the next Congress convenes and that their odds have only gotten better since the start of the year.
The GOP enters the final two months before the vote confronting an array of flashing warning signs—including polls, fundraising and primary voter turnout—pointing to the end of one-party rule in Washington.
"There is a confluence of things that suggest a very tough outcome for Republicans," said Sara Fagen, who served as White House political director to President George W. Bush when Republicans lost the House and Senate in the 2006 midterm election.
Democrats have expanded the congressional battlefield, putting more than 60 Republican-held House districts in play. They need a net gain of 23 seats to take the majority in the chamber, and are seeking to take advantage of the record number of GOP seats left open by retirements and resignations, which have left Republicans extra-vulnerable.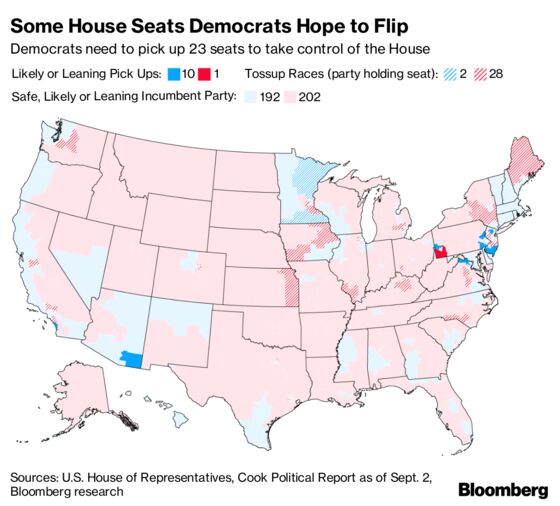 Meanwhile, stagnant wages—and rising prices—have wiped away the promise of big gains for the middle class that were a central selling point of the GOP's single biggest legislative achievement of the past two years—a $1.5 trillion package of tax cuts.
Despite controlling the House and Senate, the GOP has been unable to deliver on two central promises of Trump's presidential campaign: expanding the border wall and repealing Obamacare.
Then there's Trump. The swirl of legal and political turmoil around his presidency has continued to grow, most recently with the conviction of his one-time campaign chairman in Special Counsel Robert Mueller's investigation and the guilty plea of his former lawyer in a separate probe in New York. His approval ratings have been hovering at around 40 percent in most recent polls, levels that presaged big midterm losses for previous presidents.
Even Trump, who has boasted of a "red wave" that would sweep more Republicans into Congress, seemed to acknowledge the headwinds his party is facing during an Oval Office interview last week with Bloomberg News.
Asked about replacing House Speaker Paul Ryan, who is retiring, he said: "It's really going to be depending on the midterms. I hope that we're going to be in a position that we're going to have to worry about speaker."
The House battlefield ranges from traditional suburban swing areas, such as those in New Jersey and Virginia, to some in less-expected areas. Districts in Kansas, Maine and Kentucky that all voted for Trump in 2016 are now rated as competitive.
Democrats also have upped their game in competing across the country. The party has candidates in more than 430 of the 435 congressional districts, one of the highest totals in history. That would better the GOP's performance in 2010, when Republicans had nominees in 430 districts on their way to overturning the House Democratic majority at the midpoint of President Barack Obama's first term.
The non-partisan Cook Political Report rates 39 Republican seats as toss-up or lean Democrat, up from 20 in January.
Trump will loom large in almost every congressional race. He's demonstrated his ability to drive Republican voters in primaries, most recently in Florida's gubernatorial contest. But his record's been mixed in special elections pitting a Republican candidate against a Democrat. November will test whether Trump's pull with Republicans is enough to counter the intensity of Democratic voter anger.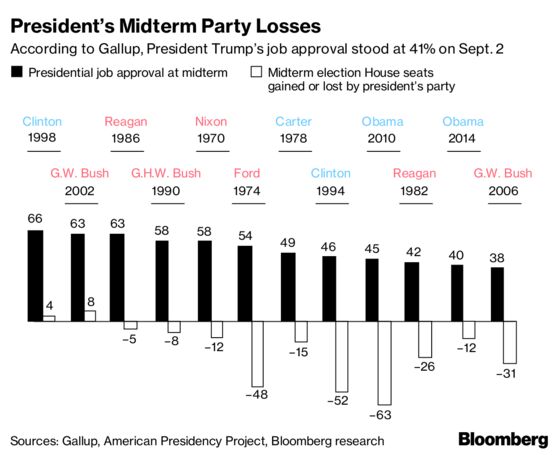 Trump's lone-wolf style of governing, his tendency to put himself above what might be best for his own party and his unpredictability—something he views as central to his own political brand—remain major variables Republicans can't control.
White House aides have said Trump plans to spend more than 40 days campaigning between the beginning of August and the election. That would outpace the off-year election efforts of Obama and Bush, both of whom saw their party's congressional majorities evaporate in midterm wave elections. On Thursday he's in Montana and on Friday he's scheduled to be in North Dakota. Both are states he won in 2016 and where Republicans are trying to unseat incumbent Democratic senators in November.
If he were on the ballot this year, Trump told Bloomberg, people would come out and vote. "The question is whether or not it's going to transfer."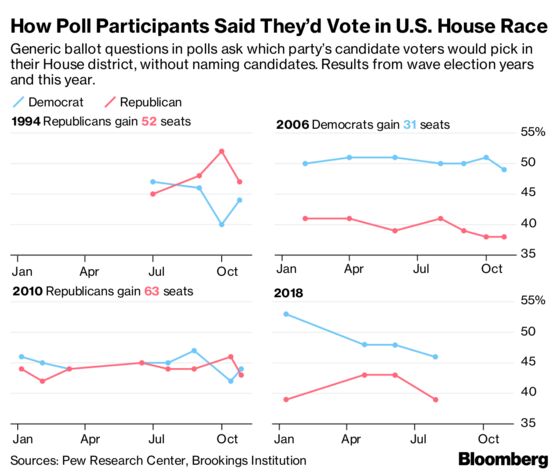 So far it hasn't. In an ABC News/Washington Post poll conducted Aug. 26-29, registered voters said they'd favor a Democratic candidate over a Republican one in their district, 52 percent to 38 percent. The average of recent polls compiled by RealClearPolitics is a 9.3 percentage point Democratic advantage.
Trump is unlikely to be welcomed by Republicans in suburban swing districts, where some GOP lawmakers are running television ads emphasizing their willingness to "stand up" to him. Those candidates will do as much as possible to keep the president out of the campaign conversation.
"You make the argument that the Republican candidate is the better choice to advance the values, perspectives and interests of that particular district," said Republican strategist and pollster Whit Ayres. "This is not about Donald Trump, one way or the other. This is about who the best choice is for this state or this district."
The Senate is a more comfortable spot for Republicans, even though their majority hangs on a two-vote margin. Democrats are defending 17 more Senate seats than the GOP, including 10 in states Trump won in 2016. While the party has a shot at capturing Senate seats in Arizona, Nevada and Tennessee, five of the most vulnerable senators—in Florida, Indiana, Missouri, North Dakota and West Virginia—are Democrats.
While Trump frequently claims credit for a booming stock market and robust economic growth, Republicans have had a hard time capitalizing on the gains.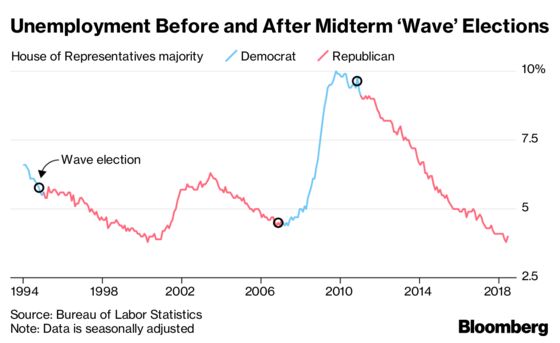 The economy expanded at a 4.2 percent annualized rate in the second quarter, the fastest since 2014, and the unemployment rate—3.9 percent—is hovering near the lowest since 1969. The stock market keeps churning out record highs.
But the pay boost of $4,000 to $9,000 annually that Trump and congressional Republicans promised would result from the corporate tax cuts that took effect Jan. 1 hasn't materialized. In fact, real wages have remained mostly stagnant as inflation and higher health-care costs have eaten into modest pay gains.
Some in the GOP have complained that a lack of legislative accomplishments beyond the tax cuts—including the failure to revamp immigration laws, build a wall along the entire southern U.S. border and repeal Obamacare—has weakened the GOP's standing with voters.
Representative Dennis Ross of Florida said he fears his party will lose the House because of its inability to pass laws and keep promises.
There are "little legislative failures that are adding up," said Ross, who's retiring at the end of this term
Fagen agreed. "The overall environment is not terrible for Republicans, but the combination of where the president sits and the challenges Republicans have had in getting some things done in Congress and some scandals are problematic," she said.
Still, she added that predictions are dangerous in the Trump era. "This isn't your mother's political environment, so it's hard to base things on history."
John Lapp, a strategist who served as executive director of the Democratic Congressional Campaign Committee in 2006, said his party would be best served by focusing on core issues—health-care costs, wages and congressional accountability—and avoid being distracted by Trump.
"He is melting down all by himself," he said.
Besides being a referendum on Trump, the midterms will also measure whether women can expand their presence in Congress. More than 20 will be major party nominees for Senate seats, breaking the record of 18 set in 2012, according to the Center for American Women and Politics at Rutgers University. With primaries not concluding until mid-September, the center's data shows that 179 Democratic women and 51 Republican women have won House primaries so far, already shattering the previous record of 167 in 2016.
Female candidates and voters are especially important to Democrats. Polls are showing a sharp gender split, with women leaning heavily toward backing Democratic candidates.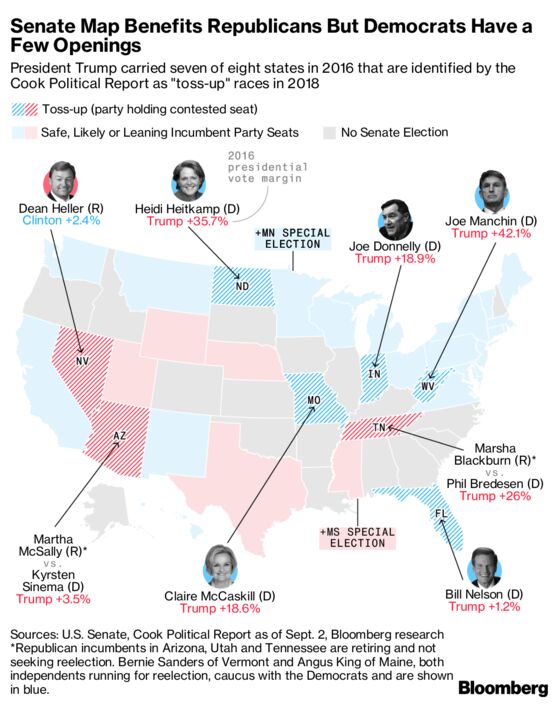 One of the biggest obstacles for Democrats is the formidable congressional district maps Republican-controlled state legislatures drew after the 2010 election. Another is the concentration of their own voters in the cores of major metropolitan areas, while Republicans are spread over a wider area. That was reflected in Trump's 2016 victory. He lost the popular vote by about 3 million in 2016 but won more congressional districts, 230 to 205.
Another major unknown is whether the large number of first-time candidates among the Democrats can take a punch. While many look good on paper to party strategists, they're untested and will come under close scrutiny and many attacks in the weeks ahead.
As much as this will be an election driven by feelings about the president, local issues could play a role on the margins. In California, where five House districts are rated as tossups, Republicans hope a gas tax-repeal effort also on the ballot will help boost conservative turnout.
If control of the House ends up being close, all eyes could be on those five California seats. Polls don't close there until 11 p.m. East Coast time, and the state is known for a lengthy counting process because of widespread use of vote-by-mail ballots that don't have to be postmarked until Election Day.
McCormick is a politics reporter for Bloomberg News. Giroux is an elections reporter for Bloomberg Government.
—With Hannah Recht and Dave Merrill